Phil's Travels – Berlin, Germany (05.23)
20/05/2023
Phil's Travels – Berlin, Germany (05.23)
At 03.30 on a Monday morning in May there were more foxes on the streets of London than cars. We saw them at the end of our driveway, on Fulham Palace Road and Putney High Street. Given the silly-o'clock start, there were no trains to Gatwick and I had to taxi there (where an immense queue for vehicle drop-offs awaited). I was booked on easyJet and at Gatwick their luggage check-in was now fully automated. The queue was immense and it took a while to flow. The automated machines were quite simple (provided you used the right boarding pass and not the Berlin-London pass) and allowed me to join a third immense queue for security. My fourth immense queue within an hour was to buy breakfast at Pret. Gatwick was rocking! Where were they all going? Everywhere! The departure boards were full of every kind of destination around Europe.
The flight was full and not wholly stuffed with IHIF-ers. There was an extensive variety of folk of all shapes and sizes and dress codes. We landed at Berlin's new, swanky, long-awaited international airport (essentially Schonefeld in a new building). It is not an architectural icon, but the inside seemed to flow well enough and my luggage was on the carrousel when I finished with the lengthy queue for non-EU passports (I had to mix it with Americans and the like, a benefit of Brexit).
In the interest of budget control and because the new airport has been connected to public transport (unlike the previous premises), I took the train from airport to hotel. It was a little confusing as the ticket machines were not obvious and the signage lacking (a local chap in unform was being kept very busy assisting clueless visitors like your blogger). Even more confusing was the writing on my ticket telling me to validate it. OK, but where? There was nowhere to punch it. So, I boarded the train un-punched and hoped for the best. Maybe they self-validate for ignorant foreigners like me. The train passed through the southeast suburbs and I changed at Ostkreuz for the S3 line (one of the city's elevated tracks, an overway if you will, rather than a subway). S3's route into the centre was a touristic joy, offering views of key landmarks across East Berlin and into West Berlin (including Alexander Platz, Hackersher Markt, Tiergarten, Berlin Zoo and on to Spandau). En route we passed by a BASF building that was heritage at the bottom and ultra-modern stuck on top. Amazing combination architecture. Unfortunately, I was too slow to photograph it for posterity and hence no photo here below. Worth searching on the internet though, reminded me a bit of the thinking behind the Hearst Building in NYC.
My hotel of choice had not changed in the four years since my last visit. The rooms remained brutally functional, with not an ounce of wasted space and with the same old issues still unresolved: the doors that were so heavy even Arnie Shwarzenegger would break a sweat; the bathroom mirror misted over; the TV was even slower than before (and the fire had been replaced with an aquarium); and the sockets were still in the wrong place. New features included: the bathroom light that kept switching off after 10 minutes, as if to say, "Time is up. Get on with something else!"; and the even slower TV kept switching from BBC News to a local German channel for no good reason (especially for a non-German speaking guest). On the plus side, my room had a view of Uranus and the window opened (blissful fresh, cool air at any time, in what would otherwise have been a mini microwave).
As with Suli the week before, I checked the weather ahead of travel and packed an umbrella. In Berlin I checked the weather forecast constantly and took my umbrella with me everywhere, all day, each day. I did not use it once. What has happened to weather forecasting these days?
I held most of my meetings at a hotel with an incredible view of Berlin Zoo. Unfortunately, the trees were in leaf and the range of animals on view was extremely limited. If you spot one in the photo below, let me know and there may be a prize in it for you.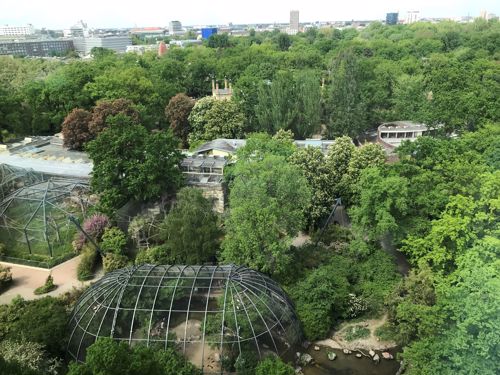 On the morning of my return to Blighty, I had the wonderful company of a lovely lady. Together we walked to the S3 station, rode the train together and endured the frustrations of Berlin International Airport's departure procedures ensemble. The walk was refreshing, under a sunny sky and cool streets. After further ticketing and validation confusion, even with a second pair of eyes, the trains took us back through East Berlin (I missed the BASF building and did not photograph it again, too busy chatting with my lovely companion).
At the airport, they had also gone automatic for baggage drop-off, like Gatwick and Dubai, but unlike Gatwick and Dubai Berlin's system needs further work. In Gatwick and Dubai, there is one machine that does everything: weighs your bag, issues the luggage tag, takes you bag and provides you with a receipt. In Berlin there are two machines to contend with, but no one tells you as much and there is no signage. So I reached the front of the queue for bag drop-off and some clever-clogs local offical asked me where my luggage tag was. I said, surely the machine will give me one. No, he said. I had to leave the queue, go back 50 paces and get the luggage tag from another machine. Many people were caught out and made the same mistake as me. Not intuitive and definitely not good.
Also not good: the security check procedure was tedious and very slow and lengthy (much too over complicated); the passport control had a short queue but took an age (over 20 minutes); and finally, the queue for a snack was slower than paint drying. As a result, our best intentions with an early start meant we arrived at the departure gate just in time for final boarding.
We landed at Gatwick on time but did not disembark on time. We pulled up to the terminal and they connected us to a jetway but would not allow us to disembark until a set of manual stairs was attached to the rear of the aircraft. Why? Something to do with this model of aircraft being 'big'. Big! For goodness sake, 747s and 777s are disembarked with a single jetway and without the requirement for stairs at the rear. Crew could not provide a sensible reason other than, 'them was the rules'. So, we waited, sat, crouched, hunched and standing for over 15 minutes for those darn rear steps to be brought before we could be released from our increasingly heated mood and into the calming embrace of Gatwick North Terminal.
The trains to London was packed (standing room only) and Victoria was bustling. I was so pleased to get home and breath a huge sigh of relief. And so ended four weeks of relentless, back-to-back travel and multiple lost weekends and Bank Holidays. This coming weekend will be special – to be spent with my lovely family and not in an airport.