Phil's Travels – Dubai, UAE (05.23)
07/05/2023
Phil's Travels – Dubai, UAE (05.23)
The two weekend days between Leeds and Dubai were largely occupied allowing my body to recover from man-flu (which later became wife-flu in my absence), calf cramps and a mild dose of food poisoning. By 06.00 on Monday morning though, I was half human again and ready for the UAE.
A very quiet, extremely petite, veil-covered and very well-mannered lady taxi driver wafted me to my destination in a notably stress-free manner. Like riding on an altocumulus cloud above a mirror-calm sea. Gatwick North Terminal on the other hand was a frenetic maelstrom of travellers. However, even though it was very busy everything flowed beautifully – like water from an altocumulus cloud above a churning ocean of peaked white horses. Bag drop-off, security, money exchange and breakfast all happened in a flash. 
I had not been through Gatwick in years. Thank you C19. But, it seemed to me that the range of carriers at North Terminal was much more limited than before, with check-in desks nearly 100% Tui or easyJet and just a sprinkling of Emirates and Qatar. Even so, North Terminal was much more fun and interesting than Heathrow T2.
Our Emirates Airlines A380 was as good and as comfy as my memory could recall (last Emirates flight was back in February 2019, just before the global lockdowns). The boarding process was somewhat uncontrolled, but I managed to find my seat and some overhead luggage space. The on-board entertainment system must have had over a million movies, but for all that choice most were rubbish (still the after-effects of C19 on the movie trade perhaps). Food was ok, but loaded with starch and sugar (I know the Middle East tends to have a sweet tooth, but they also have high diabetes tendencies – note to Emirates, please amend menus accordingly).
I swept through the vast Arabian palace-like halls that house the luggage carousels at Dubai International Airport and hit my first moment of travel-friction at the hotel. Not friction as is an argument. Rather friction as in a long time. My check-in was like waiting for food in a restaurant in Cameroon – an eternity. The bedroom had a superb bed, but the rest was a failure of design and maintenance. Here below my snag list (some of which were sent via an online guest questionnaire, resulting in an offer of a free stay in future – woohoo!):
Furniture layout extremely unergonomic. Major furniture relocation by yours truly required to make room work. For example, luggage rack was positioned directly in front of the wardrobe so you could not get in to retrieve your hanging clothes. The left-hand side of the bed was tight up against the desk and its chair. You could not access both simultaneously and the bed only by hurdling the chair. Net result, huge amounts of wasted space in what was otherwise a big room.
The sockets at the desk did not work (and nearly came clean off the wall). However, because it was so close to the bed, I could use the very proximus bedside socket whilst working at the desk. Maybe that's why the designer squashed them together in the original design – a failsafe measure in case desk sockets should fail. Even the desk light and left-hand bedside lamp were synchronised (never one without tother).
All the furniture was covered in glass, which meant a mouse could not work on the desk or coffee table.
The bathroom was particularly troublesome. The toilet flush leaked, the plug in the sink kept sticking and not draining, and the shower door was so warped at the bottom that a camel could have wandered in through the gap and scrubbed my back (although the cubicle was no bigger than a coffin and I am not sure that camel and I could have fitted simultaneously).
The water pressure was poor and the hot water took turns far too often with cold.
One morning the cleaner was so keen to enter my room (whilst I was in the shower, without camel) that he even broke the security chain in his enthusiasm. I only heard him because of the gaps in the shower door, otherwise I am certain his enthusiasm would have led him into the bathroom itself. Not a good advert for security chains (or maybe the cleaner was Dwayne Johnson moonlighting). Either way security score, 0.
The AC was cold air only or nothing (not modern 5* standards).
The room service menu was a QR code on a random piece of card near the desk that gave no indication as to the riches available within. I only recognised it as the gateway to food when room service brought me a duplicate nondescript card with QR code.
And finally, there was no bottle opener in the room. How could this claim to be 5*?
The room had a quintessential view of Dubai's demonstrably US-style, dystopian, master-planning: major avenues, elevated highways, multiple skyscrapers and of course a massive shopping mall.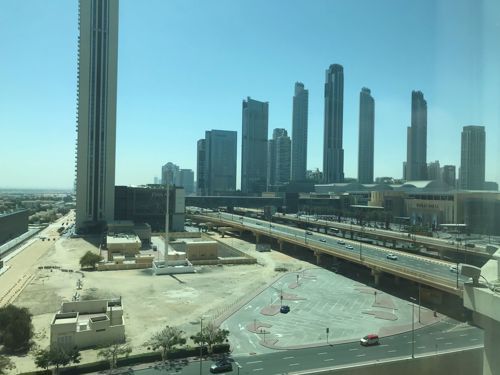 Food at the hotel was well below other 5* experiences I have had in Dubai (or even 4*). The room service Caesar Salad was small and the chicken so skinny and dried out it was like eating strips of cured albino leather. The breakfast buffet was limited in range and never changed from day-to-day. The lunch buffet was also limited in range but did change a bit from day-to-day. Generally though, the food was pretty tasteless and shapeless. It was repetitive, unimaginative and sometimes downright indigestive (both my mountain-men and I found ourselves with tummy troubles).
My purpose of visit was to support our mountain-men (and ladies) in three days of legal negotiations, which meant I did not get any time to visit Arab Travel Market and only saw the blazing Arabian sun through meeting room windows (33C in the day). And yet, within the few moments I spent walking from my taxi into the hotel for check-in I was bitten three times. In the last eight months I had been to four different African countries, and not a single bite. Maybe the flying buggers were finding richer pickings in the Gulf. Back to business. The all-day sessions went very well and prospects looked rosy. Huge thanks to the mountain-ladies for organising and especially to the persistent interpreter, who had the most difficult job trying to keep us all up to speed in a room of 15 people (including a good number of 'Russians' – Dubai has become the new Moscow), and for the most excellent mountain gifts (much appreciated at home).
For my brief return to the UK, Dubai International was quiet at lunch time on Friday and boarding was a pleasure. Another A380 flew us home (I was in row 85 of 88) and this time I had a window seat (I like to see where I am going) and had a wonderful view of Sulaymaniyah from 40,000 feet (see next blog). I got home late on Friday night, spent Saturday watching Charles III's coronation (many congratulations your Highness and a big shout out to all the military folk that marched so beautifully up the Mall) and packing, and on Sunday I headed back to an airport…