Phil's Travels - Brussels, Belgium (0215)
17/02/2015
Phil's Travels - Brussels, Belgium (Feb 2015)
This was my first overseas trip of 2015 and I had forgotten just how wonderful London and Heathrow are. It took me just 1.5 hours from my desk to sitting in the plane. I ask you, in which other major city in the world can you achieve this? Since my last visit to T5, the luxury retail units have opened and the place is even more bling-heaven than before.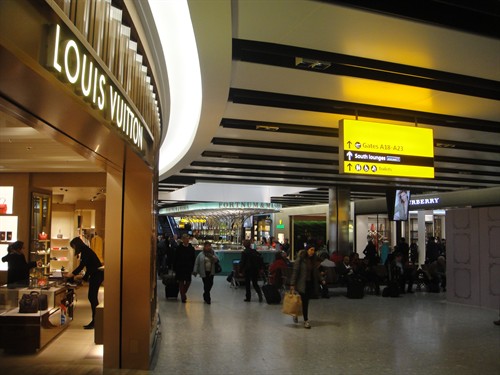 My overnight to Brussels coincided with an informal meeting of heads of state or government, at which the new Greek government attempted to reach agreement with the EU on its debts and restructuring. Unfortunately, the tieless dream team from Athens failed to even reach agreement with the Eurocrats to issue a joint statement saying they could not agree. With such lack of basic alignment is there any chance for Greece?
On arrival at our hotel we were greeted by very large heavily armed officers of the law and a significant number of armoured water-cannon bearing vehicles. If this is the level of security in the city for an "informal meeting", I would hate to see the levels for a "formal meeting". The police in Brussels are called Politie, which is seems so entirely appropriate for the capital of European politics.
My check-in at the hotel was less than speedy. The self-check-in machine was not only slow, but insisted that London and my nationality were in Bhutan. I would love to see the hotel's nationality mix statistics. Who knew that Bhutan was Brussels highest source market? Once checked-in, my details were confirmed to me on the stationary equivalent of toilet paper, a piece of curly fax paper. Remember those machines? Perhaps the hotel has an excessive over supply it needs to use up before joining the modern age.
The less than speedy mantra seemed to be a recurring theme: the lift was slow, the TV was slow and the shower was slow. Hotels take note - another central pillar of the modern age is consumers want things immediately. They don't want to wait. My room was interesting, there being a narrow horizontal window in room at waist height, with a view into a meeting room opposite. The window was so forgettable as a window that I nearly forgot to close the curtains before heading to shower and exposing myself at just the right height to be extremely embarrassing.
We did not eat in the hotel and headed to a nearby square lined with restaurants and bars (including a stall selling the best triple-cooked chips in the universe, so eat your heart out Jamie). Anchoring one side of the square was a traditional five-star hotel with full restaurant and bar facilities overlooking the square. Both were empty, whilst the standalone restaurants and bars were packed. A classic example of how poor standard hotel F&B can be as an investment. Not so classic was the bar of our hotel. When we returned after dinner the bar was bouncing with 200 networking Eurocrats. Unfortunately, the bouncing could be heard through my bedroom floor until 1am.
Check-out was easy and the Politie and politicians had cleared off, so we made it to the airport in good time (not as fast from-bed-to-seat as my outbound, but still pretty quick).