Phil's Travels – Geneva, Switzerland (03.23)
22/03/2023
Great excitement at Heathrow T2 last Sunday morning. The most boring terminal in the world just became a little less boring.
I found myself jumping on another plane (or four) at short notice again last week. This time to present to a bank in Geneva, one of the world's leading banking centres. Sunday morning in London was pretty miserable and T2 was packed. Fortunately, I had checked in online (after some stressful back and forth with the booking agent) and flashed past the crowds snaking around the check-in zones. Security was busy too and it was after my undies had been scanned that the great excitement hit me. Literally. T2 had deployed a robot cleaner in the area between security and the shops, and not being aware of its presence I nearly tripped over the tubular, oversized vacuum cleaner – Henry's big brother.
And the excitement did not end there though. As I was flying at a civilised hour, I was able to take The Perfectionist route to breakfast. It may profess its perfectionism, but perfection clearly likes a lie in, as for many flights past I have been disappointed by its closed early morning state of being. Perfection? Hmm. The house English was far from perfect:
Bacon: uncannily straight and perfect, reminded me of the vegan bacon adverts at bus stops at the moment.
Sourdough bread: burnt on one side (the underside, hiding its shame).
Sausage: standard Walls perhaps, nowt special.
Beans: from a tin.
Mushrooms: good!
Eggs: not changed since I last ate them (when the slippery poached critters slipped right off my plate and across the table). They were still shaped and shiny like an amoeba and just as slippery. And always stare up at you from the plate, like two yellow-tinged eyeballs after a long night on the whiskey. That said, the yolks were perfect and a rich orange.
Decaf cappuccino: good.
Tap water: warm, as if drawn from Heston himself.
My first flight was from Heathrow to Brussels. Brussels Airport flows pretty well, but the walk from one end of B-wing to the end of A-wing can take over 20 minutes (even at my speed), so make sure you don't dawdle through your connection at BRU. Unlike Addis, at least all the signs worked and there was plenty of room and seating for walk-weary passengers to recover from such energetic connection activity.
Second flight was Brussels to Geneva. All flights were on time and Brussels Airlines food is highly commendable. At Geneva Airport, I made a quick detour via the railway station for a quick purchase, then headed to the hotel shuttle stop, where I bumped into our man from Rabat. He had been waiting over 30 minutes for the shuttle. The original bus was broken and a back-up had to be sent. Transport issues firmly established themselves thereafter as an irritating, recuring theme throughout our brief visit in Switzerland.
Our airport hotel was big and anonymous. We could have been anywhere. No sense of place. Such sensory deprivation was only exacerbated by the vastness of the public areas. When operating in normal mode, it was a soleless place. However, I am told that when the meeting rooms are rocking and a fair is on next door, the hotel comes alive and into its own. For us though, it was an empty experience. My room was large and overlooked a monumental warehouse. Despite the lack of a view, my room had a very comfy leather armchair by the window. Wasted without a view.
Next morning, we had to wait over 30 minutes for a cab to take us to our meeting on Quai du Seujet. Airports are over-run with cabs, so I still don't understand why such a long wait. Swiss punctuality?
 Whereas Sunday was misery personified in Geneva, Monday was glorious under a blue sky and resplendent sun. So the drive into town was lovely and we basked in the rays for a few moments on the pavement before entering and having our meeting. All good.
After our meeting, finding a taxi was impossible. Our man from Geneva suggested we walk up the Quai to surely the world's ugliest Mandarin Oriental Hotel. It may not be pretty (at least on the outside), but its doormen were very friendly and helpful and organised a couple of cabs for us. Again, we had to wait an age. Swiss efficiency?
We hit our hotel restaurant for lunch. In fact, we had all our meals at the hotel. The food was consistently good, the service friendly and excellent and attentive and flexible and generous. The outlets were nothing to crow about, but for dinner and lunch we did dine in a wine-walled private space (in which I introduced our client to pleasures of olive oil, balsamic vinegar and dipping bread). Breakfast buffet (so good I delved twice) was one of the best I have seen in some time (since The Elysium, Cyprus, anyway).
Immediately after lunch it was time to fly. We had to wait again for the shuttle service and it left over one minute behind schedule. Swiss timekeeping?
At the airport check-in counter I was slapped in the face and knocked for six. The chap told me my booking was for the same flight the following day and that only the travel agent could amend my booking. I tried to call the client and his office on both of my Apples, but no connection recognised for those numbers. I tried to call them on WhatsApp, but again no connection possible. I was suffering from complete Apple failure and meltdown. I left the terminal building, turned off wifi, rebooted both Apples and tried again with mobile data in the open air. And the clock was ticking. After much cussing and Apple fiddling, I managed to reach the client in our airport hotel and he reached out to his travel agent, far-far-away.
I waited and the minutes ticked away. He called me back and told me that my booking was inaccessible as it was in check-in mode. I had to rush back into the terminal, catch the same chap at the check-in desk and ask him to cancel my check-in procedure (he was just leaving for the day, so I caught a break, as explaining all this to another chap would only have added to the saga). The chap cancelled my check-in and I told my client, who told me to hang tight whilst his travel agent, far-far-away, amended my booking. More minutes ticked past.
After what seemed like an eternity, the client sent me new booking details and a new check-in chap was able to check me in finally. I headed to the gates with hardly any time remaining for the usual tour of the shops and no time for any lounge pleasures. GVA is not a pretty airport, outside nor in. It is entirely functional, if a little cramped, especially when the ski-loving Swiss decide to lay a piste right in the middle of the terminal. Looking out the terminal windows, there was little snow on the Alps, so perhaps that was why a couple of ski chaps decided to lay their piste and ski. Goggles (even though it was rather clement in GVA), sticks, boots, the lot. Swiss bonkers?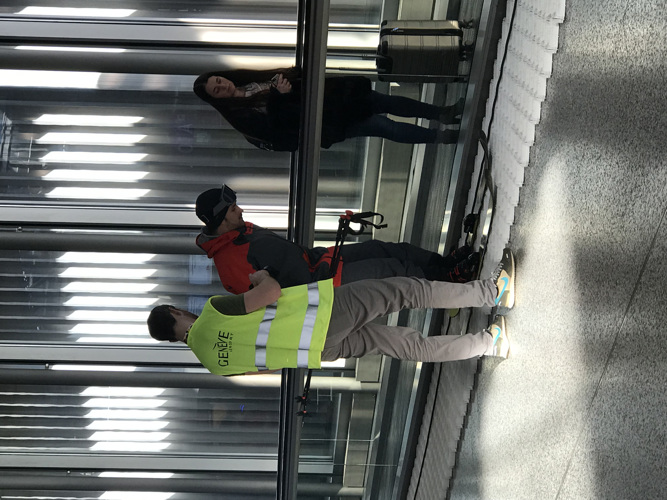 The flight to Brussels was perfect. The walk from A to B exhaustive, again. The food options very limited. And the wait for my final leg to London interminable. Flight to London was equally perfect and T2 was empty. I sped through passport control (no queue whatsoever), luggage came quickly and the trains were literally waiting to waft me home at each station. Why can't the Swiss, masters of horology, be so timeous?