Phil's Travels - Blantyre, Malawi (03.23)
10/03/2023
Phil's Travels – Blantyre, Malawi (03.23)
This trip was organised at very short notice, but I did manage to book the very last slot in the whole of London for my travel vaccine review prior to departure (a lot of people must have been travelling as every Boots Chemist in London was fully booked a full week out). Malaria tablets secured, I had lunch prior to departure with a very old friend. Someone I had not seen in nearly 15 years. Good to catch up over high scoring Eggs Benedict in St Johns Wood.
Given my airline was Ethiopian Airlines (ET), I left home early to leave lots of time for the usual T2-ET check-in antics. The Elizabeth Line flew to Heathrow and my passage through T2 was the breeziest breeze of all time. I hardly touched the sides. I walked through the terminal entrance and less than 10 minutes later I was through security and eyeballing the pleasures of T2 airside. To be honest, T2 has very little to offer an eyeball. It remains grey, drab, featureless and dull, and firmly the most boring terminal in the world.
How was such fast fleet of foot feat fulfilled (especially given previous experiences in T2 and in particular with ET)? Well, ET must have heard me calling home and taken notice of my whinging blogs over the years. They had invested some pennies into their IT and I was able to check-in online! Amazing. It was so simple and my home-printed boarding passes worked a dream here and in Africa. To be fair, T2 was also very quiet. The security folk were whisking people through and there were few people to be whisked. Net result, I had nearly three hours to kill in the world's most boring terminal. Joy.
Dinner at T2 was full English as the mixed grill was missing too many parts (supply chain issues still prevailed). Very average experience and in hindsight should have gone for the Perfectionist option. We took off and landed on time. Addis was super busy at 7am. Positively straining at the seams and just about coping with the volumes. There seem to be many more Chinese on the move now, and not a hazmat suit in sight. The world really is returning to normal. When busy, Addis is now barely controlled chaos. Many electronic notice boards were not working (confusing when trying to confirm your gate), the pitiful staffing levels added to the general sense of aimlessness, and there was just not enough floor space for the number of travellers (in especially short supply in the C-Gates area).
We took off on time, landed in Ndola, Zambia, for a quick 'drop-off-pick-up-refuel' stop and landed in Blantyre pretty much on time. Did you know: Ndola is the 3rd largest city in Zambia, capital of Copperbelt Province (funnily enough Zambia's copper-mining region) and was a major industrial powerhouse until the 1980s.
Blantyre Airport was as rudimentary as before on my previous visit (capacity of circa 200,000 per annum). My medical documents were checked quickly, my visa was sorted in no time (thanks to my very exceptional host), but the subsequent passport check took almost as long as the flight from London to Addis.
During my time in Blantyre, I inspected the hotel top to bottom and inside-out. I ate wonderful meals with my exceptional host and his lovely family at their beautiful home (the homemade chilli sauces and chutneys were especially delicious and moreish). I had breakfast with Malawi's national football coach (they were to play Salah's Egypt end of March, so I wished him luck). During one of the nights, the rainy season announced itself in some style. The rain was biblical and the heavy bass, gut-pounding thunder came from the deepest of Fat Thor's beer-fuelled recesses. The lightning was pretty cool too. We crunched lots of numbers and drafted documents. It was a brief visit, but we covered a lot of ground and achieved much.
My exceptional host and his lovely family tried to persuade me to stay an extra couple of day so we could watch the Liverpool-ManU match together. They are passionate (with a capital 'P') ManU fans and would have enjoyed the opportunity of seeing me squirm in the face of Liverpool's current poor run of form. As it was, I left as planned and my host's most excellent brother drove me to Blantyre Airport escorted by a battery of chickens riding shot gun on the back of a bike.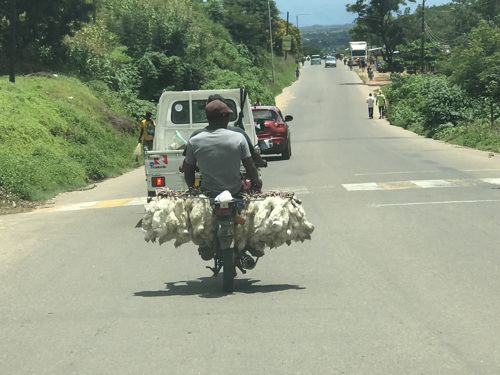 The departure experience at the airport was interesting (note: online check-in in Africa not permitted with ET). There were 11 checks from drop-off to boarding:
luggage scan at terminal entrance
desk with officers, asking where travelling to
roving officer in the queue (all of five folk, including me and two US beekeepers, go figure), asking where travelling to
airport handler in the queue (then four folk, including me and one US beekeeper), asking where travelling to
check-in (had to apply all my charms on the lady to keep possession of my pull-along bag)
passport control
metal detector and second passport check (combined)
detailed bag search and good chat with officer
boarding gate before leaving terminal
passport check at foot of aircraft steps
boarding pass check in aircraft.
At least such diligence creates plenty of employment opportunities in what is otherwise one of the poorest countries in Africa. Also worth noting, Blantyre has a couple of good shops airside, in case you need a last minute souvenir.
My return was via Beira, Mozambique. Did you know: Beira is the 4th largest city in Mozambique, its port is the gateway to the central interior and to its landlocked neighbour nations (Zimbabwe, Zambia and Malawi), and is twinned with Bristol in the UK (both ports, so makes a lot of sense). Worth noting the approach into Beira was gorgeous. As the city was developed around the estuary of the Pungwe River, the patchwork of lagoons, S-shaped rivers and streams, green groves and white sand beaches made for a beautiful vista on approach. The Beira-Addis leg was tough. No TV, crammed between two big chaps, Emergency Exit seat so my seat did not recline and during lights-out the little girl in front played disco on her overhead lights. That said, the flights were on time and we landed in Addis again for an evening experience this time.
Addis in the evening was just as busy as in the morning, but at least the Transfer Security Zone I used this time did not have a countdown-clock of doom. The other Zone I used for my outbound had such a clock (bright green and constantly taunting the travellers) and the slow progress through the Zone was all the more stressful as I could see time slipping away and my flight's boarding time about to pass me by. My outbound cortisol levels spiked even higher due to the lack of working signage and dearth of staff to ask. The evening experience on my return was much less stressful. I had over four hours to kill and could afford to while away some of those hours on Addis's shortcomings!
Where Addis was struggling with the growth pains of ET, ET itself was evidently doing very well indeed. The apron was stuffed full of ET-branded aircraft, a very impressive fleet to rival even Emirates perhaps; but it did make one wonder why there were only ET aircraft. Where were BA, Emirates, KLM, et al? ET planes are new, clean and very mostly on time. Some planes were better than others though. The London legs had TVs, the African legs did not. On my four different flights they had four different kinds of chicken as the inflight meal (each delicious).
Notes to Addis airport: you need another extension, quickly. Maybe even a whole new terminal. Design suggestions: more toilets, more ceiling height throughout, more tastier F&B, more transfer space, more organisation, more signage that works, more staff, more training and the reinstatement of my favourite Sports Bar of old. Otherwise, handling growth pains very well in a tough old world.
Our departure from Addis followed a very similar protocol to my last passage through Addis. Having made it through all the checkpoints and checked in my Duty Free, after five minutes of sitting by the gate our gate was changed. We all heaved our belongings and schlepped to the new gate (with no signage), which was next to the Manchester flight, which caused even more confusion, which led to much shouting and shunting. Watching all the fun of the fair with me was an 80-year old, Karate black belt, former hotel manager from Harare. Lovely chap, who also lamented the state of Addis Airport these days and together we remembered the old days fondly.
We landed at Heathrow on time and our painful exit highlighted the still prevailing design flaws of T2. The queue for passport control went well beyond the passport control forecourt and almost stretched into the gates corridor. At the scanners, naturally I chose the queue with the broken screen. We had no idea what the scanner was doing as the screen was black. We had to guess. Sometimes our queue members were allowed through, sometimes not and had to try again, and sometimes the back gate re-opened and the traveller had to go see an officer after much shouting to tell them the gate behind them had opened – "It's behind you!". All of which meant our queue moved three times slower than the others and the officious ladies patrolling the scanners would not allow us to use any of the adjacent machines.
T2 is a nightmare with no good reason. Addis has become difficult, but for a very good reason – the huge success of its airline, making Addis the busiest transit hub on the world's largest continent by number of countries (52 nations). All we need now is for ET to allow online check-in in Africa. One step at a time.
PS. Maybe I should have stayed in Blantyre the extra days. I would have loved to have seen the developing incredulity as Liverpool sped to a 7-0 victory on Sunday night. Come on you Red Men!