Phil's Travels - Brazzaville, Republic of Congo (11.22)
02/12/2022
Phil's Travels – Brazzaville, Republic of Congo (11.22)
Sunday evening after a national train strike the day before was always going to present a challenge. It was raining when I left home, so I caught the tube one stop to Paddington (no problem), but at Paddington we were given the run around to Platform 14 (in the far reaches of the station, almost all the way back to my home) in order to find the next Heathrow Express. The Express was distinctly un-expressive to Heathrow. It took 30 minutes to arrive at the T2/T3 Station.
T2 was rammed with every kind of passenger, luggage and pets (yes, pets: dogs and cats everywhere for some unfathomable reason). The Ethiopian Airlines queue was being patrolled by men with iPads, checking each passenger's booking, passport details and credentials. My man had to wander off with my reservation printout and, disturbingly, my passport to finally return and grant me entry. Not a word of explanation to placate my nervous tension. Check-in was smooth and I joined the security queue to infinity and beyond. As I have highlighted before, how will this Terminal ever hit advertised capacity with such poor design. Post security, I had lost so much time in security, no time for dinner. So, a Pret sandwich was my dinner at the gate in this pantheon to everything dull.
The flights were cramped, but on time. The transfer through Addis Ababa was smooth (now even this airport had much better queuing dynamics than T2). Whereas London was drizzling, Addis was cool and sunny, and Brazzaville started out hot and steamy, only to turn to monsoon by mid-afternoon (so much so it knocked out the entire hotel's TV system). The shuttle from airport to hotel flew through the city streets lined with police and army. I felt very VIP. Turned out the security and empty streets were not for my benefit. Monday was a national holiday, Foundation of the Republic Day (or similar).
Our dinners were hosted in the same hotel restaurant each evening and each evening we had to wait over an hour for our food to arrive after ordering (it must be a CEMAC thing, as same happens in Cameroon). At least we had live World Cup matches on the hanging TV sets to support us through the interminable waits (England beat Wales and Portugal beat Uruguay). The restaurant overlooked the River Congo and Kinshasa on the far bank, all lit up and as pretty as any riverside city can be at night.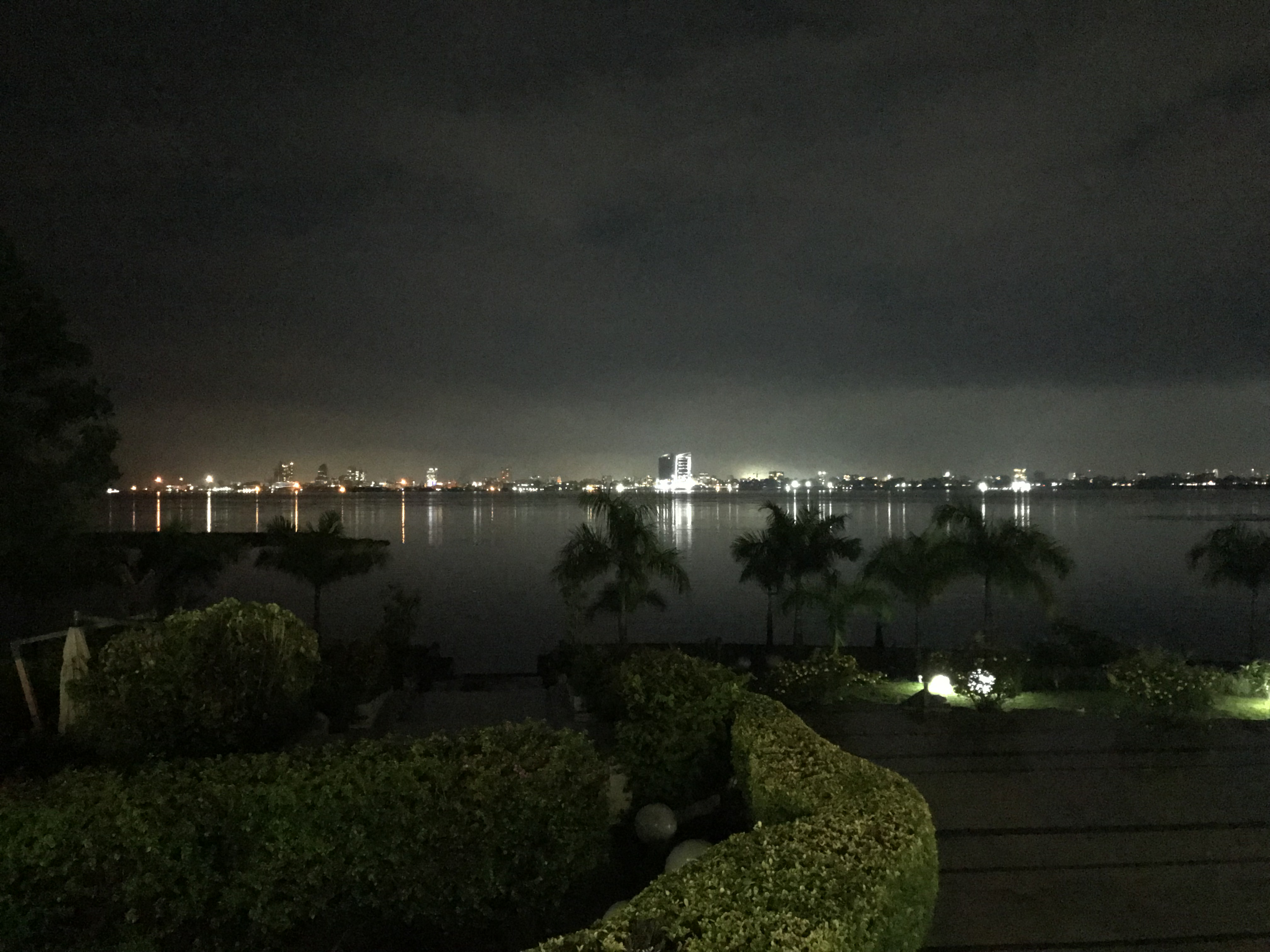 Good things at the hotel: lovely, smiley staff; great shuttle driver (who, en route back to airport, even asked me how the hotel could improve); and wonderful local carvings on display without security throughout reception (surely a sign of a safe and honest place).
Bad things about the hotel: brown shower water; regular electricity cuts (four times in 30 minutes during our final day breakfast); service very slow; meeting room door only openable from the inside; five requests for a hairdryer over the course of two days; no bottled water in the room; toe-capping bed feet. They will have to up their game significantly as soon as the nearby new 5* opens in a couple of years or suffer the consequences of such lackadaisical hotelkeeping.
The architects left the day before me and their departure promised to be interesting. They had arrived and not passed by passport control on arrival (I had 3x checks), and so did not have an arrival stamp on their visa. Would this present a problem on departure (as it did for me from Cyprus this last summer)? We jested that they may be remanded in Congolese custody at President Nguesso's pleasure and that they should remember not to pick up the soap in the shower. As it turned out, their departure was fortunately, but rather boringly, trouble-free and they were in the lounge within 30 minutes of leaving the hotel.
My departure the next day, even with an entry stamp on my visa, was way less smooth. I flew Ethiopian and the architects had flown Air France, so maybe that was the difference. Whatever the reason, my check-in took over an hour (a local chap blamed the locals for being slow and that in the olden days Ethiopian staff had handled check-in much more efficiently). All I know is, it took a very long time and the airport was without air-conditioning. Even the staff were fanning themselves with anything available (check-in clerks used laminated security checklists, whilst passengers resorted to passport fans). The airport was very modern, clean and well laid out, but had no retail worth a franc and without a/c I broiled gently in the glazed greenhouse-style gate area.
On the plus side, my business class return ticket literally saved my nuts. Aside from the check-in and boarding checks, I and my passport were checked 7x times (a new record). On arrival I had 3x checks (paltry compared to the 6x I had on arrival in Madagascar), but 7x on departure was new and higher than the previous record holder (6x at Tripoli Airport, Libya). And, on the penultimate check the security chappie found my nuts and told me if I had been in Economy he would have confiscated them. As it was, being a Business Man, I could keep my almond snacks. On the other hand, my insect repellent could not be saved and disappeared into a drawer. He said it was a dangerous weapon (even though it was bought airside at T2). And yet, a very handsome, elderly chap with an air of the sage about him was allowed to board with a beautifully carved and very weighty walking stick (decorated with animals and trees, and must have weighed more than most suitcases, and was certainly much more lethal than a 100ml can of insect spray).
Our flight to Addis stopped at Pointe-Noir (second city and main port of Congo-Brazzaville), then doubled back east to the Ethiopian capital. Rather disturbingly, before landing in Addis we were asked to complete an Ebola health form (Stephen, I thought you were joking when you told me not to bring Ebola or Monkey Pox back; oh, and by the way, Monkey Pox is now the more PC Mpox). I had a window seat, but I could not see much. These fancy Boeing 787s have very bizarre high-tech windows that distort reality and are impossible to control. My vision was either shaded a dark yellow (like a perpetual sandstorm, even at 40,000 feet) or black as night (only the crew seemed to have any degree of control over my outlook).
Addis was much busier at 20.00 than at 07.00 and again I was grateful to have business class for the final leg. I was able to bypass a very long Transfer security queue. Although, no one checked my boarding card and anyone could have claimed business status. And, come to think of it, no one took my Ebola form either. After a quick Duty Free shop, I ordered a very dodgy burger at a place called Cravings and watched Argentina beat Poland.
Heading to my gate there was another check for flights to the UK and here they took my Duty Free from me. What? Apparently, flights to the UK and USA do not permit Duty Free in the cabin. The shop never told me that this would happen and I wondered if I would ever see my purchase again. The icing on the cake was a chaotic gate change, during which people pushed and shoved other people and airport staff seemed unable to provide any clear information (the lack of any gate signage did not help matters either). I used to love going through Addis, but it has changed beyond recognition. My favourite diner has gone, the communications are appalling and the Duty Free restrictions are a bother.
I slept on the flat bed for a few hours and we landed in London on time and in freezing fog. At luggage collection the desk advised that my Duty Free would arrive at the end of all the other luggage from the flight and to come back in 30 minutes. 30 minutes later I was reunited with my purchase and it all seemed highly organised in the end. Which is more than can be said for the Heathrow Express.
The Express was even more un-expressive than on the outbound. This time the journey took 90 minutes. The driver blamed points failures at Acton, but all I know is we were parked for best part of an hour with trains passing us by on our left and on our right. I felt so powerless and frustrated. I had left the hotel in Brazzaville at 09.30 and I got home at 09.30, a journey time of 23 hours to cover more than 15,000 miles, of which 6.5% of those 23 hours was spent on British Rail covering less than 0.1% of the distance. I guess every country has its issues and that is why travel is so fun. Bon Voyage, travellers!
As it was a first time visit and because the Congos can be confused, here below some quick 'Did You Knows?':
There are two Congos: Republic of Congo and Democratic Republic of Congo.
Republic of Congo, aka Congo-Brazzaville (after its capital), was a former French colony and is a peaceful place today.
Democratic Republic of Congo, aka DRC or Congo-Kinshasa (after its capital), was a former Belgian colony and is not a particularly peaceful place (was also the scene of severe Belgian oppression during colonial times, driven by a boom for rubber for the new-fangled car in the late 19th century).
The capitals face each other across the River Congo (hence the similar names of the countries).
Whereas Congo-Brazzaville is a minnow (circa 5.6m population, of which 1.7m in the capital), Congo-Kinshasa is a behemoth (circa 93m population, of which 17m in the capital, 3x the entire population of its northerly neighbour nation).
Both enjoy vast mineral wealth, but remain relatively poor countries.
There is no bridge across the Congo between the capitals, so to get from one to t'other: flying is common and takes 40 minutes, and there are a variety of boating options (including a 5-hour ferry ride, a 3-hour VIP boat service and the 15-minute 'canoe rapide popular').