Phil's Travels - Berks, Bucks, Herts and a soupcon of Surrey, UK (10.22)
23/10/2022
Phil's Travels – Berks, Bucks, Herts and a soupçon of Surrey, UK (10.22)
What a week!
Chancellor – gone!
Home Secretary – gone!
PM – gone!
Stevie Gerrard – gone!
Best little hire car – gone!
The first half of these tumultuous seven days were quiet for me. Not least because my girls were off travelling (darling daughter to the Caribbean with friends and wonderful wife to NYC for business) and I was home alone with my boy. Second half of the week was much busier, with a three-day whistlestop tour of fabulous hotels west of London. My tour began with a short walk to a car hire place in the bowels of Paddington, an underground car park alongside the tracks that seemed to stretch halfway to Heathrow. I was upgraded from tiny-mini to mini and my very little, highly unpretentious mini turned out to be a very non-descript white VW Polo, that looked as weak and feeble as a 45-day old iceberg lettuce. Was I in for a surprise! The Polo turned out to be a pocket scud missile. It had a great little engine with amazing poke for such a small car and the most amazing second gear (I could start off in 2nd and at 40mph still have pull in the same 2nd gear). The best little hire car I ever had (and certainly not Trussesque).
On our first, super sunny, day, the best little hire car and I, inter alia, visited:
Crazy Bear, Beaconsfield: crazy indeed. Crazy decoration in the bedrooms and suites (reminded me a bit of Coste Paris) and crazy Moroccan themes throughout the massive F&B areas – lounges and nooks inside, sheltered areas outside and booths around a mini-pool. Imagine swimming in that pool surrounded by well lubricated voyeurs. Hedonism, baby!
Cliveden: as far from Crazy Bear as it was possible to be. One of the most elegant estates in England, gifted to the National Trust by its former owner (the uber-wealthy Astor family) and run as a hotel since the 1990s. Andre's tour and knowledge were outstanding and thanks so much for the comprehensive visit, especially of the photo gallery and the wine cellar.
Coworth Park: another classic English estate, but much less historical. The old manor house was completely rebuilt behind the classical façade into a purpose-built hotel format. Whereas Cliveden was a haven of heritage and traditional décor, Coworth was contemporary and just as elegant but in a completely different way. The 9½ mph road signs begged the question and of course Zoe had the answer – it is the speed at which horses trot.
On our second, monsoon rains, day:
Great Fosters: dating from Queen Elizabeth I's reign, this classic was still going strong and still a member of SLH (20 years after my time). If you like a bit of history, this is a must see and a must overnight stay. Mind the front door though, Elizabethans were much shorter back then and anyone over 5-foot will need to crouch.
Monkey Island Estate: a wonderful hotel on a private island in the middle of the Thames, although beware, some rooms are on the mainland, so make sure you ask for the island experience.
The Langley: another former manor house repurposed into a luxury hotel and a new boy on the patch (opened 2019). Situated in the heart of Langley Park and standing very proud among beautifully manicured lawns. Some rooms were in the old Brew House over the driveway (originally built by the first owner to provide a reliable source of beer in an otherwise unreliable world).
Stoke Park: no go as closed for major refurb following its recent acquisition. A shame for me as Oddjob is a favourite.
Beaverbrook: no go too as only persons with bookings (F&B, Spa or Room) were permitted to enter the estate, and I had no booking of any sort. Very particular place.
Gilbey's Townhouse: an Eton High Street staple. Lovely old world venue, but tiny (even smaller than the best little hire car). From the end of the High Street I caught of glimpse of Windsor Castle, but I had no time to pay my respects to QEII. Just a quick photo for posterity.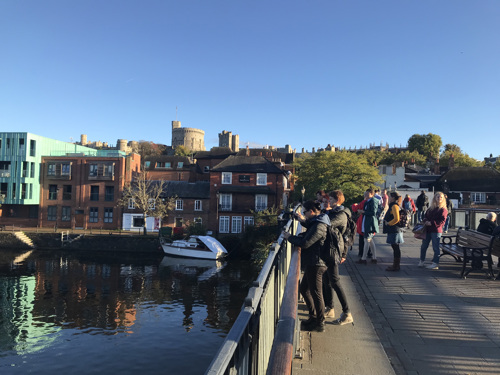 On our third and final miserably grey day:
Danesfield House: a manor house that looks old, but is a youngster compared to many in the area, built in early 1990s in a mock Tudor fashion. Many classic features, including a very grand Tudor hall worthy of a visit by Henry VIII.
Fairmont Windsor Park: the newest of all, opened early this year. Formerly a tired old conference hotel, the old is gone and replaced with the new. Having demolished the old, the new boasts one of the largest meeting room complexes outside London (over three floors, two of which underground), a 3,000sqm spa/leisure complex and a multitude of F&B areas. It was grand on a grand scale and thanks to Ryan for the most excellent tour.
Birch: a much celebrated, award winning, alternative approach to hotelkeeping. Such variety of activity that is rare in any other hotel: a working bakery, pottery studio, co-working centre, farm area, pig pens, lamb pens, zebra dining, fitness centre, spa, lido, outdoor night club and an off-limits treehouse. Great vision and many congratulations to the innovative Chrises.
The best little hire car flew around the counties in all weathers, no problem. It handled twisty country lanes, flooded farm tracks and congested motorways with equal aplomb. Its plucky engine got me out of trouble a few times and ate up the miles, all whilst we followed the political implosions of the Conservative Party. By the end of our tour, the white was a very distinct shade of brown. Our final mission was to pass by Heathrow on Friday night to collect my wonderful wife on her return from NYC. I was very sad to give back the best little hire car. The car hire chappie did do a bit of double take when he saw the colour change, but let me go with no additional charges.
And finally, after Coworth Park, due to an accident blocking the way west, I had to go east and queue for 30 minutes to access to the A30 back to London. Blow me over with a puff of wind, but right there on the left were Roman ruins. Did the Romans live here? This far from the comforts of Central London? A search on Google Maps listed them as 'Roman Ruins Leptis Magna Ruins'. Now, I have been to Leptis Magna and I can tell you for sure, Leptis Magna is not in Surrey. It is in Libya and it is stunning and it is immense. Further research, however, revealed that the columns and capitals were indeed genuinely Roman and were brought here from Libya to create a folly for the royals in the 1800s. Such follies aside, I am curious to see what further follies the Tories will get up to. Can BoJo really be recycled like a bunch of Leptis Magna marbles or old manor houses into hotels?