Phil's Travels - Barcelona, Spain (0315)
20/03/2015
Phil's Travels - Barcelona, Spain (0315)
This was my first trip to the awesome city of Barcelona in five years, a trip long overdue. I love the place - food, people, weather, architecture, history, marine frontage, creativity and Picasso. That said, Barcelona Airport Terminal 2 now gives a very sorry first and last impression. The terminal is poorly lit, poorly served by retail and virtually devoid of life. The arrivals space is particularly poor, where the toilets are in an appalling state and a pale imitation of a Dyson-Blade barely blows the water around the palm of your hand.
The arrivals area also suffers from a mild bout of "Rome Fumanchu Syndrome". Every time I go to Rome via Fiumicino Airport, the ATMs won't accept my cards, forcing me to use the exchange bureau which charges an outrageous 20% commission. I then proceed to get fleeced by the local taxis. It is pure Roman collusion, just as it was in times of Empire. To be fair, Barcelona is not as bad - at least the taxi drivers are honest and the exchange bureau will charge a reasonable commission when all your cards are rejected by each of the three ATMs in the arrivals hall.
Barcelona is a visual feast and must be walked. The reason for my visit was to assess the potential for converting an old office building into a hotel, concept to be defined. As such, I had to visit a wide variety of different hotel types and discovered that Catalan creativity has been in overdrive. There are some truly innovative hotels that must be visited. For example: Praktik Bakery, a hotel over a bread shop, where the shop and kitchens are the reception; Hotel Serras, on the harbour, is a former studio of Picasso, with a roof top terrace, bar and pool (increasingly de rigueur in Barcelona).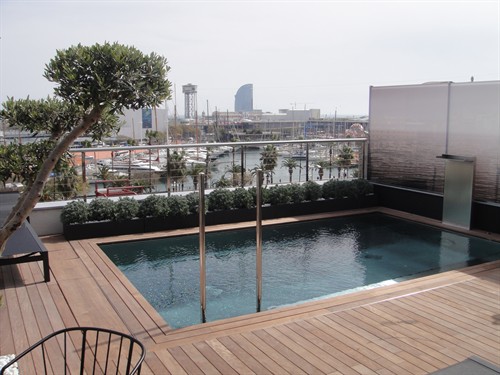 Barcelona is also a creative force in the hostel sector. I have never seen so many high quality hostels in one city. There are over 400 hostels in Barcelona (compared to 335 hotels) and new concepts are popping up all the time (eg Toc, which has an outdoor terrace and pool!).
In these dark days since the economic crash, Barcelona's pace of hotel development slowed only marginally (it must surely rank only second to London in the last seven years). However, in the face of new economic realities, many of these new hotels were developed with limited services and low operating costs, whilst still offering high quality, high design four-star accommodation; and quite a few been realised in beautiful old buildings that failed as viable residential or office space.
Amazingly there are very few branded budget hotels in the city (particularly compared to London or Paris) and my last visit to the city was to assess the proposed Travelodge in 22@ - now open and performing strongly (always nice to visit a project that has come to fruition).
This week's visit coincided with St Patrick's Day (marked with a Guinness in a nearby Irish pub) and Barca v Man City (which Barca won 1-0, thanks to a Messi master class in ball control and creativity, "an extraordinary player with an ordinary look"). The boys in sky blue were well behaved when I walked around the Camp Nou ahead of kick off in search of more 'craic', and the local boys in blue were in good humour ensuring the peace.
With luck my next trip to Barcelona won't take another five years, but if it does I hope the city's creative powers are soon focused on Terminal 2 so that my last hour in the city does not feel quite so depressing. Viva Barca!