Phil's Travels - Berlin, Germany (0315)
04/03/2015
Phil's Travels - Berlin, Germany (Mar 2015)
I was in Berlin for the 18th International Hotel Investment Forum (IHIF), which meant an early start Monday morning. Flight boarding was smooth and there were few IHIF delegates on the flight. The push off from our stand at Gatwick was not so smooth. The tug-bar broke and we had to wait 20 minutes for a replacement bar. Our pilot said this sort of thing is rare (once a year), but it has happened to me before (many years ago on a flight to Toronto, when the replacement bar took an hour to source; maybe bigger jets require bigger bars, which, despite their bigger size, are more difficult to find).
Berlin was cold and windy, but no snow at least. My first day was filled with meetings in various locations around the city, including a quick chat at the top of the new Waldorf Astoria. The library offers a panoramic view of the city to the east and across the famous zoo and park. The hotel was very quiet and despite the imposing entrance felt cramped on the inside.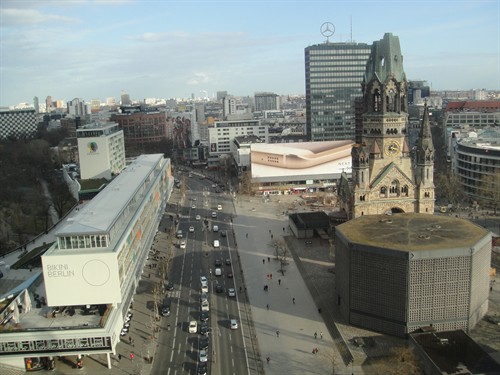 Monday evening we hosted a beer and sausage dinner at Weihenstephaner am Hackeschen Markt (the oldest brewery in the world). We arrived early and enjoyed a quick beer prior to show time. As guests started to arrive and the entrance became crowded, someone with long flowing hair and a skirt came up to our group seeking to leave the venue. I asked our guests to make way for the lovely lady, only for the person to respond with a gruff manly voice, "Danke shoen". Ah, Berlin! I am told that the five o'clock shadow should have given it away. Our guests were no less colourful, but at least more easily genderised. Good food, good beer, great relaxed atmosphere and great guests.
Tuesday morning I enjoyed breakfast in the rooftop Neni at the Bikini Hotel, followed by another pinball array of meetings in multiple venues around the city, including a site visit in one of the last historic buildings to be regenerated. I caught the last flight back to Gatwick Tuesday night without delay or gender issues, but faced a delay on the train into central London because of a broken window that needed to be taped up before the driver would continue.
With regard to the conference, Phil's take away nuggets include:
There is lots of frustrated equity seeking a home in European hotels.
The Chinese and Americans have European hotels firmly in view.
Banks are starting to lend on new hotel developments, particularly in the UK.
Four Seasons Hotels is to return to the South of France with a new flag.
Paris office prices are falling and planning applications have become easier (new development no longer requires the approval of the hotel owners committee), presaging a potential boom in new hotel development in the French capital.
Jets need bars.
Trains don't work with broken windows.
And finally, don't judge sex by its cover.