Phil's Travels - Cambridge, England (08.20)
17/08/2020
Phil's Travels - Cambridge, England (08.20)
The weather forecast on Friday morning was for a day and weekend of thundery showers and sunny spells. So, my delightful daughter and I geared up appropriately, whilst my wonderful wife had pre-packed for a summer's day before heading to the office. Good job I had some spares to share and keep her warm in the deepest, darkest depths of the north. Anyway, delightful daughter and I met wonderful wife at Liverpool Street Station on time and we made it to our Cambridge hotel without issue. Note: Tube (sauna-like in the hot weather, but also because of sheer weight of folk) and trains much busier than last week (amazing that London did not have second spike yet).
In our hotel though, lots of issues. My wonderful wife had made the booking and the central reservations process was far from simple and the confirmation emails far from accurate. The check-in was equally fraught, but at least our room had a third bed for our little one. The room itself was well sized, but the layout lousy (I had to redecorate) and filled with frustrations. The master bed was massive and had splayed pillars for feet that were determined to decapitate each and every single one of my toes. The view from our low-slung windows (the ceiling was low, being a conversion of old terraced houses, very charming, but execution left wanting) was of the Department of Pharmacology just a few metres away. We could see into labs galore. Acres of lab space. Just imagine if the University was in session, our every move would have been witnessed by hundreds of training pharmacologists - or we would have had to keep our room in permanent darkness. The horizontal cloth Roman blinds rose bottom-up to open, so even a little sliver of sunlight would simply have framed your crotch for all the pharmas to observe in glorious detail. Surely a different window covering could have permitted some light without indecent exposure. Note: in this day and age of carbon conservation, why do buildings keep their lights on when their obviously in hibernation during these C19 times and the holidays - three of the five floors of labs were pretty much fully light night and day throughout our stay.
The walls in our room had a habit of weeping. Whenever we turned the heating on, condensation would develop on the wall by the vent. Whenever we had a shower, condensation would develop on the walls around the window. The resultant streaks were no compensation for the laboratory panorama. The sink was cracked and not deep enough to drown a gnat, never mind fill the kettle from the TCMF. The windows in the bedroom were so wonky, there was a significant gap between window and frame, letting in cold air and lots of noise from the terrace and Smirting areas below (Smirting = smoking and flirting area). We had two sets of towels, not three. The Schloss room opposite ours developed a leak in the rain. And the rain shower being low hung did not even let a chap be rained on (maybe I should have gone to the Schloss room opposite for my morning ablute).
First evening, hotel restaurant was full, so we walked into town in search of somewhere suitable. We found a lovely tapas place, where the waiters were as chummy as clams and the food as delicious as clams in a Southern chowder. The wine display was colourful and the liquid we chose nectar. Wonderful experience topped off with an atmospheric walk back to the hotel under a light drizzle and soft lighting (Cambridge streetlights are like extended barber's pole, only these shed a soft monochrome off-white aura - not seen these anywhere else).
After a breakfast to forget (service very slow, no black pudding with the full English as advertised, requested medium-soft eggs were boiled hard and no soldiers as advertised, and Eggs Benedict scored 2/10 - equal lowest score in history, together with The Ritz London - muffin tough, bacon under-cooked, egg over-cooked, Hollandaise ok) and the only deluge of the weekend, we spent Saturday exploring every nook and cranny of this pretty city (armed with umbrellas that never saw any action - the predicted all-day on-and-off rains never appeared, perhaps having spent their load in the morning already).
Unfortunately, the colleges were closed, but we still got a good feel for the place. We crossed a few bridges over the River Cam, but neither lady wanted to punt.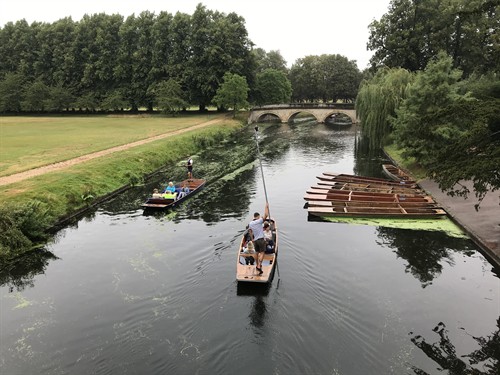 We bought some stuff and ate more tapas (way less good than the venue the night before) at tables on the street, and returned to the hotel for dinner. Dinner was even more disappointing than the breakfast. The steak was cut to 5mm and not tenderised to such thinness - it was tougher than Jason Statham's jaw and cooked to within 2mm of its life, and definitely not rare as ordered (how can anyone possibly cook a steak the thickness of cigarette paper to rare?). The chain to which our hotel belonged had a reputation for food and beverage envied by all at its inception some 20 years ago. No more. My wonderful wife and I had the same post-prandial thought instantly. This had been a meal worthy of Café Rouge. Damning praise indeed for what was once an icon of the hotel industry and an example of best F&B practice.
Even the wine theming is now just a wine-wash. The wine list was no more than 40 wines long - our local café has more wines than that, and the waiter had no idea what I was ordering (the waiter in the tapas place knew more about his wines and he had a wine wall, the hotel had nothing to tempt the serious lover de vin). A few wine names on doors and sketches hung about the place do not a wine experience make. Gerard must be spinning in his grave, poor chap.
Our delightful daughter was so underwhelmed with the thought of another breakfast that she skipped it the second day. After some parental sustenance, we headed back into the centre, toured some more, photographed a lot and had a quick pizza before heading home. For someone who loves the hotel business, this experience was useful market research. But although we will definitely visit Cambridge again, alternative accommodation will have to be sought.