Phil's Travels - Cameroon (06.22)
16/06/2022
Phil's Travels – Cameroon (06.22)
The design team thought they had the better deal with a flight around 11.00. Mine was at 06.50. This meant an 03.15 taxi to the most boring terminal in the world, Heathrow T2. At T2 I paid the driver and made my way through the throngs in search of the Brussels Airways desks, when, halfway down the concourse, blow me down, my driver ran up behind me and said, "Excuse me, sir. But you overpaid me and here is your £20." What a gentleman. I was gob smacked and the passengers around me were in awe and could only smile at my good fortune. A wonderful moment of human honesty and gentlemanly behaviour. By-the-by, about six months ago, a taxi to Heathrow used to cost me around £30. This journey cost £56. Just a by-the-by example of the inflationary pressures we are suffering these days.
The Brussels Airlines desks were not in their usual spot (having flown them before, but a few years ago) and a local airport bod guided me to their new Brussels Airlines only desks at the rear of the concourse. Consequently, I was done with the admin in no time and arrived at the security area well before opening time. A bunch of us waited until opening time, whilst the Fast Trackers pushed past and made for their privileged pathway to airside nirvana. There was sweet justice though and a big grin on my face when our security lanes opened at 04.30 and the Fast Laners were told theirs would only open at 05.00. Thus, the privileged mingled must with us commoners did they. Good job my lovely wife was not involved in such injustice of the privileged. I would have heard no end to it.
Another by-the-by example of these days: our boarding was delayed due to a refuelling delay (shortage of drivers) and because the crew was delayed at security (shortage of secure folk). Both the result of understaffing. Still, at least my flight was not cancelled. We left in the rain, landed in Brussels in the rain, and thanked the weather gods that the climate had been so good for the Queen's Jubilee celebrations for much of the weekend, especially permitting Her Majesty's afternoon tea with Paddington (perhaps the best bit of telly all year, go Lilibet!).
At Brussels we were herded, without choice or possibility of argument, to a bus to Terminal T – the limbo-land between Belgium and Sub-Saharan Africa. The 'Land of T' is something of a wasteland, but no one warns you. The 'Land of T' had a beer stand, a small Relay (newsagent) and a mini Duty Free store, and that was it. Thus, no food for a hungry traveller seeking some breakfast related nourishment, and who could not stock up beforehand because no one told him such segregation was devoid of substance. Why did we have to bus to the 'Land of T'? Why could we not walk there via the other terminals and be supplied en route and in readiness for the dullness that is the 'Land of T'. I was very happy to the leave the parallel universe of the 'Land of T', and we left on time.
We also landed on time in Yaounde, but despite being the first off the plane and the first to be lateral flow tested for C19, your blogger was only the 50th to have his name cleared. So, 30 minutes later I was at passport control and waited a further 60 minutes for my visa-on-arrival to be signed off (signatory was in hiding). Still, my journey was somewhat better than the previously smug design team: their flight was delayed leaving London, thus missed their connection in Paris, had to overnight in a delightful Best Western at CDG, took an alternative flight to Douala only, waited 120 minutes for their visa sign off, and drove five hours to Yaounde – total delay 27 hours!
The entire team from all points of the compass stayed in a new hotel in the capital, which was a genuine pleasure. Clean, fit-for-purpose, good food and lovely staff; although, lacking in sense of place or panache, poor water pressure and no hot water, lousy sound insulation, super-slow lifts and rickety meeting room furniture. Still, better than our usual venue for these Cameroon visits.
Whilst in Cameroon, we dodged biblical thunderstorms (of which many, 'twas the short rainy season) between presentations to a variety of local stakeholders. There was lots of interest and we were well received. Client seemed overjoyed with our efforts. In celebration, our last evening in Yaounde turned into a danceathon, with Masterpoes and Poestaki acting as Lords of the Dance and Le Professeur de Dance showing all how to boogie with true class. So good was the evening, Poestaki had to be knocked-up come the morning.
On the final day, we were driven in the habitual convoy of black Mercs and 4x4s to Douala, with your blogger in the slow-moving caboose of the chain (after a few hairy overtakes, our pilot was told in no uncertain terms by the finance bods to slow down). The others sped through the lush landscape and were happy to play Russian roulette with the intercity buses (they just won't give way). Result, they only had to wait for us on the outskirts of Douala. En route, we were pulled over for a cycle race, delaying us from the rest of the convoy still further (Tour de Cameroon?). Cycling seems to be a popular sport in Cameroon, as I remember something similar in Kribi some years ago.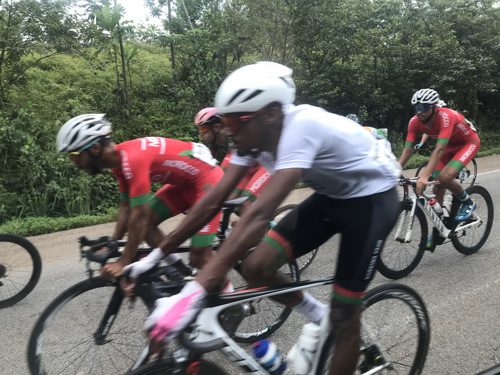 In Douala, we visited the two newest hotels. K Hotel was very smart and finished to a high standard, although the rooms are quite small (good luck and I hope your branding discussions conclude soon). Krystal Hotel was an interesting experience, but definitely not five-star (branding seems unlikely).
Post hotel visits, the lawyer and I headed to Douala Airport for our return flights to Europe. Passing through the airport was a breeze, thanks to a dedicated Security Lady who checked us in, fast tracked us through passport control, then took us back landside to wait in the Lounge (yes, the Lounge was back outside and very small). So, when it came to boarding time, the same lovely Security Lady came back into our lives and whisked us past all the checks again and straight to our gate. Wonderful service, if a somewhat inefficient.
I slept on the overnight flight back (the flat bed had to be used) and huge thanks to the wonderful stewardess who left me a very thoughtful present when I woke up. Sorry I did not see you in person on landing. The connection through Brussels was much more interesting than the outbound, with lots of shops, restaurants and a Lounge on offer outside the 'Land of T'. Heathrow T2 though was going for not only the most boring terminal in the world, but also the most tedious. The terminal boffins had created the world's longest snake that crisscrossed the length and breadth of the pre-passport area. It was a queue of monumental proportions and I am quite certain that they must have been awarded their objective, the Guinness World Record for the longest snake, in the world. More than 120 minutes later the repercussions of such slow passport procedures hoved into view – hundreds of suitcases strewn about the luggage reclaim area as their owners failed to appear and case after case piled in on each other and fell overboard the carousels. Chaos! And yet T2 was designed to handle 20m passengers a year. Clearly such design had not factored in the passport control element of the whole business, because that certainly cannot cope with such volumes. In fact, it was quicker for non-EU/UK passport holders to exit than it was for the rest of us.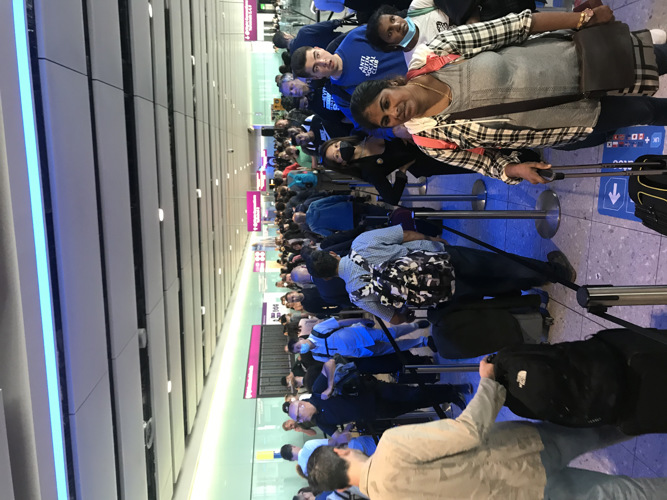 My journey concluded with a ride on the Elizabeth Line back home. It left from the Heathrow Express platforms and took 20 minutes to get to just outside Paddington, whereupon we waited some 10 minutes for a GWR train to move out of the way. Turns out that the Elizabeth trains dock in the mainline station and not in its own, purpose-built, £18.25bn, underground palatial facility. Evidently, the overground connection to those expensively dug-out and built tunnels was not finished yet. This meant a traveller had to disembark in the mainline station, pass through a ticket machine, walk to the Underground part and pass through another ticket machine so as to interchange with the Bakerloo. Not good.
So, in quick summary: Brussels Airlines good, Brussels Airport a mixed experience; T2 still boring and now tedious too; Cameroon (a land of254 different languages, plus English and French) magical, new hotels good news for the magical land, new roads good; Elizabeth Line a work in progress; and, by-the-by, still no Mbongo Tchobi for yours truly (maybe next time, again).