Phil's Travels - Dawlish, England (07.22)
15/07/2022
Phil's Travels – Dawlish, England (07.22)
Loaded with grub from M&S we battled across the concourse at Paddington Station to Platform 3 and our Sunday lunchtime express to Dawlish. Paddington was bursting at the seams and we discovered why when we battled down the aisle of our carriage to our seats. Two earlier trains had been cancelled (BA and Heathrow are not the only ones playing the last-minute cancellation game) and so three trains' worth of passengers were squeezing into our singular train. Fortunately, we had pre-booked seats and had plenty of room to enjoy our M&S delights en route.
Purpose of visit to Dawlish? To celebrate an 80th birthday, so our bags were packed with related goodies and the usual ribeyes from Hampstead. The direct express pulled into the new concrete palace that is now Dawlish Station on time and we headed home in time to watch Novak polish off the chatty and volatile Nick. New Dawlish Station was nearly finished. The final lashings of concrete were being poured around the mouth of Dawlish Water, with a view to creating more public realm. Photos to follow when completed.
The ribeyes were fabulous on the BBQ (chef'd by yours truly) and consumed under a glorious setting sun in the garden, with a splash or three of sparklings from England and New Zealand. Sunday closed late after a few cheese-friendly glasses of red and a thoroughly competitive game of Scrabble.
My wonderful wife and I worked most of Monday (including conf calls with Africa and USA, irrespectively). I spent some time packing my donated empties for the trip home and prepared for dinner over a glass of chilled white under the late afternoon sun. The taxi ride to Exmouth drove up one side of the River Ex and back down the other without any issues and we arrived at Micky's Beach Bar in fine fettle. Micky's is the last but one new venture by chef Michael Caines. His left bank empire now encompasses Lympstone Manor, The Pool House Restaurant & Bar and, of course, Micky's Beach Bar. Who knows, his Devonshire dominion may, in time, even incorporate CTCRM Lympstone (Commando Training Centre Royal Marines), such is his power along the banks of the Ex.
For now though, back to Micky's. Micky's is Michael's entry level outlet, located on the beach at the mouth of the River Ex (hence Exmouth) and enjoying stunning westerly views of the English Channel towards Dawlish. This stretch of water was so much more interesting than that of Dawlish. Not only was there a lot less concretisation, but the water was so much more animated. Boats coming in and out of estuary (including a serious fishing boat); folk swimming, paddle boarding, kite surfing and paddling the biggest canoe I've ever seen; and at low tide the revealed sand banks drew in all kinds of bird life, seeking to feast on the defenceless, juicy molluscs beneath.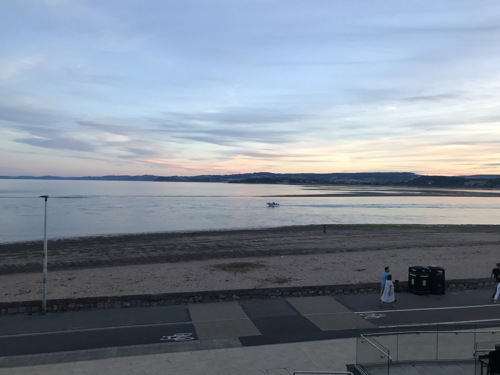 Of our feast? Food was fair, interesting wines were well priced, service was excellent and the venue lovely (especially the view out over the water and the setting sun). Despite the daytime heat, that evening was cool when the sun crept out of sight. The excellent staff offered us some very clever blankets – wrapped up inside themselves and appearing to be a pillow before opening up into a winter warmer.
The taxi back to Dawlish was nothing like the outbound. Our driver arrived 15 minutes late because of a key road closure. Bridge Road is aptly named as it links the left and right banks of the River Ex, but also crosses the National Rail link from Cornwall to the rest of UK, the Ex and Exeter Canal. Without it, road transport has to either run through the centre of the city (which is slow going, as attested to by our driver) or out and around to the M5. So, for our return our driver chose the M5 route. Now this sounds all well and good, a calm motorway ride home. Lovely. However. Unfortunately, the M5 expires shortly after it crosses west over the Ex and becomes the A38, then the A380, from which a tiny back road links civilisation to the coast and Dawlish. This back road was taken at speed by our driver. Either side were sheer walls of hardened red Devonshire soil, topped by dense woodland, and all taken at night in completed darkness. Passengers were heard to squeak the odd 'Ooh!' and 'Ahh!' as we careened down this helter-skelter canyon without knowing where we were going to end up. I was half expecting an indignant Whomping Willow to lash out and wallop our interloping vehicle for six. Good job no one had indigestion.
Our final day of this flying visit started with more work, followed by a quick lunch in the sun, followed by a slow train to London. We were held up behind a late-running freight train and docked into Paddington 20 minutes behind schedule. Not that I would wish for any kind of return to a pandemic, but I did miss the C19-era of rail travel when every service ran on time and coaches were empty. Worthy of note: our slow train experience was preceded by my wonderful wife nearly head-butting the Dawlish express in her hurry to board and the poor train manager who would have taken the brunt of her thrust as the door opened looked a little taken aback, but recovered quickly and was heard to say: "You have a sense of urgency, Madam. Don't worry we won't be leaving this second. Take your time." He later called her 'Miss' and I am still not sure which my wonderful wife preferred. 
This was a flying birthday celebration visit, so no time for the habitual go-karts, no black swans, no crazy golf and no shots of the nearly finished ode to concrete. Back home I logged on and filed for compensation for our delayed return. This is something we have become pretty good at of late. Between various delayed flights, downgrades, late trains, etc, these last few months, I think we will be close to securing £900 in compensation by summer's end! How on earth do airlines and train companies survive in these difficult times? Happy trails. Or is that trials?