Phil's Travels - George, South Africa (07.22)
26/07/2022
Phil's Travels – George, South Africa (07.22)
Five flights in six days, two of which over 10 hours long, and it all started on the hottest day ever on record (so hot, homes in London self-combusted), only to experience bitter cold on the opposite side of the world.
Getting to Heathrow was a heated and tortuous affair. Mid-afternoon on Tuesday, the Bakerloo Line had gaps of 15 minutes between trains and the Heathrow Express ran one train in three. At Heathrow T3, the queues for security snaked three times up and down the terminal (no wonder given only four scanners out of 12 working). All in all, it took over two hours to get from home to airside (normally under an hour) and into the heart of the furnace – Heathrow was roasting at 40.2C at the time, its hottest day ever. Part of Heathrow's cooling solution was an ironically named Sahara E-TurboDryer blowing device.
Further evidence of disruption to operations at airports (whether due to insufficient staff, the heat or Brexit, I don't know) was the fact that Spuntino's menu was missing half its items (no pizza, no chicken burgers, no hot dogs, no risotto, no fried chicken). Fortunately, there was sufficient regular chicken for my Caesar and Mac for my cheese to satiate my grumbling tummy.
One airport chap boarded the whole plane, the flight supervisor and co-pilot had to help with loading the luggage (no mean feat in 40C), and the jet-bridge broke down. Heathrow was seriously creaking under the heat and pressure. By 19.00 the skies became dark and thunderstorms were in the air. We finally took-off at 20.30. We landed at 22.00 Amsterdam time and docked at Schiphol 20 minutes later because this was Schiphol after all. The drive from runway to terminal takes one halfway across Holland (I think I walked the other half from plane to passport control), crossing multiple highways, rivers, canals, passing by villages and going through forests - quite the tour of the Netherlands. Schiphol is a beast.
Passport control was slow (a key benefit of Brexit) and not expediated by an Olympic squad from Kazakhstan (very cute light blue passports to match their very cute light blue kits). I overnighted at the Corendon Urban (as stated on paper), but in reality the Corendon Plaza (as stated over the door). Confusing, but worked out in the end.
The security snake at Schiphol next morning was every bit as long as Heathrow's, despite seven much sexier scanners (cool white affairs, like mini-Sydney Opera Houses) being in operation. I was glad to have hand luggage because the check-in area was chaos personified, even requiring security/police to shout and corral folk. The flight was long, tight in economy, good movie selection and on time.
Eleven hours later we landed in Joburg. Their airport was big, but empty. I swear we were the only flight to land at the time. The cattle ranch style barriers were deserted of folk and we sped through passport control. I was collected by the lovely 'brothers' and we had a late night refuelling stop at a shopping mall in Rosebank, a delicious Indian meal of the highest order and extremely morish naan bread. My hotel was one of those new-fangled aparthotels. My one-bed was large, but sparsely furnished, clean, but noisy and the heating did not work (it was less than 10C outside). The ground floor Grab-&-Go and restaurant were well stocked and comfortable, but corridors were already showing signs of wear and tear (only a year old). My bathroom was large enough for a rugby club changing room and yet the sink was no bigger than a small tea tray and there was no counter space or shelving for one's toiletries. There were only South African sockets available anywhere in the apartment and no adaptors at reception. Who designs these spaces?
The 'brothers' and I left early next morning and flew to George, where we hired a car and drove to Wilderness in glorious sunshine (same latitude as Cyprus in the Med). George was named after King George III in 1811 (and not after George Best as suggested by yours truly to humour the Red Devils supporting 'brother') and Wilderness was so named by George Bennett of Liverpool (good man) in 1877.  
Our hotel was situated on a 40m high cliff edge overlooking the Indian Ocean, next stop Antarctica (just 6,000km away). Despite the long sandy beach that stretched into infinity, swimming was not advised owing to strong rip tides, next stop Antarctica. That said, the spot was hugely popular with paragliders who jump off the cliff and glide along the coastal frontage. Experience required, as next stop Antarctica. My room was large, dark (poor lighting), cold (heating not working), no sound insulation (sound familiar?). Consequently, because the outside temperature fell to near 0C at night, I slept with socks under two quilts and three blankets to the sound of crashing waves.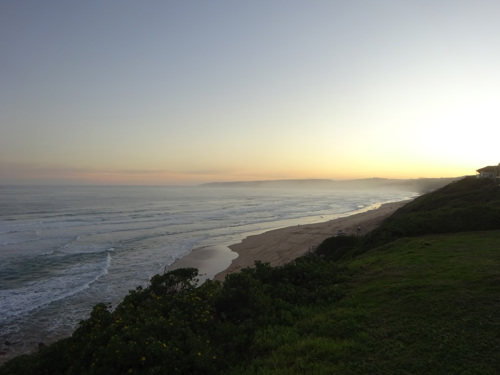 We visited the quality local hotels, had coffee at the Old Post Office, enjoyed the gorgeous sunset and feasted on curry for dinner (not so good as the mall experience). In the morning, after a bracing climb down to the beach, very windy and barely 5C, we were served vetkoek (a quintessential South African dish, a bit like a donut without a hole or any filling), Pakistani tea and the full Tutti Frutti breakfast.
Suitably stoked, we drove up over the Outeniqua Mountains to the north to Oudtshoorn (named after Baron Pieter van Rheede van Oudtshoorn in 1847), the ostrich capital of the world. In fact, we did glimpse an ostrich farm en route (and some monkeys on the way back) and found evidence of previous ostrich wealth throughout this smart town. Indeed, many of the hotels were formerly ostrich baron homes, dating from the 19th and 20th centuries.
Having completed our meetings and tour of Oudtshoorn, we drove back to George Airport and flew to Joburg for dinner at the older 'brother's' lovely home. Huge thanks again for such incredible hospitality. My hotel for the night (and the following night) was the same new-fangled aparthotel as above, only this time the heating was working and sleep was blissful.
I woke next morning with a challenge. Since my last visit two days before, no one had taken the initiative to rewire the place and install some more international sockets. Oh, and reception still did not have any adaptors (guests must eat these things). So, I girded my loins and headed out into Joburg, on foot. Alone! Fortunately, my aparthotel was only a five-minute walk from the culinary Mecca that is Rosebank Mall and therein also lay an electrical store with an appropriate adaptor for sale. Suitably equipped, I returned to my apartment and charged to my heart's desire, or at least until Gerrard came to pick me up.
Gerrard took me for a whistlestop drive around town so I could get a good feel for the place. We visited a treasure of a wine shop and lunched on the street at Razor Charlie. We drove around Sandton (one of Joburg's many CBDs), around Rosebank (another CBD), through the old town (the old CBD and home to De Beers striking diamond-shaped office block) and south into a panorama of towering gold spoil heaps, effectively gold tinted sand dunes, the by-product of South Africa's most famous export and the reason for Joburg's very existence since 1886. This fortunate city lies atop the Witwatersrand gold reef (discovered in 1884) and today has a population of over 8m.
We visited some of the city's hotels, including the hilltop Four Seasons (but could not see any elephants in the zoo below), wandered around Sandton and had my photo taken by the Nelson Mandella statue, and dined in another delicious Rosebank Mall venue (Joburg does not seem to have any high streets and few standalone restaurants, the majority are located in some kind of shopping complex or a hotel), called The Grillhouse Rosebank. We sat at the bar and huge thanks to Ephraim (the barman) and Nelson (the manager) for their super company and empties donation. It was a shame that Master Poes could not join us, but Cape Town and a new God Son were excellent reasons for missing out (and at least we had you in spirit).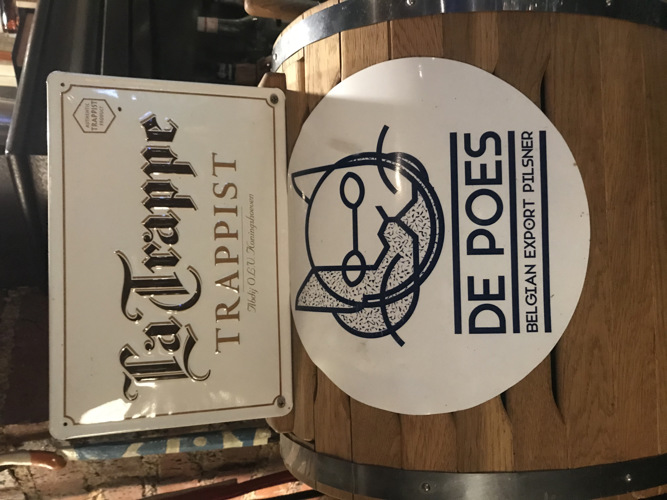 My final day in Joburg was spent abusing my newly acquired adaptor and after a good few hours of work, a delightful chap from Zim drove me to Joburg Airport for my overnight flight home. The airport was way less chaotic than Heathrow or Schiphol and far more efficient. We boarded and were ready for take-off 30 minutes early, when the chatty skipper advised us that we could not actually take-off early because folk who had bought homes west of London knowing full well that Heathrow was nearby would not permit flights to land before 04.30. And so we waited on the plane, burning fuel and getting unnecessarily anxious for 30 minutes. We were the first plane in at 04.33 on Monday morning.
As first plane in, passport control was empty and our flight was the only one displayed on the luggage monitor. We had to wait a while for the luggage to appear (even though we were first plane in) and thus had plenty of time to admire the swathes of neatly aligned uncollected suitcases carpeting the luggage collection hall. There must have been thousands of very disappointed folk the day before, without their gifts and change of undergarments.
South Africa is a stunning country, lovely people, blessed with incredible natural resources and great food. So, all that remains is for me to say "Jezerkala"!