Phil's Travels - Dawlish, England (05.21)
04/06/2021
Phil's Travels - Dawlish, England (05.21)
The start of our first trip outside London in nearly 12 months exposed some severe rustiness in our usually (pre-C19 anyway) smooth departure protocols. Within minutes of arriving at Paddington Station my wonderful wife panicked that she did not have her work-laptop charger and could not live without it for our long weekend on the other side of the world (Dawlish is quite far after all, especially for those now unused to travel). She therefore abandoned us for 20 minutes, as she ran back down the Tube, back to our station, ran home in the un-forecasted rain, rummaged around, ran back to our station in the ongoing deluge, back to Paddington and ran to us on the concourse looking like an over-exercised Labrador that had just swum the Channel. Did she find the charger? No. It was in her luggage all along.
We boarded an empty train and sped to Exeter without delay under ever brightening skies. A quick change in Exeter, arrival on time in Dawlish and up the hill to grandpa's house in time for me to bbq our London-bought steaks. The food, weather and repartee were so good, we stayed out until well after sunset (wrapped in many layers, as of course winter was still with us in May, despite the sunny daylight hours).
It was over dinner that we discovered my father had been very worried about his Great Tits (a topic that provided much sniggering and rib poking amongst my household). Unbeknownst to my father, Great Tits recently set up home in his most knackered of bird boxes. So, when he went to assess said knackered bird box for possible disposal, he was unaware that Great Tits chicks were resting inside. To open the box, he had to turn it this way and that, and so did not see the Tits in the nest, because of course they had fallen into the upturned roof. Anyway. Tits identified and replaced carefully back on the garden fence, fortunately the larger, more flighty Tit parents resumed food deliveries. All through our stay, whenever there was sunlight and even at sunset, those busy little Tits flew this way and that with food for the little uns. Wonderful to watch and a pretty thing is a Great Tit.
Aside from admiring Great Tits, we also saw that the Black-backed Gulls had returned, again, to nest on the neighbour's roof. Much more impressive than a Great Tit, but not as pretty, and makes an awful hawking racket (Tits are more the soft-spoken type).
Next day we dropped into the village to play crazy golf (which yours truly won handsomely) and inspected the new sea wall works (the wave-walker had gone, but the millions of GBP in investment seemed to be progressing in the right direction, eastward). Not a pretty thing, but hopefully it will be effective in protecting this famous stretch of railway line and the village itself. Being the first sunny day of the year post road-map relaxations, the village was busy with grockles and hummed with the ring of cash tills. For lunch we drove into Exeter for my darling daughter's must-have pasty in Cathedral Close. A quick wander around the city centre and it was as clear as the streets of London that C19 has decimated the high street everywhere. So many empty shops.
After lunch we took a detour back to the park-n-ride, via Exeter Quays. Despite my local roots and many visits to the city, I had never seen the riverfront area before. It is even more historical than the city on the hill and you really do get a sense of what Exeter was like some many centuries ago as a major conurbation in the kingdom. It was not only a strategic Roman site, but also became a major trading centre, hence the quays on the River Exe. For many years the area was wasteland, but today it is a magnificent example of regeneration and restoration, and very busy, with lots of till ringing going on in the converted ancient warehouses and newer buildings.
That evening was Champions League final night and my super son's magnificent Blues were playing against another team of upstarts in blue. Fortunately, his Chelsea won and all was well in sunny Dawlish (photographic tribute below - yes, I know the blue is the wrong kind of blue, but I am assured it is a genuine CFC shirt).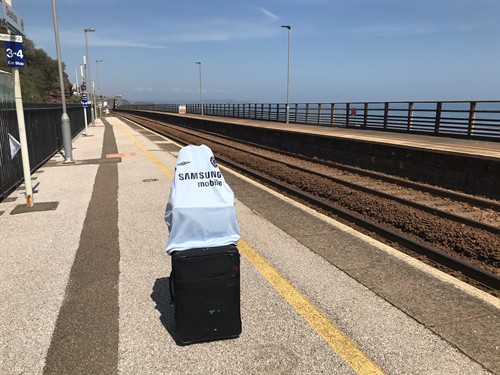 Sunday was Dawlish Warren day. We left early enough that there was no queue into the Warren and a parking space available. After a diabolical game of crazy golf (yours truly was unable to repeat previous day's excellence and came dead last, by quite some margin), we drove the slowest kart on the track (much like last summer) and bought some donuts. Warren over we headed back to grandpa's house for lunch and an afternoon of work and revision in the sun (whilst our super son slept off his Champions League libations with a well-earned siesta). The road back to Dawlish was bumper to bumper heading into the Warren, virtually the whole length of Warren Road, so note to self to continue with early starts to the Warren. Dinner was a bbq of kofta, merguez, chicken and lamb chops, followed by a digestif game of Scrabble.
The day of our return, we dropped into the village again for a game of dodge-the-grockle. Whilst my darling daughter and her grandpa went to build a helter-skelter on Coryton Cove beach, my lovely wife and I shopped a few things (some new beers made in Teignmouth but with Dawlish labels on them, including one of the famous Black Swan). The helter-skelter project was completed when we hooked up with the master-builders and their construction worked a treat (although it took a while to find them at the far end of the beach, past all the sun-worshippers).
After a quick lunch, we caught our direct train home (this time the promised direct service was direct, unlike previous occasions when direct offerings were actually indirect facts), ousted persons occupying our reserved seats (I thought all passengers had to have reservations in these C19 times) and whinged at the delays (wrong kind of heat on the rails meant the train had to slow down after Taunton). But, after a lovely weekend of sun, great food, fun conversation and lousy golf, we returned home with fond memories of the unparalleled enjoyment of Great Tits.