Phil's Travels - Northampton, England (09.20)
09/10/2020
Phil's Travels - Northampton, England (09.20)
Rose early in order to catch an early train without thinking of Peak Time hours. Who would want to go to Northampton at 08.00 of a morning anyway? I got to Euston Station in good time and went to purchase a ticket from a machine. The machine advertised a cheap day-return and I followed the menus through to credit card payment when the machine simply crashed. I tried a couple of other machines of varying colours and brands, always to the same end. I gave up with the tech and went to a human for help. He explained very simply that the cheap day-return was not available yet as we were still in Peak Time. I looked around the tumbleweed-empty station concourse and asked, "What Peak Time?" The chap simply smiled and shrugged and told me that now was Peak Time to Northampton, like it or not. Faced with no other realistic option, I bought a cheap day-return and was told to wait for an hour until Peak Time ended.
For the next hour I sat on a seat on the concourse of Euston Station (pre-C19 a very rare and exclusive commodity indeed, but fully abundant these days) and watched the odd person dodge air molecules. If this was Peak Time, I would hate to see Trough Time. There must be literally no one on campus at Trough Time, just fresh air and the odd resident pigeon bobbing along on its gnarly toes (Euston's pigeons were looking quite slim, as the few passengers produced slim pickings). Anyway, come the appointed hour, I dodged my own air molecules and walked to the relevant platform. The ticket barriers had no queues, the platform had few people and my carriage was empty - just reward for avoiding Peak Time.
As ever during this C19-era, the train ran on time and I was wandering around the centre of the capital of Britain's shoe industry by mid-morning. I inspected the necessary hotels (some allowed you in to see rooms and facilities and others din't, depending on their varying C19 protocols) and saw the sights of downtown under leaden skies (did you know Northampton market square is one of the largest in  Britain?). I don't know where all those Peak Time travellers were, but they were certainly not anywhere I was. The streets were dead and the hotels were complaining of low occupancies. Perhaps I was Peak Traveller blind, a Peaky Blinder you might say!
One of the hotels visited was located very close to the famous Carlsberg Brewery, the first outside Denmark, having opened in 1970, and visited by your blogger in 1989 when blogger was F&B Manager at a big Heathrow hotel. I remember my visit with the hotel's bar teams very well. We had a highly enjoyable and libatious day in Northampton, lots of lovely food, a fine education in the art of brewing and a tipple or two of Denmark's finest. Today, the brewery is still a major affair and occupies a huge site just off the city centre. Some of it may even be listed by now given its historical context to the town.
For lunch I met up with Little Tim and we chatted about life, Northampton and better times in the Caribbean. Little Tim was very generous and gave me a lift to Junction 15 of the M1, where I visited the nearby hotels. A quick cab ride around the other notable hotels of Northampton and I was back at the train station by late afternoon.
During the taxi tour, we passed by a few notable sights I would like to share with you: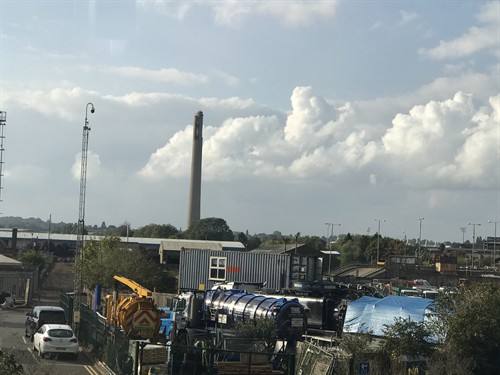 The National Lift Tower: this grandly named concrete needle was built in 1980 by Express Lift Company (a division of GE), opened by QEII in 1982, closed and was Grade II listed in 1997 (the youngest listed building at the time). At nearly 130m high, it dominates the townscape to the west and is the tallest such tower in Europe (of which there are said to be only two anyway). Too cool to lie fallow for too long, following extensive restoration works, the tower reopened as a lift (or 'elevator' in American) testing facility in 2010. It has six shafts of varying heights and speeds, and can be used by anyone doing vertical transportation research, development, testing and marketing, and by others keen on vertical craziness (such as abseilers and base-jumpers).
Franklin's Gardens: a purpose-built rugby stadium for the ultra-successful Northampton Saints, located close to the tapered foot of the National Lift Tower and a former stalking ground for Little Tim during his legalised human body bashing days.
Church's Shoe Factory: as the shoe capital of Britain, Northampton had some 150 shoe factories in its heyday. Today, most have been turned into offices or residential, and many remain derelict, but a few still operate as makers of footwear. We passed by Church's factory after Franklin's Gardens, one of those few. Founded in 1873 and controlled by Prada since 1999 (when the family divested of its history), it remains a favourite apparel of many a celeb (including Tony Blair, James Bond and Mr Bean).
Nothing to report regarding the journey home, except the train was on time, again, and on approach into Euston one could now see quite a lot of ground works underway for HS2. Thus came and went a day-trip to Northampton, the Peak Time destination of the UK.