Phil's Travels - Engelberg, Switzerland (09.21)
22/09/2021
Phil's Travels – Engelberg, Switzerland (09.21)
Heathrow T2 is even more boring at 05.00 in the morning. Even the slight stress of having to queue to check-in could not get the levels of interest nor adrenaline much above passive. For some unknown reason, Brussels Airlines would not allow me to check-in online, nor at the workstations in the departures area. Hence the need to queue with a hundred or so other folk clearly transiting through Brussels (like me) and en route to Africa (unlike me, on this occasion), with as much luggage and excess baggage that they could muster and afford. The only queue in the whole place was at the Brussels Airlines section.
Our connection at Brussels was only slightly fraught as we rushed from one end of the complex to the other (why advertise a connection of an hour that requires the best part of an hour to connect to). The fraught levels were heightened for a time at passport control (going from non-Schengen UK side to Schengen Swiss side) where the officer told us he was not open yet and to step back behind the Red Line. At 09.00 he was not open yet! So, we waited five minutes or so to allow his officership time to open and begin service. I got another stamp in my new passport.
The airplane to Zurich was a big one and full. As ever, social distancing had no meaning in air travel. Some passengers were even taking chocolates to Switzerland (coals to Newcastle, ice to Eskimos, chocolate to Switzerland?). I never figured out why the route was so busy (surely not for chocolate trafficking?). Just before closing the aircraft doors, the crew asked if our client was onboard. He was not. In the end he arrived at the workshops a day late (tough trip).
As part of new C19 rules in Switzerland (whereby a QR code was required before one could check into a hotel, etc), we had to take a C19 antigen test at Zurich Flughafen (price CHF75 and a long queue, good money!). The butch nurse dug deep and long, and I am sure there was something on the end of his thin Qtip (UK probes seem fatter and less penetrative) because my nose fizzed for a good long time post delve. And yet in Arrivals we had no passport check, no PLF check and no vaccine confirmation verification. All very inconsistent.
From Zurich Flughafen we caught trains to Engelberg. Despite the ticket machines 'speaking' English, the menus were complete gobbledegook. After a good 10-minute struggle, we were rescued by a lovely train company lady. She navigated the gobbledegook and we ended up with multiple tickets that made sense after the bizarre Swiss trains' ticketing protocols were explained to us (not that we followed any of the logic involved). The first train left 2.5 minutes late, was a double-decker and quite full.
Engleberg lies up in the mountains at 1,013m of altitude, in a valley, cum bowl, surrounded by a regal crown of sugar frosted alpine peaks. Our second train from Lucerne thus ran up a single track that climbed up through a tunnel that cut through the heart of the mountain (no switch back track, rather a straight line at a very sharp angle that I only appreciated in the dark when a horizontal switch box passed by).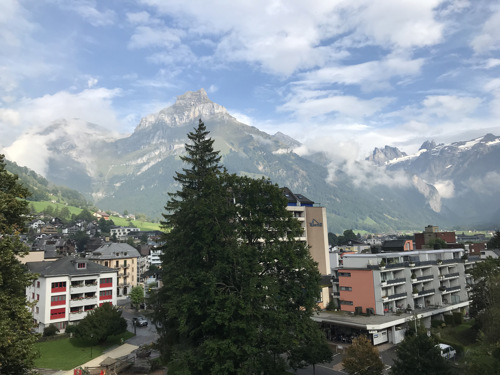 The village was founded back in the 12th century by a Benedictine monk who was advised in a vision to follow a wandering cow until it lay down and to build a monastery on that spot. Engelberg ('mountain of angels') Abbey became a renowned centre of learning in the Middle Ages and evolved into a mountain resort in the 19th century. The resident population was estimated at around 4,000 inhabitants in 2018, which balloons to over 25,000 in the ski season (which is entirely believable given every second building in the village appeared to be a hotel or apartment complex). 
Although Engelberg is little known internationally, it is well known at home as having the longest ski season of any Swiss resort owing to its topography and glaciers all around. The topo also means that it rains a lot, which it did on two of our three days on site. First night we had dinner in a lovely chalet-style restaurant on the high street (a quaint cobbled street of just 300m in length) and ate classic mountain food: cold meats, cheese and meat fondue, and chocolate mousse for dessert, and lashings of heart-warming local wein. All consumed in a delightfully atmospheric wine cellar. 
Our hotel was previously a much smaller three-star property, bought by an investor and remodelled and extended into a five-star property. The extension was very special as it entombed the village's community hall (dating from 1902), allowing it to be used independently by the community from the hotel or by the hotel directly as an additional function room (coordinated with the village's Saal diary controller). A quick tour of the premises also revealed a cathedral to engineering, perhaps the largest and tallest plant room in proportion to the scale of the property in the world. It even had heated tarmac in the delivery bay to clear snow in winter.
On our last day, we all spent much time filling in our PLFs (needed for Brussels also, even when only in transit) and going to get tested (as Swiss safe passes only last two days and we needed a new one to get back to Zurich and to check into our final hotel, but also served as our pre-departure test for return to UK). Cost of test in the village, CHF50.
Back at Zurich Flughafen, we were four guys, carrying four huge 'valise' containing heavy sample/mood boards from the long departed interior designer. We thought our hotel was next to the terminal and so walked one length of the airport to said hotel, only to find it was not our hotel and that there was no shuttle to its sister property off-airport and over an hour's walk away. So, we walked back the length of the airport to the bus station. Again, the ticket machine defeated us, and so, we walked back the length of the airport for a third time with our heavy loads and very sweaty parts to the arrivals area for an Uber. The drive to the airport hotel took us past a shooting range (bangs and pops and all as we passed by). A shooting range, at an airport? Not only is it true, but at the end of the range was a huge jet fuel depot. So much for renowned Swiss health and safety. It seems that anything goes in clockwork land after all.
Being somewhat fed up with all the humping and protracted transportation, we decided to stay in the hotel for our final dinner (whilst one of our brave souls ventured into the city for some tourism). Our airport hotel provided another first. Immediately next door, part of the same building, and with tables right up to the hotel's entrance, was a McDonalds. You could not step outside the hotel entrance without falling over the tables. We ate pizza within the hotel and ignored the burger temptations.
If the 05.00 morning shuttle back to Zurich Flughafen was an exercise in severity (our driver was very strict re presentation of QR code for our trip and wearing of seatbelts), Brussels Airport was a severe Olympic scale test in patience. Our flight was called and we queued with everyone else to board. I was close to the front of the queue and on my turn the boarding pass scanner buzzed red. The lady said I needed to join another queue in order to get all my documents verified prior to boarding. I had noticed the other queue but thought nothing of it as there was no signage to indicate its purpose and no announcement saying documents had to be checked beforehand. The queue was maybe 20 people long when I joined. After 10 minutes it was over 60 people long. It took over 30 minutes to process the 20 folk in front of us, when suddenly the ground crew had their light bulb moment and thought that maybe another person might be useful to do document checking, instead of having three hosts do the easy job of scanning boarding cards. Anyway, long and tedious experience short, the flight was delayed 30 minutes as a result of Belgian anti-clockwork (they are definitely better at chocolate it would seem).
The pilot made up time, we landed pretty much a l'heure and I was third off the plane and way ahead of my fellow travellers for the passport e-machines, only for my machine to reject me and send me to 'seek assistance'. The queue to be 'seek assisted' was interminable. As a result, my fellow travellers passed through ahead of me, laughing and waving their way to luggage claim. I must have queued 45 minutes for 'seek assistance' and in the end I was asked where I had come from and then told to move along after a single button depression on his hidden machine. All that time waiting for a two-second 'seek assistance' encounter. After all that time, I thought I deserved at least a grilling some kind or perhaps even detention for failure to bring back Belgian chocolates.