Phil's Travels - Madrid (1014)
13/10/2014
Phil's Travel Blog - Madrid, Spain (October 2014)
For the last few months I have been working with NH Hotel Group on some inspirational new concepts that will disrupt our very fuddy-duddy industry. The first of these new concepts was announced and launched this week in Madrid, to which I was invited.
Although I had an early morning flight out of Gatwick, I promise I did not ask the taxi driver to speed through the slumbering streets of south London. This did not stop him and he duly attracted the attention of three undercover police officers in an unmarked Fiesta. They pulled us over and my "professional" driver received a proper dressing down. Thankfully, he did not get into any formal trouble and I was in good time for my flight.
In Madrid, I headed straight to the hotel and avoided any Ebola hotspots, such as hospitals. The city was operating normally and NH said that their hotels had not been affected in terms of business. However, their share price, together with other Spanish hotel chains, had lost around 4% overnight. I hope Teresa and those in quarantine are feeling better soon and will able to return to their loved ones.
At the hotel, the works were still going full pelt in readiness for the big launch the next day. The project I have been working on is NH's new Living Lab concept, with the first venue being the NH Collection Eurobuilding Hotel near the Bernabeu Stadium. This 414-room beast recently underwent a full scale refurbishment, including a total revamp of all the public areas. A significant sum was spent in just 53 days during the summer and I did not recognise the place on my return. The lobby is stunning (exposed concrete, cool lighting, new revenue-generating terrace areas, new entrance, new destination F&B (including a 3* Michelin venture)), but thepiece de resistancehas to be the new gallery area with an interactive LED domed ceiling and vertical lighting system (see image below, the Media Vault). Go visit next time you are in Madrid and look out for the asteroid as it hurtles towards you.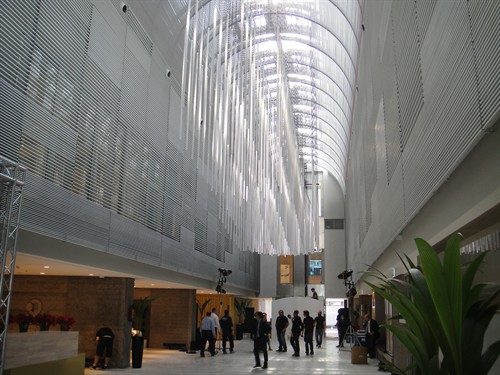 The launch was a huge success, with a government minister, the Mayor of Madrid and plenty of the world's press in attendance. Part of the opening used a revolutionary new format - a holographic virtual conference platform, on which a full-size 3D-image of the GM of the NHOW in Berlin appeared and had a live conversation with the CEO in front of 200 people in Madrid and a recording of the Spanish Ambassador in Berlin gave a brief speech. It is stunning technology that drew many cheers and questions. This is the new MICE, the NH way.
However, the NH Living Lab concept is much more than just a light show and holographs. It is a whole mind set. NH have dedicated a number of rooms to be innovation test centres, in which pioneering tech companies can test their latest hot-off-the-lab-bench ideas. NH have converted old office space into an Accelerator for young start-up companies. NH is embedding the whole concept throughout the company (called Open Innovation), whereby employees, clients and suppliers will be encouraged to think of issues that could be addressed through solutions that tech companies can create, test and implement through the Living Lab facilities in the Eurobuilding. This is truly revolutionary, cutting-edge thinking for the hotel industry and not just a marketing gimmick. But don't rely on this little old blog, go see and experience it for yourself.