Phil's Travels - Madrid#2 (1014)
29/10/2014
Phil's Travels - Madrid (Oct 2014)
Earlier this week I made a whistle-stop trip to Madrid, this time to show the founder of a London-based technology company the NH Living Lab concept we have been working on at the NH Collection Eurobuilding. Given we landed in Madrid at 23.00 and left the next day at 16.30, there isn't much to report. However, three points are worth mentioning.
One - an incredible moment of serendipity. On the flight to Madrid I read Monday's Evening Standard newspaper and, blow me down, the travel section had a near full-page feature on the NH Collection Eurobuilding and the NH Living Lab concept. Well done NH in garnering such international exposure.
Two - the pioneering holographic conferencing technology in the hotel has been attracting a lot of attention locally and events have already been sold using the technology. Well done NH on sweating the Living Lab concept.
Three - my room at the hotel was not one of the new Living Lab rooms, but it was a beautifully refurbished, large, executive room, with three balconies and a panoramic view of the city. Unfortunately, the view from two of the balconies was of the Estadio Bernabeu, the site of an impending massacre.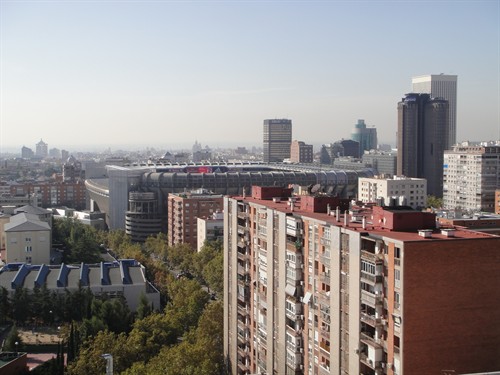 After Liverpool FC's dismal performance last week at Anfield (losing 0-3 to Real Madrid), I have little hope that my team will survive the return encounter in the lions' den next week. Last week, 'fortress' Anfield lost two valuable records. Prior to the match, Real and Ronaldo had never scored at Anfield.  Who knows what records will be broken next week when the Reds hit town. Imagine an Evening Standard headline reading: "Liverpool win by the highest margin in Champions League history". Sadly, I suspect that is one of those 'dream on' moments.
Tech guy and I returned to London last night. Hopefully he will be sufficiently encouraged by what he saw and the success of the NH Living Lab concept that he will indeed participate and provide us with his invention to test in Madrid.
Finally, and on a more serious note, if anyone out there can invent a great Liverpool football team of old, please do get in touch. I would love to hear from you, especially if such a team can be in place before Tuesday 4 November 2014.