Phil's Travels - Oxford, England (10.19)
30/10/2019
Phil's Travels - Oxford, England (10.19)
I am an infrequent visitor to Oxford, but enjoy it immensely when I do. Note to self: visit more often. My last visit must have been four to five years ago, when I met with Professor Sleep in his study over a cup of tea (all very Dumbledore mixed with Cluedo). This time I was solo and there for much lower brow reasons.
Rather than take the train from Paddington and change, I decided to go direct via Marylebone (takes a little longer, but involves less activity). I boarded the train in good time and had my pick of the seats. Within 10 minutes though every seat was filled and the standing room negligible. The carriage was packed to busting and some 90% of my close companions must have just flown in from the Far East.  We read about Asian parents pushing their kids to excel in education and it was admirable to see so many keen scholars heading towards arguably the world's most famous seat of learning, to garner wisdom and bask in old English heritage. It was quite moving (not really, as no one could move at such close quarters). The train left Marylebone with the only free space being the overhead luggage racks (for some reason no one tried to occupy those) and headed out into the bucolic Chilterns.
Our second stop was a station formerly known as Bicester Town. No longer. Since 2015, the station is known as Bicester Village Railway Station. By implication therefore, Bicester Village is now larger than the Town after which it was originally named. For those that are not familiar with Bicester Village, it is essentially Shop City. As soon as the doors opened, those persons crammed into my sardine-can-carriage that had presented in such a learned manner at Marylebone proceeded to disgorge en mass onto the Village platform and flowed south into the mists of retail rapture, leaving me and three others to journey onwards.
As any wise man will tell you, there are exceptions to every rule. Bicester Village breaks the rule in that whereas the high street and out-of-town malls are struggling to survive in a brave new world of online shopping, Bicester Village is booming. Did you know:
Opened in 1995 by American Scott Malkin who described the area as "a garrison town best known for Friday night fighting and take-out";
Bicester Village is the second most visited location in the UK by Chinese tourists, after Buckingham Palace;
Estimates suggest nearly 7m per annum visit (more than visited the Tate Modern, the most visited tourist attraction in the UK in 2018);
So successful, the nearby Tesco (a retail mega-giant) was forced to close to permit expansion of the Village (surely a first for titan Tesco to come off second best);
Home to more than 160 designer boutiques and 150 on-site Mandarin speakers;
Train and station both have announcements in Chinese and Arabic;
It has is very own railway station.
Having left the discount nirvana of Bicester in our wake, we arrived in Oxford under threatening skies and a wicked wind. As I walked towards the centre of the city, I popped into hotels for site inspections and some photos. In this manner I popped into the Oxford Castle Complex for my first experience of this regenerated and venerated landmark. The old prison at its heart was converted back in 2005-ish into a Malmaison Hotel and I just had to pop in. Darker and moodier than the publicity photos suggest, it was a moving experience, especially when one visits the one remaining, as it was, cell at the end of the corridor behind the bar. The cells were tiny (say 6sqm) and they slept 3-4 people each. The developers took these tiny cubicles and had to chop up three at a time to make a single bedroom for us free folk to rent. I love it when old period buildings are repurposed and given a new lease of life in this way, and are thereby preserved for future generations. Well done Malmaison.
I finally hit the High Street just before lunch and was blocked from going much further by a solid line of black-clad police officers on both sides of the street and stretching in both directions as far as the eye could see. Before heading off elsewhere I just had to ask one of these Bobbies the reason why such an impressive turnout was in place (surely it was not in honour of yours truly's first visit to Oxford in five years). It turns out this day was the day of the funeral of PC Andy Harper. In August 2019, PC Harper had been to investigate a burglary and was killed after being dragged some distance by a vehicle, only weeks after marrying his high school sweetheart. This tragic death led to a major investigation (still no one had been prosecuted yet) and his delayed funeral was on this day. Hence the exceptional police presence and dark mood.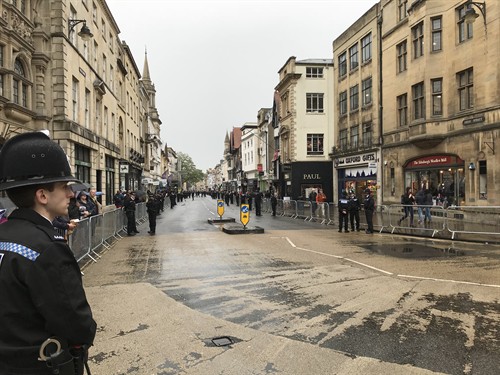 This day was also the day of surely the most pointless Queen's Speech in history. Or was it just simply shameless electioneering. If the latter, committing Her Majesty and getting us tax payers to pay for such a glitzy show of political pageantry was surely immoral in these uncertain and tough times. But then again, perhaps it is the new normal, as our politicians these days are becoming increasingly footloose and fancy free with previously unacceptable codes of behaviour.
Leaving the police-clad High Street behind me, I ventured around about and had a quick burger for lunch. I hope the funeral procession finished in good time, because when I re-joined the streets a monsoon had beset the historic scene. This rain was relentless, voluminous and very particularly wet. My Burberry jacket failed the water-resistant test miserably (note to self: buy Goretex next time) and I was surprised to find my waterlogged iPhone still worked. Stomping around the city centre (full of tourists by the way, regardless of rain and funeral), from under my umbrella I did notice that the puddle strewn streets were lined with souvenir shops and every second one was selling Harry Potter memorabilia. Is Oxford vying for Hogwart's title? What about Cambridge? Have both these higher education gravitational centres really lowered themselves to passing-off as schools of wizardry? I wonder if half of Bicester Village has been Potterised too.
During my tour of hotels, I popped into the Eastgate Hotel. I remember it well. The only time I overnighted in Oxford was some 30 years ago when I worked for THF, and our chosen inn for the evening was the Eastgate because it was a THF hotel and cheap with a staff discount. It was a Heritage property back then. Today, it runs under the less emotive Mercure flag.
I left Oxford wet, bedraggled and informed, and headed back to Marylebone fully expecting a flood of folk bearing gifts at Bicester Village and so secured a comfy seat by a window and braced for the onslaught. As it turned out, few folk boarded and we pulled into Marylebone with the utmost decorum. Once home, I had to hang every item of clothing (outer and inner) and I swear my umbrella took two days to dry out. Note to self: check weather forecast before visiting Oxford again.