Phil's Travels - Cyprus (08.19)
04/09/2019
Phil's Travels - Cyprus (08.19)
The week that my son and I flew to Cyprus was a week of air-travel pandemonium at Heathrow. Strikes at the airport were due on the Monday and Tuesday, but both were cancelled last minute and therefore too late for Heathrow to reinstate already cancelled flights. On Wednesday, BA had another IT meltdown, affecting most of its global network. And on Friday, there was a power failure in London that grounded Heathrow. Thus, Thursday was the only trouble-free day, and fortunately that was our day of departure. We left with only an hour's delay (repercussions from the IT meltdown the day before) and landed pretty much on time in Larnaca.
Larnaca Airport was persisting with its pre-passport check photo-booth-passport-checker machines, and this time, unlike last year, it did indeed seem to speed up the process. Essentially, the passport area has a space dedicated for e-passports, whereby you place your passport on the pad at one of the ranked freestanding terminals (no gates, or green lights, or flashy gizmos). Your document is scanned and a photo of you is taken - with the net result being a slip of paper (remember fax paper?) that spits out the bottom of the terminal. You take your slip of fax paper to a man who stands close to passports desks. He takes a quick look and waves you on. Job done. Entry to the island of Aphrodite achieved.
The day after our arrival we attended a memorial in honour of my father-in-law at the gorgeous church of Kykkos Monastery in central Nicosia. The monastery grounds are extensive and open to the public most of the time. A wonderful place of quiet contemplation and shade. Church was followed by a big family lunch at Yaya's flat and so passed our first day in sunny Cyprus.
As Nicosia sits in the centre of the island, there are no beaches. And so, in order to enjoy some sunbathing and cooling waters, we re-engaged with our old venue the Hilton Nicosia. Or should I say, the hotel formerly known as the Hilton Nicosia and now formally known as The Landmark Nicosia. Rumour has it that the new owners recently refused to pay the full PIP (industry jargon for refurbishment, aka Property Improvement Plan) to restore Hilton brand standards (long overdue by the way) and so Hilton branding was terminated. That said, local press articles do state that the new owners will spend some money on the property in future, and I hope some funds are allocated to replacing the lethal sun beds (which again attempted to cave in my head and all too often went for the full decapitation option).
The usual pool personalities were ever present (don't they work?) and we experienced only one Code Brown 'Malteser' Alert (they proved to be bits of wood, rather than anything more sinister). Notable passing pool companions included a dead ringer for Mo Salah and Hugh Grant in his 20s.
Driving around Nicosia, the Zaha Hadid square in the centre was still in construction. It has been years! Not satisfied with throwing money into an endless square project, the city had decided to splash more cash at the local streetscape. This time the Bond Street of Nicosia was all dug up and thousands of new stones being laid to create a new Mayfair look (visit parts of Mayfair and you will see what I mean). Sluicing dosh at fancy streets is all very well, but the roads that most people use in Nicosia and across the motorway network are increasingly Swiss cheese like - and some of those pot holes are truly chasm-esque, genuine car-breakers, especially the sinkhole right in front of Yaya's apartment block. Eventually, maybe, enough broken cars will persuade the authorities to address the basics soon and to leave further vanity projects till later.
I suspect the generous expenditure on Nicosia's posher streets is an effort to reinvigorate the centre, which was decimated following the financial crisis (many shops are still empty, cavernous voids). However, such investment appears to have been made without consideration to the whole picture and what has happened out-of-town. Two new, large malls have opened on the outskirts of Nicosia, sucking the populous ever more out of the centre. Let us see who wins this game of retail roulette. All I do know is that a recent real estate report declared that prices for private land (which tends to be outside the centre) are rising, whilst prices for church and state land (which tends to be in the centre) are falling.
A quick look at the skylines of Nicosia and Limassol showed that both cities are currently enjoying something of a building boom, with many more cranes than normal dotting the landscape. Most new developments in Limassol appeared to be high-end residential towers. In Nicosia, there was a veritable sky-scraping apartment block nearing completion right on what was, pre-crisis, the main retail avenue (Oxford Street, if you like) and nearby was a new office tower (Israeli company).
Enough of the economic catch-up and back to hols. My wonderful wife had the inspired idea to take us away from the kids and family for a couple of days, and surprised me with an overnight in one of the wine villages, called Vouni. Vouni is in the foothills of the Troodos Mountains and is so small that it offers only three tavernas. We ate a Takis's place twice, lunch and dinner on the first day, simply because Takis's mum is a great cook (top class sausage, egg and chips). Our accommodation in Vouni may have been listed as a 'hotel', but with only three keys and a wine bar, I am not sure it truly qualified as a hotel. That said, our room, more of a suite-cum-apartment, was utterly Conde Nast photo gorgeous. It was once someone's home and provided us with a large bedroom, large bathroom and large dining-kitchenette-lounge area, plus a wrap-around balcony with views down the mountain towards the sea.
We spent our two days of freedom relaxing in our suite, eating, drinking and exploring the nearby hills for wineries. The day before our visit, the region had suffered one of its worst wild fires in history and the drive into Vouni took us through burnt out landscapes that still smoked and smelt of inferno. Dotted around were fire engines and JCBs, on standby for any post conflagration flare ups, whilst bucket carrying helicopters strafed the slopes with water (a disturbing sight from one's wrap-around balcony).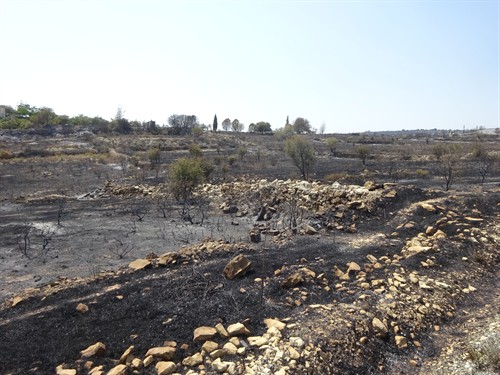 We visited three wineries, each highly recommended for very different reasons:
Agia Mavri: owned by a lovely couple well into retirement age, but still going strong. Famous as one of the world's best producers of sweet Muscat wines.
Zenon: small local producer that sells its wines through its small winery only, no retail.
Oeno Yi: new kid on the block, producing some very high quality wines. Winery is a state-of-the-art palace, situated on a hillside and offering panoramic views across vineyards and the village of Omodos in the distance.
It was interesting to note that virtually all our fellow winery visitors were Russian. Not a single Brit. The only non-Russians were an Aussie-Canadian couple from Dubai. Perhaps Brits prefer the local Keo beer.
Our second week in Cyprus was spent in Paphos, at the same hotel, in the same rooms as pretty much every year for the last 15 years. The dodgy décor still did not grow on me, but we love the place anyway.
Our final week in Cyprus was spent back in Nicosia and for much of it I was excused my usual taxi/courier/chauffeur/errand-boy duties. Why? Because at a family dinner, a three-year old cousin once removed turned me inside out at footie and I had to leave the field of play after only three minutes with a pulled calf muscle. Three days of hobbling ensued. My driving ban meant that my wonderful wife had to assume car duties, a role she detests. Perhaps with good reason as she seemed to hit every pothole, kerb and pillar in the district, and required a helping hand finding fifth gear on occasion. Fortunately, her distress was short-lived and my wonderful wife was able to return to her more comfortable milieu of bag design, creation and production after just a few days.
We flew back to London from Larnaca and used those photo-booth things again. This time the slip of paper checker laughed at me when I suggested my photo print made me look like Pep Guardiola (I have little hair on top, I had some serious facial hair and of course a bit of colour after three weeks under the Cyprus sun). I am not sure he agreed with my boast, but suffice to say that at Heathrow the full-on e-gate machine did not recognise me and I had to visit a Border Control chappie, who simply smiled when I suggested that I had been rejected because I looked too much like Pep. In any event, there was no VIP service waiting for us and we had to lug our own luggage home - including quite a lot of wine (thank you wine villages of Cyprus). How am I going to do this when we Brexit? Long live the Rebel Alliance!