Phil's Travels - Cameroon (08.19)
07/08/2019
Phil's Travels - Cameroon (08.19)
After a week of record-breaking heat (in which the streets of London were as hot and sticky as fresh treacle, the buses were like those heated boxes under a room-service trolley and the Tube a barbequing bratwurst), we flew out of London through torrential rain. Prior to lift off, I forsook the Perfectionist Café in the world's dullest terminal (LHR T2) in favour of the Fuller's pub opposite for my pre-flight Eggs Benedict (not bad at all and certainly far less oily that those slippery globules served by Heston's team).
We flew via Brussels and landed in Yaounde, the capital of Cameroon, Saturday evening. We were greeted by Paul who expedited our visas and exit from the airport. The drive into town was quick and smooth, and bode well for our visit. Although such boding was to be unboden in full come our final departure, but more of that later. At our hotel we had a quick chat with The Professor and after a snappy dinner we retired in preparation for another early start and a four-hour drive to Kribi. The hotel was just about comfortable, but my room was situated above a night club-cum-casino-cum-bar-cum-restaurant and the street outside must have been the busiest in Cameroon in the hours of darkness. And I heard the lot! Even at six thirty in the morning, the street was thick with folk and taxis, and the food stand was still merrily smoking away. Suffice to say I had little sleep that first night.
On our drive to Kribi we quickly realised that driving in Cameroon is an art and a dare-devil experience. We saw multiple crashes on route, including: a jack-knifed lorry loaded with tree trunks (a common site in timber-rich Cameroon), a tipped over lorry that had spilled its cargo of beans all over the road, and a lorry full of live, lowing cows that had been run off the road into the surrounding forest. Fortunately, our driver, The Donald, was the best and we avoided any mishaps.
In Kribi, a seaside resort town overlooking the rolling Atlantic, we visited the project sites, a sample of local hotels and the first phase of the new Port of Kribi. The new port is a massive undertaking. So big that ultimately the new community around it will become home to over 80,000 people. However, although Phase 1 is up and running, its popularity is stunted because of the lousy roads. A new highway has been developed, but has yet to open. When it does, Phase 1 should really start to motor as Cameroon seeks to exploit more of its rich natural resources. On the drive back into Kribi, we saw the unusual sight of a group of inline-skaters using the new smooth tarmac roads around the port for their weekend practice roll. Prior to lunch, in an ocean front café (where we dined on huge, fresh fish called 'barr'), we stopped and gawped at the stunning Lobe Falls - the only waterfall in the world to drop directly into an ocean.
We left Kribi late afternoon and drove to Douala, the commercial capital of Cameroon (its New York if you like). Douala is situated at the estuaries of the Wouri and Dibamba rivers, and is home to a massive port complex. The drive into town was excruciating. From the suburbs to our hotel in the centre, we took over 60 minutes, thanks to a small section of road works on the outskirts. The Professor advised that such speed of entry was actually quick. Having passed the works, we noticed the outgoing queue of traffic on the other side. Wow! This bode badly for us in two-day's time.
Blissfully, our hotel in Douala appeared to be in a quiet residential area, on a quiet residential street and devoid of proximal night-time amusements. Not only that, but the bedroom was most comfortable. All of which heralded the promise of a good night's sleep for once. Not to be. Consistent with the Yaounde hotel, any sound proofing was again absent here in Douala hotels. I could not only hear the waterworks of the bathroom above through the night, but also the chap in the room next door snoring like a trooper.
In Douala, we travelled in convoy from meeting to meeting, site to site and hotel inspection to inspection. The traffic was heavy, the streets laden with folk doing stuff and the vibe of the city was intoxicating.
Our last meal in Douala was another fishy feast, but this time right down and dirty in the heart of the port complex. We pulled up in front of a fish market, where The Prof entered into immediate negotiations with a senior looking fisher-lady and she in turn guided us to a nearby café. In the café, several fishermen turned up with platters of fresh-that-day gambas and fish. The Prof chose, paid the fishermen and senior fisher-lady, and paid again for the café to prepare, cook and serve our fare. And all this whilst sitting under a gazebo, by the water's edge, under the rain, whilst watching dhows and container ships play dodgems in the estuarial waters. Only in Douala. It's a good job we had such distractions as the food took over an hour to arrive (warning: lunch time service is consistently slow in Cameroon, so plan your day accordingly, or take a packed lunch). The gambas were the best we had, almost lobster-esque in their proportions (and we had a lot during our Cameroonian sejour to be able to opine so confidently). Did you know that Cameroon is named after its gambas? When the Portuguese first landed in Douala, they noticed the rich shrimp life in the estuary and were so impressed that they named the country after their word 'camaroes', meaning shrimp.
We left the café at 16.45 and covered the 13km to the city limits in a little over 2 hours and 30 minutes (our escort car made the journey in nearly 5 hours!). The traffic leaving the city was of biblical proportions (good job the Portuguese did not discover Douala in 2019 or Cameroon could well have been named Congestionamentoon). For a simple blogger, any description of our crawl to the city limits would be undeserving of such an astonishing experience, but try this:
Imagine a dual-carriageway, with intermittent kerbing between the two opposing sides. Imagine the verges packed with people, markets, buildings, parked vehicles, dumps and side roads (tracks mostly). And then imagine, squeezed into those few lanes of tarmac, every conceivable type of vehicle, bumper to bumper and just far enough apart for a motorbike to squeeze pass. Finally, imagine a veritable swarm of motorbikes, flowing in every direction like a murmuration of starlings on speed. They crisscrossed the central reservation, drove on the verges, barged each other and played tag with the tanker lorries, whilst all the while carrying an average of three people (we saw lots of twos, quite a few fours and even a five) and luggage (they are the only effective taxi service in this part of Douala, where cars are just too slow in such gridlock). And all this in the rain! For which the motorbike taxis were fully prepared, being fitted with elongated umbrellas to cover driver and passengers, and having plastic sacking tied to the front as an improvised faring.
In this slow-moving vehicular glacier, our 4x4, in the expert hands of The Donald, tangled with tree-trunk trucks, container lorries (this is after all the only road in and out of the CEMAC's largest port; CEMAC = Economic & Monetary Community of Central Africa, comprising 6x neighbouring countries), army vehicles, inter-city coaches (because the Douala-Yaounde railway was out of action, pending repairs after a major accident), cars of all makes and sizes, taxis, diggers, cranes, rickshaws, minibuses, tractors, trailers, wheelbarrows, donkeys, police cars, even a steam roller, pedestrians and the motorbike swarm.
We also crisscrossed the central reservation a few times and drove down the other side the wrong way (which you can do in a 4x4, and is probably why our escort car took a lot longer). Finding the 'bons mots' to fully capture our experience is beyond my ken, for I have not even mentioned the noise, the fumes, the smells, the colours, nor the assault on the body as we bounced along and kept our heads low as loaded bikes murmurated all around us.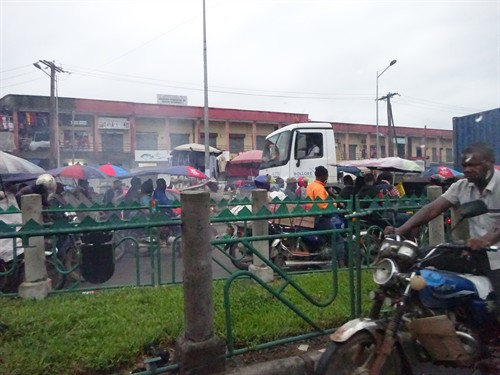 Having exited Douala city limits, the next four hours of road were relatively clear, but cautiously driven as there are no lights on the route to Yaounde and port traffic (ie trucks) is even more prevalent at night. Listening to the English version of the radio news en route, we heard that a young lady travelling by plane in Madagascar had reacted badly to her anti-malaria tablets and had thrown herself out of the plane. Very disconcerting for fellow anti-malaria tablet takers, but devastating for her poor family. What a tragic loss.
On arrival in Yaounde we checked back into our first night's hotel again and this time, promisingly, my room was not above the nightclub. But it was opposite a major music venue. So again, Cameroon sound proofing meant that I dozed to the beat of live music until 03.00 each morning. During our time in Yaounde, we held meetings, visited sites, inspected hotels and waited many hours for lunch service. There were three standout meetings worthy of note, two for completely opposite reasons and one just because it showed just how GB can shine overseas. Starting with the latter, we met with the Country Director for Cameroon and the CEMAC at the British High Commission - a gentleman and a scholar (sorry we took up so much of your time). Of the contrasting meetings, both were with ministers. One was an absolute darling: open, friendly, informative and simply a lovely chap. The other was less of a darling and seemed interested solely in belittling our team before his peers (in a committee room chock full of deputies and chiefs of this and that).
The evening before our departure, we were invited to a late-night dinner at a music venue. Yes, you guessed it. The same music venue across from my hotel room. Experiencing the music and delightful venue first hand was much better than from across the street with my head stuffed between two pillows. Great venue, highly recommended, lovely hostess with the mostest, and long may it survive. I just hope the hotel in question upgrades its windows as some point (maybe even the walls too).
Our last day on the ground was another flurry of meetings and visits, but this time everything seemed to take much longer. From nowhere the traffic had intensified ten-fold. There were cars everywhere (but few motorbikes, perhaps that is just a Douala thing). The Donald, our driver, clarified the change in vehicularity, explaining that the day before had been pay-day and that owners had filled their cars and were going about their business by car instead of on foot or by public transport. What with the general lack of purpose-car-parking, everyone parks higgledy-piggledy at the side of the road, thus constantly narrowing the arteries and jamming traffic as drivers park and de-park. But this was just the warm up!
Moments before heading to the airport that last evening, we popped in to say goodbye to our hosts and new friends. The people of Cameroon are smashing. They are lovely, fun, mild-mannered people and we have to say many thanks to everyone we met, especially the famous ones, like: Elvis, Prince, Boy George, The Donald, The Professor (aka James Bond) and of course loads of thanks to my travelling companion, Richard D Grant.
We left the hotel with our luggage at around 17.00 and spent the next 90 minutes fretting as we covered the 20km to Yaounde Airport. The route from the city centre quickly evolved from tarmacked roads to dirt tracks as The Donald u-turned, diverted, switched-back, off-roaded, drove down opposing lanes and generally bullied his way through the suburbs to the airport. He was a man on a mission. We drove up and down muddy tracks (yes, it rained, again), which passed for suburban high streets, and so looped around never-ending lines of stationary traffic. We had been forewarned that the airport run was something to behold and could take two hours or more, so I guess we were grateful to arrive after only 90 minutes. It was a fascinating drive, seeing the outskirts of the capital and watching poor Richard D Grant check his watch every few minutes.
The flight home via a long five-hour layover in Brussels was comfortable and uneventful, and I got home around lunch time on Saturday to an empty house. My girls had already left for hols and we boys were to follow shortly (BA computers permitting) to sunny Cyprus and some down time with loved ones.
So, what of Cameroon? It was my first visit to mainland West/Central Africa (I have been around about, to places such as to Morocco, Cape Verde and St Helena, but not properly into deepest West Africa). We discovered that the unsung motto, "Africa in Miniature", is absolutely true. In no other country in Africa can a visitor experience all of Africa in one country. From the Sahara Desert in the extreme north, to savanna and major game reserves with the Big Five in the north, to the second highest mountain in Africa (Mont Cameroon), to pretty beaches, to dense jungle, to the mountains in the far east where gorillas and chimpanzees roam. Throw in a blend of English and French speaking sub-regions, some 200 distinct tribes and languages, and you have a cocktail that should result in a successful tourism industry. Sadly though, much work lies ahead before this amazing country will be advertised on the side of a London omnibus as Conde Nast's next hot destination to visit. But the potential is there, and with a fair wind Cameroon should be on your bucket list in a few years from now. Bon voyages au Cameroon!