Phil's Travels - Milan, Italy (06.19)
08/06/2019
Phil's Travels - Milan, Italy (06.19)
They were still digging in Luton this week. What are they digging for? Gold? It is taking them long enough to discover that there is no gold in them there hills of Luton! I suspect the digging is related to something else to be fair (perhaps train link or new car park or a new rockery garden, who knows), but whatever the reason, they have been digging in the same spot for years.
Inside, things have improved in the departures area (not sure about arrivals, which has been a nightmare of curly queues for some years now). Lots more space, some decent shops and loads of bars/restaurants (is that a reflection of Luton's customer base?). I had a lovely Spanish jamon sandwich and coffee before boarding and slept all the way to Milan.
At Malpensa Airport I was greeted by the delightful Maria and we were driven to Piazza Duomo in a sizeable Merc performing a pretty decent impression of a Saturn 5 rocket. Our destination was a meeting with a most amazing gentleman. Confidentiality prevents me from saying too much at this time, but suffice to say he has achieved many things mere mortals would find impossible in the historic heart of Milan. We had a wonderful first meeting on a terrace overlooking Piazza Duomo and the cathedral itself, before having a quick lunch and then a tour of Milan's very own highline. The original High Line is in New York and comprises an elongated (circa 2km) linear park on an old elevated railway spur. Gorgeous execution, great idea and an amazing space in such a busy city. Milan's Highline Galleria is equally elevated, but minus the green bits. The Highline Galleria is a metalled walkway that criss-crosses over the top of the roof of La Galleria, offering amazing views of the city for miles around, and interactive experiences and presentations on little platforms dotted around the roofscape.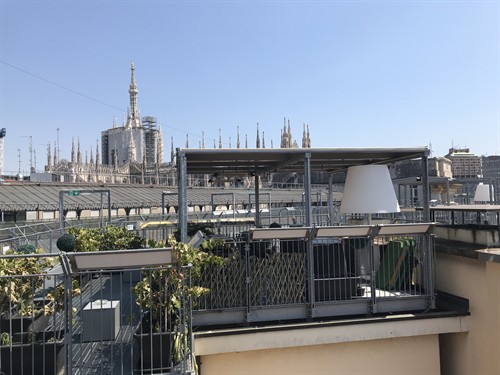 Let me try to put this highline into some context. La Galleria Vittoria Emanuele II is Italy's oldest active shopping arcade and a major landmark on Piazza Duomo. It is named after the first king of the Kingdom of Italy, was built between 1865 and 1867, and served as royal offices. To say it is a national monument would be understating its importance. Thus, putting a tourist attraction on its roof is a bit like putting a treetop adventure in the gardens of Buckingham Palace or a rock-climbing wall up the side of the White House. It is amazing, stunning, educative and a feat of engineering and ingenuity. With vision and local authority cooperation, anything is possible (London Boroughs take note).
The name of La Galleria has inspired other arcades and malls to use the same name. On the ground floor in the central area, there are four mosaics of the coat of arms of the three capitals of the Kingdom of Italy (Florence, Rome, Turin) and that of Milan (naturally). Local tradition says that if you spin around three times on the 'testicoli' of Turin's bull this will bring you luck. I did not partake of this act of anti-bullism, as in the past the poor animal's nether regions had been so thoroughly spun on that they had worn away through over use and only a hole remained. I wonder if one's luck was the same performing on a castrated coat of arms.
Moving on. I followed the experiential high of La Galleria with a more down to earth meeting with one of the Big Four in a dull part of the city. But at least I got to use the Metro. When I had concluded my meetings that evening, I wandered around Duomo and the little side streets and soaked up the heat and vibrancy of an Italian city in the first throws of summer. Unfortunately my strolling was short lived as I had work to do, so I opened my bedroom window and typed to a soundtrack of traffic, trams, hundreds of 'oohing' tourists, a rock band playing the likes of Bohemian Rhapsody (daughter approved), the Bee Gees (mum approved) and Stairway to Heaven (me approved), and closed an enchanting day with the Italian national anthem by a military band in front of the Duomo.
The next day was not so summery, what with English grey clouds and spots of rain. I hooked up again with the magnificent Maria and we visited some buildings just outside the heart of the old town (in the Chelsea of Milan) and popped into the highly elegant Palazzo Parigi Hotel. What a gem! Magnificent street presence, grand entrance lobby, shapely bar and restaurant both leading to the cutest garden, a stunning spa and indoor pool complex, and 88 precise bedrooms and suites. Elegance without all the fuss of Armani, Bulgari, Park Hyatt, et al.
I met the amazing gentleman again and we had another thoughtful discussion. Some phone calls and lots of emails later, a more sedate Merc people carrier whisked me back to Malpensa and I flew back to Gatwick with no hassles (despite not twisting the bull of Turin's genitalia) and visually enriched. If you go to Milan, walk the Highline, drink on the terrace of Duomo 21 and pop into Peck's. Ciao bella Milano!