Phil's Travels - Dawlish, England (05.19)
08/06/2019
Phil's Travels - Dawlish, England (05.19)
The morning of our departure I visited a project we have been cooking for some years now with the in-house architect of a luxury hotel brand. Let us refer to him as JH. I first met JH in the early Noughties when I worked for Small Luxury Hotels of the World and we were appointed as the hotel operator for a gorgeous little building in the heart of the prestigious Salamanca district in central Madrid (imagine Mayfair). The vision was to take an existing office building with a small car park to the rear and to turn it into a leading boutique hotel with garden, and we ran a selection process to find the right architect. JH was one of the candidates and his ideas won the day. We were so looking forward to working together on this little gem, when I subsequently left SLH and the project was lost.
I have been back to Madrid since those days and seen our gorgeous little building now indeed converted to a boutique hotel, but not like how we would have done it. Not like JH's vision. Shame, but then projects often take different paths to those we might intend.
It was great to see JH again all these years later and to explore the possibilities on another little gem, this time in the heart of London. Having toured the property and caught up a bit with JH, we went our separate ways, with me heading home to pack and run for the train. At home, my wonderful wife had loaded her stuff on to the bed for me to pack, which I dutifully did and added a few of my own bits (amazing how a lovely lady can fill a suit case all by herself).
We decided to walk to Paddington only to discover a blockage en route. A couple of days before some poor soul had been attacked and, as the papers say, 'stabbed to death' close by the little public park on the shores of Little Venice. The police had cordoned off the area for investigative purposes.
Despite the slight detour, we got to the station in good time, hit McDonalds for a Big Mac and Chicken Selects, and made our way easily to our reserved seats in Coach D a good 20 minutes before departure. We stowed our bags, opened our laptops and set about an afternoon of work in transit. The coach filled all around us as people took their allocated seats. The train was full. Less than five minutes before departure all hell could have broken loose. For some unknown reason the swanky, new, GWR Penzance Express, British Rail Class 800, bi-mode multiple unit introduced in 2018 decided to apply some electronic wizardry and all the coach designations changed. Our Coach D became Coach K and all our reserved seats became unreserved seats. Just imagine if a full train of folk had decided to find their proper seats again. As it was, we all ignored the swanky new train and stayed put - possession is nine tenths of the law after all.
We arrived in Dawlish on time, armed with juicy sausages from our local butcher for the barbeque on a gloriously sunny evening. The last time we did that, the gulls line the roofs around-about and we ate in a foreboding atmosphere. This time, the gulls were absent. Perhaps it was the plastic falcon flying limply from the neighbour's chimney pot or it was the massive Great Black Backed Gulls nesting on another neighbour's roof. These flying monsters are very protective and had no doubt shooed all the local boys away. Anyway, dinner was great and lots of wines tasted.
Next day we drove to Dawlish Warren for a bout of go-karts and a real bish-bashy session with a 10-year old boy in a Reuben Neves top. His driving was outrageous. We managed to pass everyone when we came up behind the 'Whirling Weaver of the Warren'. Every move we made he weaved into our path. At one point, we had the racing line through a corner (I swear and would swear before a stewards' enquiry) and he simply drove into us. Very Michael Schumacher. We had to wait for one of the track boys to push us apart before we could underway again and we found ourselves plum last, as everyone else had overtaken us and Neves was still in front of us! It took a few more laps, but we managed to regain second place and took Neves on the last lap with a fine inside move of Senna-esque beauty. Race won, we walked back to Dawlish and built sand castles in very exclusive Coryton Cove until the tide came in and took all our efforts out to sea.
Dinner was local fish and chips, followed by the Champions League final, Tottenham v Liverpool. Not the greatest match to watch, but I was knackered by the final whistle. Even though we scored first and early (within the second minute), the Reds were poor and Spurs were all over us like a white rash. Very tense. Despite quite a few close calls, we did win, 2-0, and the after-match celebrations were highly emotional (note Henderson junior and senior), but not a patch on those in Liverpool with an intimate crowd of 750,000 lining the streets. It has been a long wait for silverware. Premier League next boys!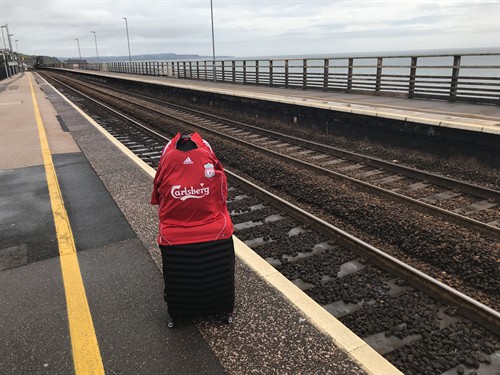 Journey home was eventless, the swanky new train behaved itself and did not have another electronic meltdown. Life is good when plans come together - winning at go-karts, gull-less barbeque, trains on time and winning the second most important match in football.