Phil's Travels - Berlin, Germany (03.19)
12/03/2019
Phil's Travels - Berlin, Germany (03.19)
Despite the latent puffs of Storm Freya our flights were showing as leaving on time as at 05.00 on Monday morning. After a week when temperatures in the UK hit record highs for February (reaching 21C in London, in winter!), we had diverse weather forecasts for our various destinations in this week - 0C and snow in NYC for my wonderful wife, and 12+C in Berlin for me.
Our 'up-earlier-than-the-birds' taxi arrived on time and dropped my wonderful wife off at Paddington Station for her Express ride to Heathrow and onward flight to NYC. The taxi dropped me off at Victoria, and my Express to Gatwick and flight to Berlin were flawless - unlike the peaking Brexit negotiations, which had less than one month to run until official Brexit Day, 29 March 2019. Negotiations during the course of my week in Berlin revealed little progress and no meaningful changes to May's Deal, which meant the meaningful vote on Tuesday 12 March 2019 was likely to result in another stonking loss for May and a meaningful delay to Brexit Day (resulting in at least one correct Phil's Forecast for Jan 2020).
On the flight to Berlin I read an article on the proliferation of cycle lanes in Berlin in an effort to reduce the propagation of cycle-related road deaths. Amazingly, in 2018 Berlin recorded 11 cycle deaths compared to 10 in London (according to The Economist), and yet London has a population three times the size of Berlin - hence all the new cycle lanes. Based on this visit, I did not see any more lanes in the centre than in previous years, but those cyclists that do use the existing lanes were still far too righteous and reckless. Maybe they should visit London and take a few cycling lessons (our cyclists are world and Olympic champions after all).
For the first time my usual hotel for IHIF gave me a room at the back: quiet, but no sunlight and overlooked by a barrage of post WWII, drab, Berlin-style apartment blocks, each with clear lines of sight into my tiny first floor room. In the interest of privacy, I had to keep the curtains closed most of the time (totally blocking what meagre sunlight I might otherwise have enjoyed). Note to self: I prefer front facing rooms, road noise and all. I also still don't like the walk-in TV image, very fake flickering flames of fire with an irritating crackling soundtrack.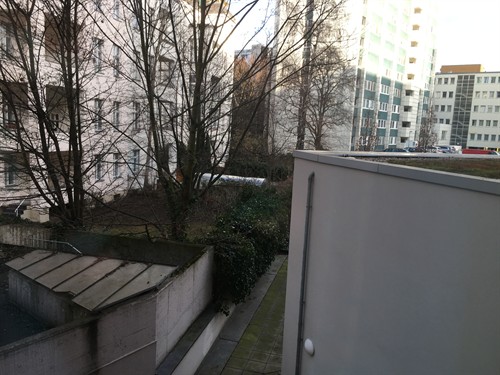 We hosted our annual beer and sausage fest and entertained a meaningful crowd of around 90 good and gentle folk in perhaps Berlin's only genuine beer cellar. Great night, but most of my time in Berlin was spent at the Pullman, where back-to-back meetings, drinks and hand-shakes were held and business done. Accor (who own the Pullman brand) have finally cottoned on to the fact that more and more folk are meeting and doing business at the Pullman, and this year cordoned off a large part of the lounge for their own private, 'approved-entry-only', exhibition area (nearly as bad as the security that pervades the InterCon over the road). How long will it be before other companies take on the big ball room off the lobby and we 'Fringees' will have to establish the next alternative conference venue?
My return to London was earlier than normal and very much more relaxing that the usual last flight out. The last day in Berlin was glorious and we took off into an azure blue sky and brilliant sunshine. Given all the meetings and business doing, there was not much more meaningful stuff to report for this trip. Suffice to say, next year, I won't be hiring a bike and I will be asking for a front facing room (without fake fire if possible, please).
Here below a few take-away nuggets from the event:
Did you know that the Underground roundel is more recognised globally than the Olympic Rings? (I'd like to see that report)
Accor launched a couple of new brands: House of Originals and Tribe (although the latter may be seen a little cynically by the locals in Alice Springs, Australia).
This year the IHIF security council introduced new meaningful high-tech badges to keep the 'Fringees' out of the Marlene Bar and to keep track of delegates' movements across the city - the tech included a GPS tracker and a mating system so the organisers could see who delegates were meeting, when and where (I hope everyone was discreet and well behaved whilst dangling their tech). The tech was coupled with low-tech, whereby the name and photo of the delegate were printed onto 'not-so-sticky' sticky-back paper and stuck onto the heavy, neck-breaking, lanyard clad, plastic high-tech platform. All very well (especially if you have the neck of Dwayne Johnson), but the paper kept peeling off (I saw one chap with his ID paper stuck unbeknownst to him to his sleeve). Even the tech part was flawed, what with the batteries failing after half a day (or maybe just too many mating sessions). Most delegates gave up on the not so meaningful mating feature and resorted to old fashioned mating - the much more personal and meaningful business card.