Phil's Travels - Tbilisi
18/07/2014
Phil's Travels Blog - Tbilisi, Georgia (July 2014)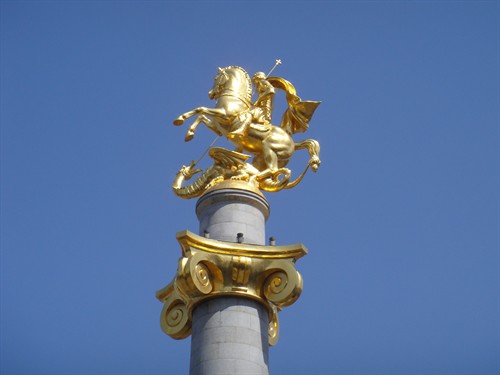 It is nearly 20 years since I last visited the wonderful city of Tbilisi and completed an operational review of the Metechi Palace, then the only international standard hotel in Georgia. My first trip was punctuated with lots of interesting stories that included: a very suspect flight into Tbilisi, playing Russian snooker (and unknowingly beating the head of the local militia), visiting a ski resort that used Soviet military choppers as ski lifts, and running round the hills of Tbilisi with the GM and FC after a long night in the bathroom.
My trip this week was far less eventful and far more enduring. I fell in love with Tbilisi 20 years ago because of its incredibly rich and diverse architecture - 4th century churches, castles and military installations, balcony-clad brick-finished houses, spectacular public buildings - all set within a steep-sided valley and a river flowing the length of its heart. Today, that architectural heritage has not only been preserved, but enhanced with some stunning new and very modern pieces. These include the Bridge of Peace, the Presidential Palace (both by Italian architect Michele De Lucchi) and Tbilisi Public Service Hall (by Massimiliano & Doriana Fuksas).
Georgia as a whole has come on a long way too in 20 years. In 2007, the World Bank dubbed Georgia "the number one economic reformer in the world" after it moved from 112th to 18th in one year in terms of ease of doing business. This position has improved further and today Georgia is around 8th in the world. The Georgians have effectively quashed corruption, simplified codes, introduced investor friendly legislation, reduced and simplified the tax regime, and are very much open for business.
This week, I stayed in the Ambassadori Hotel overlooking the river, a small boutique hotel, very clean and comfortable. There are some big international chains in town (including Marriott and Radisson), but this situation is unlikely to remain unchanged for much longer. There are many new internationally branded hotel projects in the pipeline and they will be needed as Georgia's tourism goes from strength to strength (over 5.4m international arrivals in 2013, compared to a population of just 4.4m), with a CAGR of 38% between 2010 and 2013 (i.e. since the Russian intervention of 2008/09, when it annexed South Ossetia and Abkhazia).
In summary, Tbilisi is a wonderful city, populated by friendly people, offering great food and wine, and loaded with history and things to do and see - a walkers' paradise.
Although my outbound to Tbilisi was uneventful, my return was less smooth. The connection sold to me by KLM allowed for a 40-minute transfer window at Schipol, which needs to be reconsidered given the scale of the airport. My Georgian Airways flight landed on the tarmac on time (circa 09.40), but it took 15 minutes to taxi from the runway to the terminal because Schipol is so inefficiently spread out. This left less than 30 minutes to disembark and run to my connecting departure gate (which is a very long way, see my previous experience and thoughts on Schipol (Amsterdam June 2014)). I was the last passenger to board the KLM plane to London, only to be told that my checked-in luggage was not as quick across the ground as me. I was finally reunited with my bag some 30 hours later. Still at least we did not fly over Ukraine! That could have been genuinely news worthy.
On the subject, and much more seriously though, our deepest condolences and sympathies go out to all the people and families affected by MH17.