Phil's Travels - Zagreb, Croatia (02.17)
17/02/2017
Phil's Travels - Zagreb, Croatia (02.17)
On Monday 3 October 2016, one of the greats of our wonderful industry passed away during a business trip to Ireland. On Tuesday 7 February 2017, our wonderful industry mustered at the Islington Assembly Hall in London for a celebration of the life and times of Conrad Smith, architect extraordinaire, sassy singer and a genuine gentleman. I bumped into lots of old friends and the gathering was an emotional event for a lovely man, but I did not stay too late.
The following day I rose early and pre-dawn made my way swiftly to Zagreb via the pleasure that is T5. The weather in Zagreb was a positively balmy 3ºC compared to two weeks earlier, when the city was in the grip of -15ºC in the shade and -28ºC in the wind.
After a quick check-in I tried to log onto the hotel's WiFi only for my laptop to repeatedly crash and show the dreaded blue screen with white writing - the 'screen of death' for most computers. I managed to recover the machine after each crash, but could not hook up to the internet. With lots of work pending I was desperate for a solution, when I suddenly remembered a trick my globetrotting wife uses on her travels - use your iPhone as a hotspot. So I followed the Apple-simple instructions and fired up my iPhone as a hotspot and logged on. Work was done and stress was nullified.
The first night our conference host invited all the speakers and moderators to a delicious dinner at a local restaurant. Although the restaurant was within a few hundred metres of the hotel, the organisers were super cautious and guided us over every zebra crossing no matter how far off course they were. It took at least 15 minutes to get to the restaurant, and yet when Tom and I returned, post-meal, we took the less cautious and more direct route in less than 5 minutes. Restaurant waiters were great and very understanding when I asked for an empty bottle of each wine.
On the second night, Patrick and I dined out as the only foreign delegates remaining in the city. We met at a discreet restaurant in the basement of a cultural centre in a side street not far from the hotel. The food was top class, even the Ukrainian ravioli (lightly seasoned rabbit in dark green pasta envelopes and served with a rich tomato sauce, even Patrick, the son of a famous Italian chef, approved), and the lovely lady who served us even dug out some extra bottles for me. Lovely place and lovely people.
At some point I took time out one afternoon to gulp some fresh air and to seek out some interesting sights to photograph. I was out for an hour and that was the only hour in all of the three days that I was in town that it snowed. It snowed so much that a little white peak of ice developed on my hat by the time I returned to the hotel. Even the resting Silver Surfer on the hill looked chilly.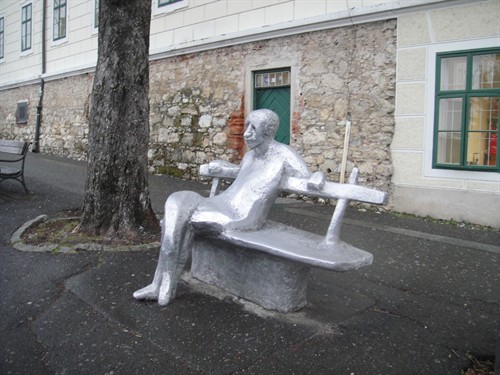 On my last day I was tied to my hotspotted laptop until my car arrived for the drive to the airport. En route we dropped into a hotel close to the airport for a quick inspection. The airport itself was a breeze and Croatian Airlines was perfectly fine. T2 on the other hand is still an unpleasant experience, especially this time when it took over 45 minutes for our luggage to arrive. Having left Zagreb with little snow (apart from my one-hour city tour), in London the aircraft window was filled with dancing snowflakes when we landed. Good job I had my hat with me.
After the luggage delay it was quite late by the time I got home, but I did get time to see my university son on a fleeting visit home to look after his sister for us on Saturday night, whilst my lovely wife and I left to celebrate many years together (see next blog, if you dare).