Phil's Travels - Cyprus (01.17)
23/01/2017
Phil's Travels - Cyprus (01.17)
Cyprus had a relatively tough time of it during the GFC ('global financial crisis'), but some signs of recovery are now evident, with stronger GDP growth and falling unemployment expected, and renewed interest in tourism related investment. My trip last week was catalysed by this new atmosphere of hope, with a private investor seeking to revisit a possible hotel development in the Paphos region.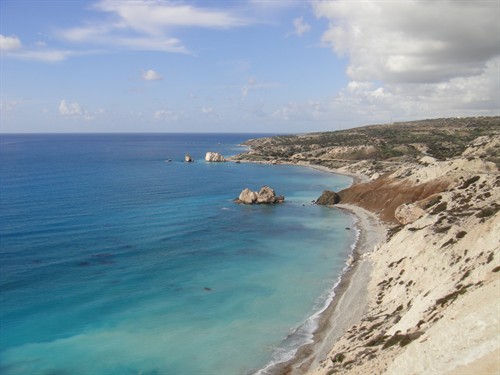 My journey to Larnaca Airport was painless and the car hire guy was ready and waiting in the car park, huddled in his parker and gloves (even though the days were glorious and 18°C, the nights fell to just 5°C). It was all a piece of cake, or 'loukoumi' as they might say in Cyprus. The night-time drive to Paphos was swift and thanks to Google Maps I found my hotel tucked away in the dark, below road level. And what a hotel! I have not been to such a wonderfully miserable, depressing and anonymous property in many a year. Although the staff were perfectly lovely, there were few guests and it was utterly devoid of any sense of place - there was no theming, no decoration, no colour, no personality, and no soul. It was grey floors and white walls throughout. I could have been on Mars for all I knew. The room was even more sterile and sanatorium-esque. The peculiar door arrangement to each hotel key was later explained as the building having originally been developed as a timeshare resort, which failed to sell and was later retrofitted to hotel use.
I have not been to Paphos in winter for nearly 20 years and had forgotten just how quiet it becomes in the off-season. Most of the hotels, shops, bars, restaurants and clubs were closed, and the traffic was non-existent, making parking a breeze. Included within the closures was our favourite hotel, the Elysium, closed for the first time in 15 years this winter/spring for a complete €7m refurbishment of every bedroom.
My three days on island were filled with meetings and visits, stretching from Polis through Paphos to Pissouri and Limassol. Surely there are few better meeting venues in the Mediterranean in January than the sun-rich terrace of the Four Seasons Limassol, where wonderfully attentive and thoughtful service survives and thrives. This rare bastion of good service and quality hotel-keeping in Cyprus will, however, soon feel the breath of additional five-star competition as the former Le Meridien is remodelled into the Park Lane Resort and the owner/operator of our Elysium completes its new resort just down the road.
In Pissouri, I visited the Columbia Beach Resort complex (also closed for major refurbishment works) and loved its sense of place architecture, reminiscent of a genuine Cyprus village. In Polis, I revisited the highly ambitious Limni Bay site (where all works have been suspended since the GFC and shows no signs of restarting) and I had a delightful meeting with the operator of Zening in Latchi (a yogi heaven).
The fact that so many of the few remaining genuinely five-star hotels were closed for refurbishment was a clear sign that 2017 is expected to be a great year and that 2016 must have been a rewarding year. With tourism numbers breaching 3m in 2016 for the first time in the island's history, it is no wonder local hoteliers and owners are feeling a little more confident these days. That said, it remains to be seen if the proposed mega-projects will finally lift-off. These include the monumental Eden City project near Paphos, the earth moving and terraforming Limni Bay in Polis, the flashy destination casino resort near Limassol, and the latter's neighbour, the Lanitis Greens golf-led project.
Best meal during my stay, a kebab takeaway from a local place we use in Paphos washed down with a can of Keo. Most disappointing meal, Italian in a trattoria close to the Elysium I have always wanted to try. Having tried it, we won't be going this summer. The tomato bruschetta turned out to be a "hunt the tomato" bruschetta, which is criminal in the land of the world's tastiest tomatoes. The pizza was small and over loaded with cheese, and the chilli oil was a piquantless green goo. I have yet to find a good Italian in Cyprus or Greece (any recommendations welcome).
In Paphos, I visited the Annabelle and Almyra hotels, both sustaining high quality service levels, and both filled with the grey pound at this time of year. I also saw Mynthis Hills for the first time and revisited Aphrodite Hills and Secret Valley (all three being golf resorts). But the golf visit highlight of my trip had to be Elea Golf Course. The club house is situated up a hill and commands a panoramic view over the entire course and down to the sea, and from here the sky seemed twice as big as from anywhere else on the island. The sunset was magnificent (best on the island perhaps?). If there is a better meeting venue than the Four Seasons Limassol, Elea is the leading candidate.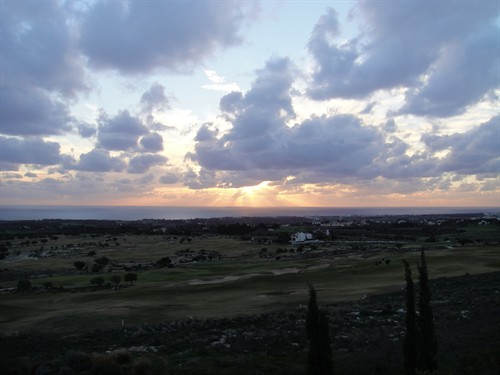 It is amazing what can happen during a flight. During my return to London, a world changing event took place. One which will lead us down paths unknown and into an uncertain future. Whilst most of the world stood still and listened to those fateful 35 words, I was speeding over the Mediterranean in silent bliss as President-elect, Mr Donald Trump, was inaugurated as the 45th POTUS and 'leader of the free world'. Hold on tight everyone, 2017 is going to be one heck of ride!