Phil's Travels - Hamburg, Germany (12.16)
23/01/2017
Phil's Travels - Hamburg, Germany (12.16)
My outbound day of travel started with a very Jules Vernesque breakfast at The Reform Club on London's Pall Mall. Although times have changed a little since Phileas Fogg's days in 1873 (ladies are now permitted), the club does still impose archaic rules of etiquette which resulted in us finally sitting down to breakfast at the third attempt: my minor pre-contravention was to arrive without a tie (the doorman lent me a snappy dark blue number to allow me past the first vestibule), our first major contravention was when another guest and I tried to enter the dining room without our host (non-members are not permitted in this inner sanctum without a member) and our second contravention, despite being accompanied by our host, was to sit at a table deemed not approved for breakfast. It has to be said though that all that stress and hurrying around did build up an appetite for what may be the most delicious scrambled eggs with smoked salmon in London.
After breakfast, I collected my delightful daughter from home and headed to T5 for our flight to Hamburg. A faultless flight and transfer to our hotel on the Upper Alster Lake was capped off with a marvellous dinner at a local Italian restaurant, where I indulged in a truffle fest of carpaccio to start and homemade pasta for main, coupled with a highly worthy bottle of wine (whose label was of particular note for not having any writing on it; the wine info was printed on the collar, a first for me and my collection).
Our hotel room was bursting with furniture as we had requested an extra bed for said delightful daughter and housekeeping had not thought it necessary to remove any of the sofas and chairs. So when my wonderful wife joined us late that first night, it was a very cosy set up, a term my wonderful wife went on to totally redefine. Her stinking flu (which had already lasted a week and as one of her client's put it "she is too busy for all this, must wait") was so bad that night she went to bed under a warm German duvet dressed in a double layer of pyjamas and fleeces, a woollen beanie, leather gloves (very Fifty Shades) and a pair of Ugg boots.
The room had some notable quirks: not sure what the moth motif on the headboard was all about, but they were quite disturbing, especially with the back-lighting; equally disturbing was the Adams Family style 'Thing' hand that profferred a sweetie each evening; the rugby-team-size shower cubicle had a piddly shower in the corner, thus begging the question why so much wasted space; no shelving in the bathroom (quite a challenge for three people, two of whom ladies); the bath tub was a classis roll-top in not so classic highlighter pink. On the plus side, the WIFI worked well so Netflix came to our rescue again in the absence of any English channels on the TV. We had a lovely view of the lake and the TCMF (tea-coffee-making-facilities) was on a genius, space-saving, rotating-shelf in the wardrobe.
The following day, my wonderful wife's Uggs did not appear to have improved her condition and she stayed in the hotel pretty much all of our first full day in Hamburg, but for a visit to a local clinic to be treated for a severe respiratory condition by a Chinese-German speaking broken English and wielding acupuncture needles.
My delightful daughter and I thus spent the bulk of the day alone, exploring this amazing city. After our first requisite hot-ham sandwich in Rathouse Square (heavenly), we continued walking to the harbour and the soul of Hamburg. There we booked a boat tour and waited over a delicious hot chocolate in what could be the world's smallest coffee shop, perched on top of the city's clever multifunctional flood defences. The boat took us around the old and new parts of the old harbour and through the active parts of Europe's second largest commercial harbour. The views were great, but the German commentary was limited in its instruction as my O-Level German is rustier than a Victorian anchor. All I know is our pilot-cum-guide at least must have been having a good time as he kept saying "Gut, gut, ja!" We saw the old warehouses in Speicherstadt from water level; we glided past the new Hafen City and its iconic Elbphilharmonie (affectionately referred to locally as Elphie); we got up close to some war ships in for repair and a towering containership; we saw U-434 (a Russian submarine in Hamburg?); and we passed through a lock whose water level does not change, but does prevent silting in some clever fashion.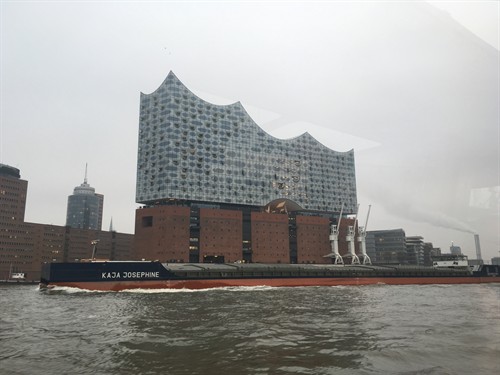 After an adventure filled day on the streets and waters of Hamburg, my delightful daughter and I hooked up with mummy and one of her lovely colleagues who ran to her rescue with work, and went in search of dinner. Everywhere was full. The city was heaving with tourists and every dining venue was fully booked. In the end, thanks to mummy's local angel, we found a corner table in a tiny, atmospheric, eclectically-decorated, quintessential seafarer's tavern serving seven varieties of schnitzel and little else. It was hearty food and mummy was in seventh heaven with her beloved German food.
Feeling a whole lot better the following day after her Chinese-German doctor experience, my two ladies and I headed to Speicherstadt for a street level cultural tour of this World Heritage Site. My delightful daughter and I went up Elphie via Europe's longest escalator. The concert hall, apartments and snooty Westin Hotel (very rude staff to my poorly better-half, who was in no mood for attitude) are contained within the crystal, wave-like structure that sits atop the former 'Kaispeicher A' warehouse (which formerly stored cacao and today houses back-of-office and car parking levels). The views from the elevated, wrap-around Plaza were stunning and the venue should hold its first concerts soon.
In Speicherstadt, we visited Miniatur Wunderland housed within one of the historic warehouses. This extensive exhibit is a collection of model railways set within themed country and cityscapes, including: America, Switzerland, Hamburg and an airport with airplanes that really did take-off and land. Very cool, and Venice and Monaco are in production (including the F1 track). Some of the tiny characters even moved, my favourite being a frenzied lumberjack furiously chopping away at a highly resistant tree.
Other activities partaken of during our stay included: dinner at perhaps the worst Italian ever; many more delicious hot-ham sandwiches; hot chocolate at the Vierjahreszeiten Hotel where we made friends with eight-year old Adam; window shopping; extensive Christmas market shopping, eating and drinking in the company of my wonderful wife's 'other man' and other friends; gawped at the Chilehaus (the other World Heritage Site in the city, but very disappointing); and explored more of Speicherstadt (allegedly the world's largest concentration of warehouses in the world in its day, which seems to be a rather extravagant claim when London was the biggest port in the world at the time) in search of curious photo opportunities.
We returned to London a little earlier than planned in order to celebrate birthdays as a family, which we should have celebrated 'en famille' in Hamburg, but for my failure-to-launch son's forgotten passport. This took quite some arranging with several calls to BA over a couple of days, and even then when we tried to check in at Hamburg Airport our bookings were still not 100%. Consequently, we spent a stressful hour waiting for the BA helpdesk to do its thing and permit the very patient and helpful check-in lady to check us in. Thus ended a lovely, 'gut, gut, ja!' weekend in Hamburg on a stressful note, rather like Mr Fogg's return from 80 days of circumnavigation, but unlike his return I did not have to revisit The Reform Club in a cumbersome tie. That can wait for another day in 2017. Merry Christmas and a Happy New Year to all!