Phil's Travels - 12 Days of Xmas, Cyprus
20/01/2018
Phil's Travels - 12 Days of Xmas, Cyprus (12.17)
I blame my man-flu-addled brain for the incident of the missing suitcase. On the Monday I had taken my first sick day for 15 years and on Friday we celebrated Xmas with the office at Ham Yard. Unfortunately, I had to leave the fun early to get home and pack and get some rest before our flight Saturday morning. So, slightly thick-headed from alcohol and flu, I packed the family and cases into a large cab and we headed peacefully to Heathrow nirvana, T5. I had planned to visit the tech shop in the terminal for a new camera as my Xmas present, but the missing suitcase put paid to that. On unloading the taxi at T5, I realised one of our seven suitcases was missing. Yes, seven cases! Which may seem a little excessive, particularly for a such well-travelled family of only four, such as ourselves, but this situation was explainable as we had extra cases full of presents for family and gifts for charities in Cyprus. Net result? I had to retain our taxi to drive me back home to recover the jilted case and then back to Heathrow for a second time. The roundtrip took nearly an hour and half, and I checked-in too late to make any kind of camera purchase.
Although we had our ubiquitous first night Pikis souvlaki and family over for dinner, my enjoyment was curtailed on arrival in Nicosia. The flight's decompression on landing and my flu-bunged pipes did not a good mix make. My ears were blocked, ringing and painful, and I could barely hear anything anyone said all evening. Fortunately, a good night's sleep released the pressure and all was well for the 12 days of Xmas in Cyprus.
Our first full day of the 12 was punctuated by Yaya's 80th birthday - a quiet affair of family only at the Nicosia Hilton. Our last Xmas in Cyprus was 10 years ago when we celebrated Yaya's 70th, also hosted at the Hilton, but then attracting the great and the good of Cypriot society and politics. Yaya is no ordinary lady. Maroula was the first Cypriot female journalist and the first lady in the country to drive and own her own car. As such, during the struggle for independence from the UK in the 1950s, Yaya joined the resistance movement (called EOKA) and became a key mover-and-shaker behind the scenes. With her car and press pass, Yaya delivered messages, munitions and supplies across British checkpoints unchecked and knitted the whole EOKA effort together. She was so influential that in recognition of her pro-independence and anti-UK-establishmentarianism, the great Archbishop Makarios officiated at her wedding. And I, a Brit, married her only daughter!
We followed Yaya's birthday with my lovely daughter's 12th, which we celebrated in Yaya's boutique apartment stuffed full of family and friends. We were delighted to have her three godparents back together for the first time since her christening, which made everyone happy. Our son managed to squeeze Christmas in Cyprus between his Brazilian and Uruguayan work trips and enjoyed Nicosia as a true local that he is given his upbringing. It's a tough life for a young globetrotter! 
The weather during our 12 days was almost perfect, circa 20°C during the day and sunny, except for a couple of days of a Syrian dust cloud (similar to that which affected London in the autumn). The cloud blotted out the sun and blue sky until the winds moved it on and a quick splurge of rain cleared the air and dropped the dust onto every car on-island. The local carwash did a roaring trade the next day.
My lovely wife and I escaped the stresses and strains of Xmas with extended family and friends by taking our vintage Rover into the mountains. We stayed at a new project in Kalopanayiotis (meaning a Good-Man-Called-Panayiotis, a stunning mountain village regeneration project in its own right, including the island's only funicular), a collection of old village houses converted into a fashionable hotel, called Casale Panayiotis. The reception, our room (including a working fireplace) and the buildings were all delightfully authentic and well executed. The service was friendly and helpful. However, the food, both at dinner and breakfast, was a let down. This shortcoming was thrown into even starker relief a few days later when we visited the family village of Spilia further up the mountain for a family event. On the way back down the slopes we had an amazing lunch nearby in a roadside restaurant - a hearty mountain-man's meal of wine sausages, fried eggs and chips, washed down with lashings of excellent village wine - just like my lovely wife's Papou (father of the amazing Yaya) used to make for me on his wood-burning stove in his little house clinging to the cliff edge in Spilia. Most notably though, we supplemented our lunch with a side order of the most succulent and exceptionally delicious barbequed souvlaki of goat (note to Neil Rankin of Temper fame: you must visit, take lessons and learn how to cook it properly).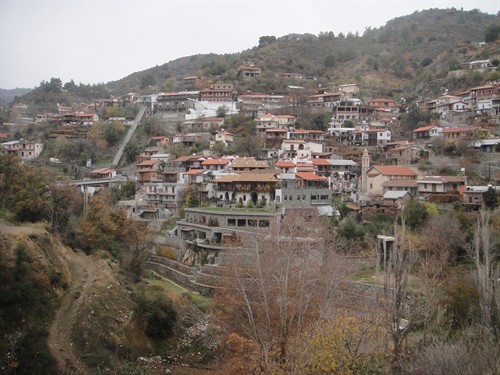 After breakfast in the Casale, we visited the monastery and sulphur springs on the opposite slope of the lush valley (with a real river gurgling through, a genuine rarity on this otherwise arid island). At the monastery we met a good man indeed called Panayiotis (seriously!), who sold us many souvenirs and told me in no uncertain terms not to photograph under any circumstances the stunning iconographic painted walls in the church (listed as one of Cyprus's three UNESCO World Heritage Sites, and well worth a visit, together with its nine siblings dotted across the Troodos Mountains). Despite his stern camera warning, we got talking to our man Panayiotis and quickly established that he had known my lovely wife's Papou. It is a wonderfully small world up there in the rarefied atmosphere of the Cyprus mountains.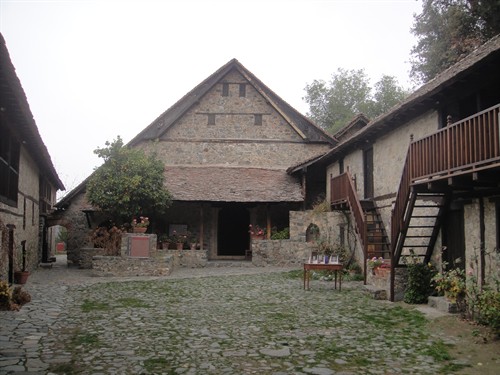 In Nicosia, we had the pleasure of a wine tasting with a friend in one of the better wine stores (the city has jumped into the wine world with gusto and is now full of wine shops and bars), trying a new producer from northern Greece, two new Cypriot producers and a luscious white classic from Burgundy. On Christmas Day, we drove through the traffic-devoid, barbeque smoked-filled and orange-laden tree-lined streets of Nicosia to another mountain area for another family feast. So good, we had family visit from as far away as Larnaca.
After 12 food-filled days on Aphrodite's isle, we had a final Pikis kebab and headed home, back to London. The flights there and back were simple and painless enough, with 'simple' being the key term for BA Europe now-a-days: the M&S fare is blander than white paper; the ground staff in London are so blithe of a stressed suitcase-delayed traveller as to seriously test his reason; and, the aircraft are more defunct than our vintage Rover (so old, the TV and sound systems never seem to work anymore, thank heavens for iPads, and the faux-leather seat covers barely cover a thing). All that said, we had a great holiday, and Merry Xmas and Happy New Year to all.