Phil's Travels - Berlin, Germany (03.18)
11/03/2018
Phil's Travels - Berlin, Germany (03.18)
Last week Emma met the Beast from the East in the climatic clash of the decade on British soil. It was so cold and windy and snowy that much of the nation came to a standstill and visitors were trapped in Old Blighty for an extra day or two. Fortunately, most of the chaos melted away by Friday and my wife was able to return home on time from Athens on Friday night and I was able to take an early bird to Berlin on Monday morning with easyJet from Gatwick.
It is funny how our perceptions change over time and companies evolve. It was not so many years ago that 'squeezyJet' was a laughing stock and BA the shining knight of all things Great British. Today, BA is an absolute shambles and 'shinyJet' is glistening in its glow of efficiency. Our flights to and from Berlin were on time, painless and friendly. Elsewhere, our industry colleagues travelling on BA flights were subjected to delays, lost luggage (again!) and depressing-slash-your-wrists service.
Safely on the ground in Berlin, the weather was benign (although many of the lakes we overflew on landing were still frozen in the Beast's wake) and the city as grey as every March for the IHIF. This year, having booked well in advance, I stayed at our usual Motel One and did not have to suffer the horror hotel of 2017. In the two years since my last stay, Motel One have remodelled the lobby area, having made the reception desk smaller and the bar larger (so much for a limited service philosophy). The rooms were untouched, still the same boring grey, which matched the weather outside, but there was a significant in-room service improvement.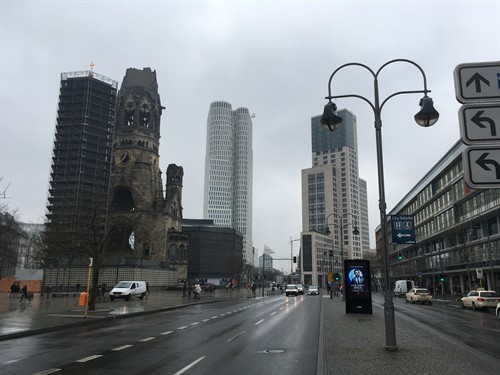 As you may have noted from previous Berlin blogs, the soap in a Motel One was a single small bottle of universal cleanser - for hands, body, hair, etc - per day! For someone with little hair, like yours truly, it is just about possible to eek-out one's bottle per day allocation, provided you use the facilities elsewhere also, but for someone with more hair, how did they survive? Anyway, point is, someone at Motel One has clearly read my blogs and my room had not one, but two large soap dispensers. One by the sink and one in the shower. It was a positively soapy soap fest of soap. All we need now is for Marriott to dispense with their soapy golf balls and my mission for sensible soap service in hotels will be complete.
Motel One was not the only venue to undergo changes. The Pullman (my established piece of real estate during IHIF) had remodelled and darkened its lobby, bar and breakfast room, but was still a great alternative venue to the InterCon (which had no changes to offer). Even our annual Beer & Bratwurst bierkeller had changed, with the introduction of some additional plaster and some illuminating strip lighting. As to our dinner, what popularity. We had over 120 guests and a great time.
Walking around town, it was curious to see adverts for Gary Oldman's Oscar winner Darkest Hour on the streets in the heart of Germany. And, since we are on the subject of history, 6 Feb 2018 marked the 10,316th day since the fall of the Berlin Wall, meaning the Wall has now been down longer than it was up (up for a total of 10,315 days between 1961 and 1989). I worked in Germany in 1989 and was fortunate to visit Berlin (by train from Hildesheim) before the Wall's end. We stayed in the West, but also visited the East via Checkpoint Charlie. One of these days I will take an extra day after IHIF and walk the Wall route as a mark of respect and to remember those heady days when I was a hotel trainee.
Speaking of timings in Berlin, it is worth noting that the new Berlin airport terminal is still not completed. Its bulk sulks in the grey mists across the aprons and runways from the ramshackle Schoenefeld terminal. There were lights and cranes to be seen, but it is now seven years delayed and counting. Latest estimates suggest that Berlin Brandenburg Airport (BER) could open in 2021. You can tell the timing is clearly off because Schoenefeld is now using BER branded equipment and they have added a new arrivals building to cope with the increasing demand to the German capital. The arrivals building is quite a walk from the taxi rank (which remains where it was) and must be lots of fun in inclement weather. By way of compensation, they have built a chalet-bar half way along the trek from terminal to rank, just in case you need a refresher en route to your taxi or to shelter from the elements.
In addition to lots of meetings at the Pullman, Bikini, Waldorf, and, yes, the InterCon, I also had a meeting at Berlin Messe, which is a whole mess of Messe and home to the monumental annual ITB. I decided to take the U-Bahn and walked to the Zoologischer Garten Bahnhof, where I discovered Berlin suffers from the French disease (ie poor signage and lots of lost visitors) and that the U-Bahn to the Messe is actually an S-Bahn. The journey was quick, but signage was terrible and did not match the train's route. The Bahnhof wall-maps showed the S5 in the direction of Spandau (of ballet fame) would finish at Westkreuz, but the driver announcements declared it would run on to Olympiastadion (of Jesse Owens fame). Anyway, journey was achieved, meeting had and new sights of Berlin recorded.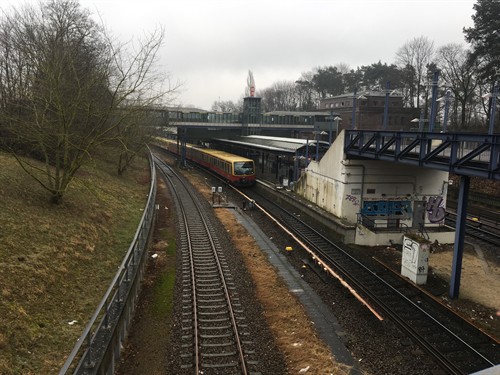 As mentioned, easyJet home was a breeze and the pilot parked under the plane-high-and-wide bridge at Gatwick North Terminal, which of course meant walking across this engineer's dream (why did they not go underground, like at Dubai International?) to get out and to the train station. The flight from Berlin to Gatwick took one and half hours, my journey home from Gatwick to Paddington took four trains and a lot longer. Something to do with slow trains released in front of the Express and happenings in stations on the Underground. Nothing to do with the weather of beauty and beasts, just good old British railway woes.