Phil's Travels - Nosy Be, Madagascar (04.18)
19/04/2018
Phil's Travels - Nosy Be, Madagascar (04.18)
Good job I arrived at the world's most boring airport terminal (Heathrow T2) three hours early. At 18.00, I tried to check-in using a machine. Machine said, speak to a person. Person checked another machine and told me to see the ticket desk. Ticket desk clerk told me I had to validate the credit card used to pay for the booking. I told clerk that would be impossible as the cardholder was in Antananaviro and would not make it to the world's most boring terminal within the next two hours and in time for my flight. I called the payee to try to work something out and he spoke to the clerk, but still no resolution. Payee called numbers in Madagascar and the UK to try to unblock the system, whilst I persisted with my own Dyno-rod actions at the world's, now, even more boring terminal and eventually spoke to the station manager for Ethiopian Airlines. Manager said there was nothing he could do and payee would simply have to turn up with the plastic or I would not be flying. In the face of such inflexibility, what was my Dyno-rod solution? I paid for a new ticket! Payee will have to secure a refund from his card issuer, but at least I secured my ticket and returned to the dreaded machines. Machine said, speak to a person. Person checked another machine and told me to check-in at a manual desk. I queued. Seeing me in the queue some 15 minutes later the intransigent station manager asked me what I was doing. I told him I had paid for a new ticket and all of a sudden I was a VIP. He opened the Tensabarrier and asked a colleague to check me in immediately. Armed with board pass, I went through the busy security zone at a snail pace and finally made it into the inner sanctum of air-side within the most boring terminal of the world - more than two hours after I had first arrived. I checked the boards and the Ethiopian flight was already boarding. I rushed around for a snack, water, sun cream and repellent, dumped the idea of buying my Xmas present (again! Ref 12 Days of Xmas in Cyprus (12.17)) and rushed to the gate, which was a 15-minute walk away, through the boring bowels of the world's most boring terminal. You can imagine my relief on finding my seat (the last one at the very back of the plane, 46L), only to find in flight that my personal inflight entertainment system was in a permanent state of ADHD and unresponsive to any ministrations. It would not even turn off permanently. It just kept flicking between screens without command like a kaleidoscope possessed for nearly seven hours.
So, as you may have gathered from above, my flight to Nosy Be (Nosy meaning island and Be meaning big, even though the main island of Madagascar is bigger) was with Ethiopian (a carrier I have used before and found to be comfortable and reliable), with a transfer in Addis Ababa and a quick drop-off-pick-up stop in Moroni (Comoros). A journey door to door of nearly 24 hours. The stop in Comoros brought back memories of a great hero of mine, John Elliott, who was a leading light architect at WTG and a dear friend, with whom I worked frequently on exciting schemes in Saudi Arabia, Jordan, Bulgaria and potentially Comoros. The Comoros project did not materialise, but we had plenty of fun planning it.
If Ethiopian is planning to truly realise its mission statement, "The Airline of Africa", it not only needs to raise its ticketing game and its inflight tech, but it also needs to rethink Addis airport. For our transfer, we were guided to the gates immediately, do not pass Duty Free, food or water. As my transfer window was only an hour or so this did not bother me, but on the return my transfer was to be over six hours and I was not looking forward to the featureless desert of the gates area. Also, the flight times on the boarding pass did not match those of the Addis screens and the flight was listed as Nosipi and there was no mention of Moroni, both of which caused some head scratching amongst us simple passengers.
Anyway, I made the connection and landed in Nosy Be pretty much on time. Over the years I have been to a few far flung emerging destinations, but I think Nosy Be takes the record for number of passport checks on arrival. So, deep breath, and here goes: (i) to purchase my visa, (ii) to enter the passport office, (iii) a first stamp, (iv) a second stamp and handwritten note that I was British, (v) a signature on the visa page, (vi) check to exit the passport office, (vii) by a customs officer (who seemed very disappointed at the sight of my smalls), and finally (viii) to leave the terminal building (including an incomprehensible suggestion that I might have a 'gift'). Eight checks for one passport in the space of 15 minutes has to be a record.
My first night was spent in a room up a hill away from the main hotel (called Sarimanok) in Ambatoloaka, the path to which, as part of the night entertainment, at 10pm appears to be a snake highway. I crossed a couple on my way to bed and I can tell you they might have been small, but still stop your heart and make the hairs stand up on the back of your neck.
We rose early the next morning (a recurring theme this visit) to take a boat south from the beach immediately in front of the hotel (shoes off and trousers up, as no jetty, also a recurring theme this trip). En route to our destination, we stopped at Nosy Iranja for a nosey around a closed resort (reminded me a lot of resorts in Maldives). Lovely place, a great setting and the beaches were riddled with turtle's nests (at least somebody was visiting this sadly closed little gem).
Some three or so hours later we arrived at Nosy Saba (our boat was fitted with 2x 100hp Yamaha outboards, which were somewhat slower than the 2x 250hp versions we had in Maldives, over which one could not converse, but the trips were quicker). After a quick lunch of delicious fish carpaccio (caught that morning) and fried barracuda, we toured the built areas of the island and circled the entire island by boat during sun set. Idyllic. And what an island (see a photo below for amazing tree on rock in sea): 130ha, 3 miles of beaches, 42-key resort, pool, landing strip, lakes, forests, its own conspiracy of lemurs and a herd of zebu). We dined on fish soup and langoustine and finished the evening with a banana flambé. That night I slept one of the deepest sleeps in total darkness under a double layer of mosquito nets.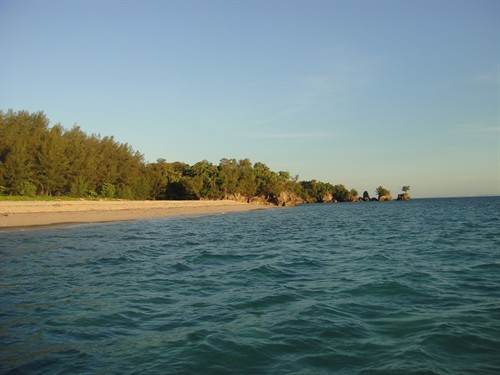 Early next morning we walked to the spiritual heart of the island and covered more mileage. After breakfast, whilst repacking, the gardener nearby my chalet called me out to see some lemurs in the trees. I even had a chance to feed one (and a rare variety at that, with soft russet fur and pale blue eyes). As my lovely daughter would say, "They are soooooo cute!"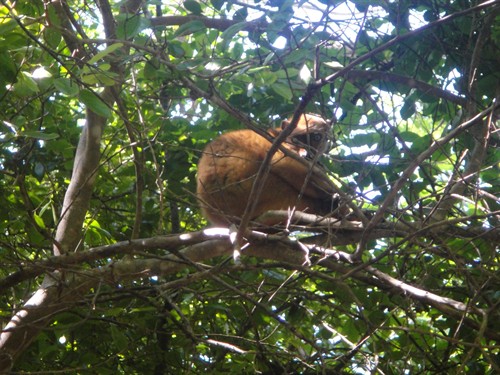 We returned to Nosy Be that afternoon (after a quick stop on Ambariompotaka to see a six-key fisherman's lodge on a most gorgeous beach, although the powerful aroma from a rotting turtle in the sand must have compromised the guest experience somewhat), ate more fish for lunch, discussed 'things' and agreed next steps. That evening I changed from fish to a filet of local zebu. Tender, gamey and delicious. For the remaining two nights, I stayed in the main hotel building of Sarimanok, which is situated between main street of Ambatoloaka (for nightlife) and the beach (for day-life and for the launching of one's boating experiences), with stunning sunset views, good food, a pool deck on the first floor over the restaurant and decent bedrooms. The beach in front was a hub of social activity and commerce, with fishermen washing their catch and beach boys and girls trading their respective wares.
Another early start and another boat ride with the indefatigable Captain Jacques (as in Cousteau, not Sparrow), this time north to the resort of Tsaranjita, a bijoux property of only 25 luxury keys, on its own private island of less than 8ha. Back in Ambataloaka, I hooked up with Andre for a driven tour of the resorts on Nosy Be proper.
This trip I enjoyed nearly perfect weather throughout my sejours, which was a huge improvement over my visits in 2017, when it rained on every single site visit I made to Cyprus, Maldives, Zanzibar, Catalonia and Sardinia. Apart from a short shower on the penultimate day, the weather was hot, sunny and breezy.
There is lots to see in Madagascar. In my short time I saw lemurs, dolphins, turtles, flying fish, lots of birds, zebu (which the Malagasies appear to revere above all other animals, including lemurs, as on several occasions I saw folks taking their zebu for a walk on a leash, which can play havoc with passing traffic) and something Captain Jacques called a taniti.
Madagascar is a fascinating place with a highly unusual history. Despite its huge size, it was not populated until very recently (about the time of Jesus Christ), when people from Indonesia arrived and later the Bantu from Africa. Today, this ethnic heritage is still evident, with coastal folk having Bantu features and those of the central plains, especially around the capital, Antananaviro (or Tana for time saving purposes), look Asian. Evidence shows that the new arrivals to this land of riches quickly set about a strategy of slash-and-burn, and most of the island's dense forests have been destroyed for timber and agriculture. In flying into Nosy Be, I noticed unusual thin, dense black coloured clouds, and I wonder if these are the by-product of a continuing slash-and-burn strategy. I hope it ends soon as Madagascar is the exclusive home to 66% of baobab species and 100% of lemur species.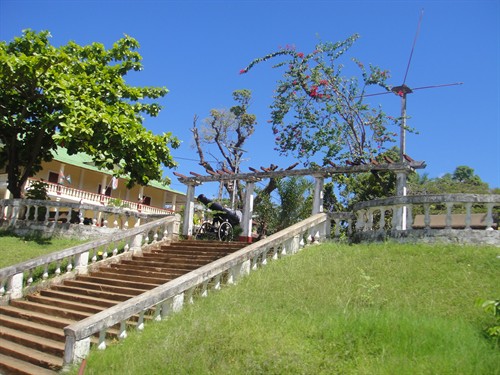 To note, Malagasies point with the second knuckle (not with the whole finger) and don't pronounce the final vowel in words (hence Nosy Saba is pronounced as Nosy Sab).
My return to London began with a drive through the capital of Nosy Be, called, and I kid you not, Hell-Ville (named after Admiral Anne Chretien Louis de Hell, governor of Réunion between 1838 and 1841). The city was a bustling, vibrant centre, flowing with tuk-tuk taxis, zebu-drawn carts and locals trading. The administrative heart of the city (between the main port and the market quarter) retains many magnificent French colonial buildings and accompanying cannons. The flights to London were uneventful (even the inflight entertainment worked), but the trip was long, including a six-hour layover in Addis. At least this time the airport allowed me access to the Duty Free side and there I found all manner of treasures, including a bar in which I consumed a pizza and beer and watched Liverpool thrash Bournemouth (what better way to spend a layover in any airport). I landed early morning back in London, after five days of 30°C+, to fog and barely 10°C. If you need to find some sun, do try Madagascar. The Malagasies are lovely, friendly and smiling, and the nature is truly otherworldly.