Phil's Travels - St Lucia (06.18)
22/06/2018
Phil's Travels - St Lucia (06.18)
Purpose of visit? To visit a resort site on St Lucia that we were to market for sale, meet key local contacts, update our intel on the local market and pass by Miami for meetings with potential investors and operators for the site.
My flights were booked on Thursday with the first flight from London to St Lucia on Monday. Flights approved, I confidently applied for my ESTA number on Thursday and after two days of no email news from the US Government, on Saturday morning checked the USG website. My application had been refused. And they could even be bothered to inform me. I had to log on to find out for myself. Customer service USG-style! So, there I was on Saturday morning, some 36 hours before departure, with a desperate need to communicate and wouldn't you know it, but my emails on my laptop ceased to work. Some new-fangled security fix that our IT bods installed a few days earlier was blocking my remote access from home. There followed a desperate call to IT support, which yielded a highly unhelpful a "we don't cover you at weekends" response.
Thereby even more panicked than before, I called our travel agent and was transferred to a very helpful lady in Aus for emergency weekend assistance. Ms Aus was super charming and helpful, and totally un-USG-like, and during my hours on and off the line with Ms Aus, I managed to get my emails working again (no thanks to IT and thanks to a little lateral thinking by yours truly). Ms Aus brought me down from previously untapped heights of stress and we had a good chat about all the options left open to me (good job I had used a TA, can you imagine trying to fix such a buggers-muddle with Expedia over the internet?).
Bottom line: (i) my ESTA was most likely refused because I have been to too many Trump forbidden countries in the last few years (namely Libya and Iraq); (ii) no chance of getting a visa from the US Embassy on a Saturday afternoon or Sunday (especially as the next available slot for an interview was 15 days hence); (iii) no chance of someone else trying to fix my visa issue whilst I was in St Lucia (one has to do it in person); (iv) reorganised flights, so that I would fly direct to St Lucia and directly back, not even a transfer in USA (ESTA required for that too). Thus, Trump was denied my business dollar and St Lucia enjoyed my company for an additional two days.
After a wild Saturday, the outbound on Monday was plain sailing. Public transport to Gatwick was smooth, security was easy and I even had time to buy my Xmas present at the third attempt (a new camera to replace my 10-year old Sony pocket-sized faithful). The flight was on time and landed with no issues. I even surprised my host by being the first one out at arrivals (the benefit of hand luggage only). Whereas travel time targets were met with ease, the Virgin plane was tough going. The seat was tiny and tighter than the Hulk's underpants, the seat-covers were coming away from the seat in front like strips of cork bark, the TV system kept freezing like a bad case of VAR, the touchscreen controls were as unresponsive as Ethiopian and the sound was lower than a limbo dancer's behind. When I met the regional Virgin guy for a beer later in the week, he explained that the aircraft used on a Monday was a former Air Berlin machine that Virgin had had to buy in emergency because of faulty Rolls Royce engines on other more brand-compliant machines. The proper machines flew on Fridays, so I would benefit on my return.
My host in St Lucia was a gentleman man-mountain of rugby second row proportions, who beat me hands down listing sports injuries. Mr Mountain was not only my host, but also my driver, guide, entertainer and Allen Chastanet double (Allen is the PM of St Lucia and my Allen was frequently called out as the real Allen during our exploits around-island).
Prior to our visit to site, our vehicle warned of a puncture and we had to pass by a garage for a fix prior to off-roading and speeding round the island's mountain roads whilst avoiding steep unguarded roadside drop offs. I thought we were going to have to wait for the right tyre to become available, but blow me down, the garage pulled out the offending 2-inch screw, stuffed a bit of rubber into the hole, blew up the tyre and hey presto all fixed. And all for the handsome price of £15 (as apposed to several £100s for a new BMW tyre). All done in under 20 minutes and we headed south to the site.
En route we visited another site, on which we worked a few years ago and which has been neglected since my last visit (very overgrown and unkept). Lovely to see it again and to remind myself just how beautiful this valley and beach are. Hopefully something will happen to it soon.
The purpose of visit site was situated at the base of the Petit Piton, north side, and is truly stunning - enjoying sunset views, amphitheatre-style topography, a long natural sandy beach and of course a cracking Piton view. It is going to make a stunning resort one of these days (see first panoramic photo with new camera below).

My accommodation on St Lucia was up in Gros Islet, a significant resort with inland waterways in a sort of cloverleaf configuration, which sounds interesting, but the lack of boats and waterside features make for a rather dull outlook over the vacant marina environment. That said, the only boat was parked right outside my room, making me feel very prosperous and important. As part of my market updating, we visited the new Harbour Club Hotel (a rather confusing mix of architectural themes, from police station to hospital to vertical shopping mall) and the monumental concrete edifice that is the new Royalton (a huge all-inclusive with over 400 keys and surely containing more concrete than the Three Gorges Dam).
En route to the airport for my return to London, Mr Mountain took me to lunch at Hotel Chocolat. Yes, the maker of quality chocolate products, but also a genuine hotel. Situated on a hillside surrounded by jungle, this boutique hotel overlooks the Petit Piton and serves dishes with more than a passing reference to its confiserie raison d'etre. I had a fresh salad with elements of chocolate vegetation, we had bread with chocolate vinegrette, and I had a burger with chocolate nuances in a cocao pod shaped bun. Very delicious and what a view.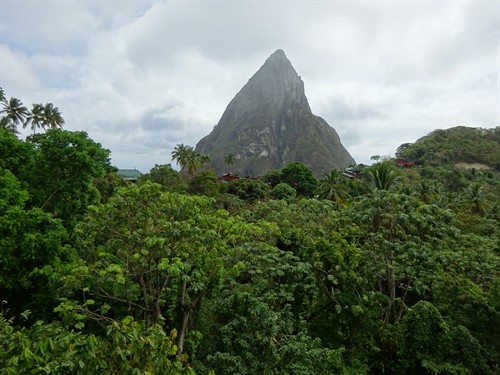 We also dropped into Anse Chastanet (nothing to do with the PM), which was a bit of a disappointment and even more so when my Allen was not even recognised for his doppleganger fame. The arrival was intimidating as security is very tight and snooty. The beach was small and crammed with rustic shabby buildings. The staff somewhat aloof. We wanted to see the luxury wing of the resort up the hill, called Jade Mountain, but security put us off and our inside-man, who had been in touch with my Mr Mountain, could not arrange a visit as promised. Although we did not get up the hill to see Jade Mountain in the flesh, we could see glimpses of it through the tree canopy, and close up I felt its multi-storey carpark design theme did not look so bad. One day I will grow up and be permitted entry to see it properly.
The flight home was infinitely more comfortable in the brand-compliant plane, and even the TV worked. It is a shame I missed Miami and I hope Mr Mountain did not mind me taking up so much of his time on-island. Funny how time flies when you are away from home and the world around you continues to turn without you realising it. Whilst I was away: Trump alienated his friends at the G7 and befriended another despot at the first summit between US and North Korea; and, Achilles the cat (presumably named after my football crazy son) was introduced as the sage of World Cup 2018, whilst the champions, Germany, lost to Mexico. The world today really is full of surprises and who would have thought that Trump's xenophobia would be fired at a little old innocent, but well-travelled, Brit like me. Perhaps I should become North Korean instead. 행복한 날들!