Phil's Travels - Sardinia, Italy (11.15)
18/11/2017
Phil's Travels - Sardinia, Italy (11.17)
My role as rain-maker to sun-parched lands in 2017 continued this week. The first leg of my journey (taxi to Luton and easyJet to Rome) was a smooth as a baby's tummy, but the second leg suffered the usual Fu Manchu effect at Rome's Fiumicino Airport, despite a lovely new look Terminal 3. Terminal 3 is shop-to-shop luxury boutiques (worse than Heathrow T5), but (also like Heathrow) for some very surreal reason it has a very much more reasonably priced WH Smith for more mundane travel goodies and snacks (when in Rome… shop at WH Smith!).
I have been through Fu Manchu airport as a transit passenger many times and as an arrival, and one each occasion some funny business has arisen. This time the Fu Manchu effect was a merry game of chase the gate. Despite a transfer window of four hours and a consistent listing on the boards of our gate-to-be as D06, when it came to boarding, we were moved a couple of times without notice to two other gates. In the end, we boarded via D05. Lovely terminal, same old Fu Manchu service.
The flight from Rome to Olbia was with Meridiana, an airline headquartered at Olbia Costa Smeralda Airport and wholly owned by Qatar Airways. Qatari investment in Sardinia does not stop with its carrier, Qatar is also funding a new hospital on the outskirts of Olbia and through Qatar Holding's owns Costa Smeralda. The Meridiana flight was packed and delayed after the game of chase the gate.
On landing in Olbia, my local escort took me immediately for a first site visit (a resort south of Olbia, in the commune of San Teodoro) in order to catch as much day light as possible. The sun set was spectacular, but clearly foretold the deluge to follow in the morrow. The resort was a huge and we had to return the next day as the light ran out.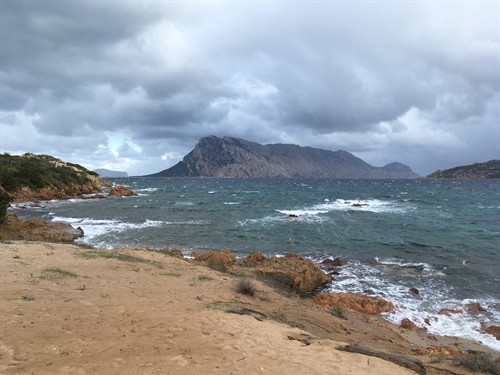 The next morning, we completed the site visit and held a meeting with management whilst the heavens sobbed, rumbled and the blew their hearts out. Apparently, this was one of the first days of rain since April - lucky me! Having been to two other sunshine destinations earlier this year, Zanzibar and Maldives, and caught similar climatic conditions, I have a growing reputation as a bringer of precipitation, which may be good for the locals, but sucks for the visitor in me.
My water-filled experience continued in my hotel room. The generous rain-shower was a joy to use, but without proper screening the lagoon that formed on the bathroom floor and out into the bedroom was biblical. Post ablution, I had to use spare towels and sheets in the wardrobe to mop up and allow me to circulate without risk of skidding across the floor. [Note to hotel operator - your shower gel and shampoo tubes are impossible to open with simple fingers and nails; as it was, to get them open I had to leave the shower, wet and naked, tiptoe through the spreading lagoon into the bedroom, take the pencil by the bed back to the shower, and pierce the armour-plated tubes with much frustrated aggression.]
The miserable weather on the second day matched the mood amongst my escort. The evening before Italy had failed to qualify for the Football World Cup for the first time since 1958, having lost 1-0 on aggregate to Sweden. The local papers and news channels were unforgiving, and my escort was despondent under the grey misery of the British-style weather.
Still, the afternoon of the second day we cheered ourselves up by touring the iconic and uber-exclusive Costa Smeralda. Costa Smeralda lies to the north of Olbia and the name is a pure marketing creation. For millennia this part of the island was home to shepherds, sheep and mosquitoes, when, in 1953, the area's first jet-set tourist arrived and triggered a staggering reincarnation.
In 1953, Mr Luigino Demuro (a local tobacconist from the village of Arzachena) sold his 43ha island, Mortorio, to a Mr Giuseppe Kerry Mentasti, owner of San Pellegrino, the mineral water giant (more water!), for the equivalent of EUR1,800.
On 14 March 1962, Prince Karim Aga Khan, Patrick Guinness (Irish beer king), Felix Gray, Andre Ardoin (Parisian lawyer of Aga Khan), John Duncan Miller (Scottish banker at World Bank) and Rene Podbielski (entrepreneur of Polish origin) signed a statute granting their consortium ownership and control of 18,000ha of infertile and malarial coastline, and thus Costa Smeralda was born.
In the 1960s, Porto Cervo, the social heart of Costa Smeralda opened, together with the Costa's famous uber-luxury hotels.
In 1994, Starwood Hotels acquired CIGA Hotels (Compagnia Italiana Grandi Alberghi) from the Agha Khan, which included Costa Smeralda.
In 2003, Starwood Hotels sold their interest in Costa Smeralda's hotels and a majority stake in the Costa's undeveloped land to Colony Capital for €290m.
On its 50th anniversary, in April 2012, Qatar Holding acquired Costa Smeralda from Colony Capital.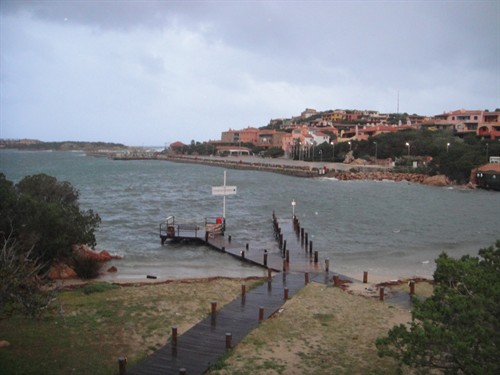 The Aga Khan's original vision of creating a playground for the uber-rich and famous is still alive and well today. Houses here sell for an eye-watering €250,000 per square metre (the highest I know of), the Costa's hotels achieve some of the highest ADRs in the world and it is home to the aptly named Billionaire Club. During our quick tour, we drove by Flavio's jet set meeting place. Surprisingly, it is not on the sea. Rather, it is situated between Cala di Volpe and Porto Cervo, inland, up a hill and accessed via a side street from the route SP59. The views are verdant, with only a snatch of sea, suggesting that branding has overcome form.
I very nearly missed my flight from Olbia due to the mighty Apple. Following its latest iOS update, Apple, unbeknownst to me, told my iPhone to unilaterally change my settings and impose its own Apple ideas - including activating the clock's automatic time zone reset function (which plays havoc with your diary and is surely a function long overdue a reprogram). This meant that I my flight was showing as departing at 13.45, instead of 12.45. Thus, thinking I had time, my escort collected me at 12.00 and we took a quick peak inside the private terminal of Olbia Airport (claiming to be the biggest in Europe). I arrived at the common man's terminal at 12.30 to be told by the check-in lady that the flight was closed! She told me she wasn't kidding, but went on to check me in and told me to run. Thank goodness for Qatari ownership, the airport's small scale and it being low season. I rushed through security in what must have seemed like a highly suspicious flash, no passport check (internal flight), sprinted to the gate and was squished into my seat by 12.40. For the first time, there was no funny business at Fu Manchu and I made it home on time despite Apple's best efforts.