Phil's Travels - Aldgate, London (05.20)
23/05/2020
Phil's Travels - Aldgate, London (05.20)
Yesterday, I ventured out for my second business trip under lockdown. This time to Aldgate in east London, which is about 40 minutes on the Tube, but much longer when one wants to avoid crowded and confined spaces, and must therefore resort to airier buses. I was told today I should have cycled there on a Boris Bike. Good idea, but I am too chicken to tango with London's traffic, even if it is a fraction of its usual density. So, buses it was.
From home, I caught the #46 and hopped off at my bank to do some domestic admin. It was a gorgeous, hot, sunny day yesterday, and I had to queue in the solar blaze for 20 minutes because only a solitary teller was on duty inside. Good job I took a weather-appropriate titfer with me to protect my sensitive pate.
Back on the #46, we headed up Fitzjohn's Avenue at a fair old clip (normally the bus crawls up this cute road because it is normally back-to-back mums and nannies nipping in and out of the schools that line it). At the top of the hill is Hampstead High Street. Very busy. Lots of folk wandering around. Down the hill and left at the Royal Free Hospital (famous for treating Ebola victims) and into Hampstead Village. Also very busy. Through the back streets of lower Hampstead, past an ambulance depot, busy with lots of life savers on the move and very noisy with wailing sirens. Who would want to live here? Answer, lots of glamorously dressed ladies of every nation. On such a sunny day, it was a kaleidoscope of colour.
At Southampton Road NW, we had a driver-change. My lovely ladies in the glamorous clothes, clearly regulars, embarked upon some serious banter with the new driver, telling him to get going and him saying he was delayed due to their distractions. Driving back into the centre of London, all schools and most shops appeared shut (some boarded up altogether, who knows if due to C19 or just because). On our decent back into the heart of the city, the #46 filled. Many wore NHS uniform and were presumably heading for Barts (the terminus of #46) to save Sherlock.
We shaved the back of Camden Town and close to project sites worked on recently, took St Pancras and the British Library (locked up) from behind, passed the new The Standard (closed and its red lift parked at rooftop bar level) and glanced by the immense Travelodge Kings Cross (closed). But, in these tiny back streets, there was a pub, open, selling groceries and booze through its front door (very rural England).
Grays Inn Road was a patchwork of road works and a few desk jockeys bobbed about and in-between open office premises. At the Inns of Court, a few windows had lights on (the law never sleeps). Left at the new Dar HQ building site and off at Fetter Lane to change onto the #25. The short walk between stops took me past: Hatton Garden (my former PKF haunt), Smithfield (a former morning beer and fried breakfast haunt), and the new Goldman Sachs palace of wealth (unfortunately, never a haunt).
The #25 drove past Old Bailey (I should have been there at this time for jury duty, but deferred due to C19), St Paul's (Stock Exchange looked closed) and Bank (where the only folk about appeared to be tourists, snapping memories left and right).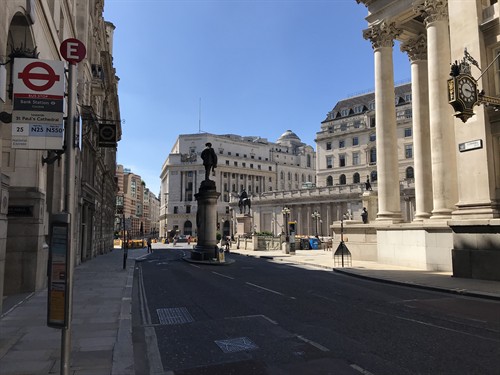 (Believe it or not, Bank at 15.00 on a Thursday)
Clearly the lower traffic loads had crystalised a bumper workload for road repairers, for Cheapside was totally closed for major digging. The resulting detour took us past the institution that is Sweetings (also closed). And all the 'The-s' were closed: The Ned, The Cheese-grater, The Walkie-talkie, The Gherkin.
Journey time from home to Aldgate (excluding personal bank stop), 1 hour 40 minutes. At Aldgate, I walked past other silent spires to business. Down Minories, past the Grange brother's new all-suite hotel, down Goodman's Yard, in behind to Commercial Road, past the new The Gate (another 'The'), into Old Jewry (past my wonderful wife's favourite Indian), along Leadenhall, dived down to Lovat Lane and dropped into Leadenhall Market (dead as a Sunday morning in January).
I took the #25 back, same route in reverse, to Fetter Lane and changed for a #8. The #8 is a Hetherwick bus and I sat in seat 1A on the upper deck. I never realised before, but the windows are very low at the top of a Hetherwick, which was an issue for a tall fella wanting to observe the world and seeking blogosphere inspiration. The #8 went past Sainsbury's HQ (previously site of Robert Maxwell's helipad, aka the Mirror Building in my nearby PKF days). Along the route, Rosewood gated up, Hoxton screened up, Travelodge (our former THF HQ building) locked up. There was little traffic around Holborn tube station, but quite a few tourists (flipflops and shorts giving them away, unless desk jockeys have taken casual attire to a Mediterranean level in these gloriously sunny and casual days of lockdown).
#8 terminated at New Compton Street, requiring a short walk to reach the next link in the transport chain home. I walked under the repurposed Centre Point (now a residential tower, with an elegant food arcade concept on the ground floor). At New Oxford Street, I caught a #98 from beside the nearly completed Queen Elizabeth Line works building.
The #98 goes the full 2km length of New and regular Oxford Street. And what a sad sight they are. If you want to get a true sense of the meaning of lockdown in London, go to the Oxford streets. Two kilometres of the world's primest retail real estate and I counted a grand total of 10 shops open (Boots, one newsagent, Holland & Barrett, Superdrug and M&S). All the grand stores were shuttered (John Lewis, House of Fraser, Debenhams, Selfridges). Will all of these grand dames of retail reopen? Without retail why go to Oxford Street? It turns out there are few other reasons. The two contiguous streets were virtually devoid of footfall and the thoroughfare sparsely vehicled (some buses, a few cars, the odd bike, one or two vans and, eerily, no taxis).
Marble Arch was busier than my previous business trip and Hyde Park fuller of solar ray seekers. Right turn onto Edgware Rd and the scene changes completely. Lots of footfall and traffic. Still the busiest road in Britain. I am certain there was more retail open than previously in this new usual - more restos open for takeaway, Hertz letting cars again and the plastic bucket shop selling, well, plastic buckets. In lockdown, Edgware Road is clearly The destination for those seeking retail therapy. Therapy of which I partook a smidgeon, namely the acquisition of some BBQ chicken from Waitrose for family dindins.
My final bus, for the final leg home (my fourth for the return), was the #414, and by far the busiest bus of the day. We passed the Hilton Metropole (still open and trading, presumably for isolating St Mary's NHS staff) and a police cordon around the entrance to old Paddington Green Police Station (looked like someone had taken ill, as a first aid box lay in the middle of the cordon and an officer was keeping watch over it - like some kind of meaningful 3D Banksy street art). The empty shell awaiting redevelopment that was Pad Green Cop Shop was once the most secure station in Britain (where terrorists and other nasty miscreants were sent and held for questioning). No doubt it will be repurposed into more flats.
The #414 dropped me off outside home and into the welcome embrace of a cool beverage.
Total journey time for the return (excluding BBQ chicken stop) around 1hr 30 mins. Still a lot longer than the Tube and much more complex and less civilised than the #46 option. When will HMG get its testing act together and enable us to travel more efficiently and with confidence again? Anyway, so ended my longest business trip (or indeed any trip) in three months. A trip that is likely to last as the longest trip for still some time to come as our travel remains constrained to nearby places and the threat of a 14-day quarantine somehow fails to encourage any overseas prospects. No s--t Sherlock!