Phil's Travels - Cannes, France (01.16)
31/01/2016
Phil's Travels - Cannes, France (01.16)
The evening before my pre-crack of dawn journey to Cannes, I partied like a networker possessed. First, I attended a very classy affair at the Law Society on Chancery Lane in the City of London. Unfortunately, I could stay on after the presentations to sample the wonderful Vietnamese street food on offer as I had to attend a slightly off-date Burns Night. My generous and very friendly hosts were legal eagles from north of Hadrian's Wall. During the proceedings, one the eagles explained some new culinary terms from the Glasgow side of the nation - a Glasgow Salad is a portion of chips and Glasgow Sushi is fish & chips. The culinary standout during our Burns Night was the delicate flavour of a matching pair of fried haggis balls. I never realised that haggis have balls, but then I guess it makes sense, as how else could these poor wee beasties proliferate as they do. Given my early departure in only a few hours after dinner, I did not partake of any whisky, for I would surely have been ruined at 04.30 when my alarm startled me into consciousness.
I left home at 05.00 and was home again at 23.50 the same day - and so a quick day trip to the Côte d'Azur was afoot. Our flight from Gatwick was delayed for 30 minutes and we landed 25 minutes late in Nice after a stunning visual approach over the snow covered Alps.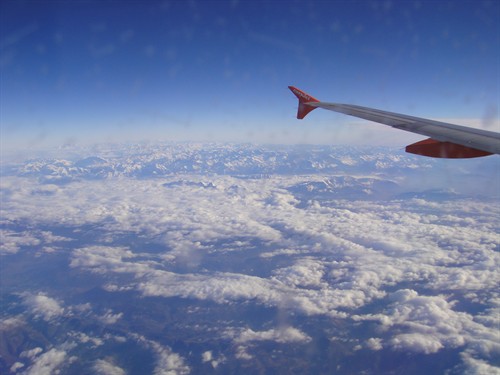 Given the crippling taxi prices on the Côte, the office had booked a hire car with me as chauffeur. The queue for check-in at the car rental desk was absurd and because of our already delayed arrival for our meeting, we shopped around the 10 other vendors for a good, quick deal. Why don't car rental desks staff accordingly for the booked demand on a particular day? They surely knew they were going to have lots of customers arriving that morning and all they had to man their desk was one person! Perhaps it is because this is France and the car renter was keeping staffing levels low to save on costs and unionisation. Who knows? This is France.
We got an alternative car for a good price more quickly than the one we had booked (the desk and its one person were still overwhelmed when we left) and headed to the car park where a lady set about delaying us further with the lengthiest handover in car rental history - think of Rowan Atkinson serving Alan Rickman in Love Actually  and you will get a sense of just how frustrating the whole process was. Finally underway, we sped across the Côte to Cannes and arrived at The Carlton for our meeting 40 stressful minutes late.
The meeting went well and we headed out for a late-lunch meeting some hours later. One of our number ordered a Glasgow Salad and was served fried petite  new potatoes, which we named Cannes Fries - somewhat posher than a Glasgow Salad or mere French Fries. This was Cannes after all. Opposite our café was a building whose façade was being restored. For a country that prides itself on its excessive regulation and the world's densest guidebook on employment (the 3,689-page, 3kg Code du Travail), the state of the restorer's work site was a reassuring sight that France still has some corner-cutters. The shabby scaffolding and holey netting did not inspire safety, and the restorer himself was hammering away at the stucco with gay abandon and with no regard for the falling debris that clattered down three storeys and showered the street below.
After a final early evening meeting, we zoomed back to Nice for the return flight. The car return was much easier than the pick-up and when I suggested to the car-checker that their check-in handover procedures may need revision in order to speed things up at the start of the day, he immediately offered me a complimentary hire on my next visit. Ah, les Francais! You have to love them. Even with their government's over-regulatory strangulation of French life, my mother's brethren are good people desperately trying to live and make good in the real world.
Our approach into Gatwick was a little like the Ice Mountain black-box rollercoaster ride at Winter Wonderland last Christmas as we flew through the gusty southern fringes of Storm Gertrude. From Gatwick I was whisked home on public transport, slept a few more hours and together with the family headed to Bristol for the day to celebrate my five-year old nephew's birthday bowling. Real bowling this time. Not the human bowling I used to play with him at his parents' wedding a couple of years ago. Real bowling is much safer and causes a lot less wear and tear on my clothes and body.  The weather in Bristol was fabulous, blue sky and no sign of Gertrude.