Phil's Travels - Côte d'Azur, France (11.15)
23/11/2015
Phil's Travels - Côte d'Azur, France (11.15)
Despite IS's terrifying attacks in Paris (killing 129) and a gun-toting Frenchman being arrested in Gatwick's North Terminal and recent catastrophic flooding  on the Côte d'Azur, my long delayed business trip to the Côte finally happened this week.
Gatwick North Terminal, 05.30, and the security queues were nearly out of the doors already. And yet, on arrival in Nice there was no evident security. No armed police, no military and no tanks in the car park. In fact, apart from ponderous passport persons, there was no officialdom whatsoever, not even a customs officer. Nice Côte d'Azur International Airport is France's second busiest airport and about to get busier as it undergoes refurbishment and expansion. The walk from plane to terminal was pretty gritty, so hopefully the works will complete soon, as I am sure the world's celebs won't put up with such sloppy work sites for long.
As my trip would require versatile transport in order to travel up and down the Côte I had to hire a car, which turned out to be a very top heavy and underpowered Panda 4x4. For such a sloth-like car I still cannot figure out why it juddered so much at low speeds in first gear.
The hosting of MAPIC in Cannes meant that we had to stay in a town nearby. We decided to play it safe and chose a boring US-branded hotel, only to discover this yearling is in desperate need of a major overhaul already. It is the first time in decades that I have seen such cheap wood-effect lino flooring in a hotel bedroom. Multiple wall fittings were loose, grouting brown and sink counters cracked. The nasty wood effect panelling in the lift and corridors was badly scratched and scuffed. The most sophisticated element of the hotel was the in-room Robobar and although the WIFI was quick, the charge for its use was outrageous. A clear example of a hotel more interested in the bottom line than the guest's welfare or experience. It is amazing that this hotel passed the brand's standards and fixing the failures won't happen any time soon judging by the corner-cutting to date. However, it could easily fix the woeful soap situation if they had a mind to. The guest soap was golf ball shaped and refused to lather. As every physicist will tell you, a ball is the most volume-to-surface efficient shape in the known universe, which when combined with latherless materials makes for a tough soap experience. The alternative was some waterproof green goo masquerading as bath gel, which simply slipped and slithered off your hand and down the plug hole. The same green goo also masqueraded as shampoo, and I am sure another corner is being cut here too whereby the expensive packaging for such cheap detergent is simply refilled from a massive, pulsating, brooding (imagine the alien queen in Alien II) green goo dispenser in the basement.
Driving around the Côte from meeting to venue to site revealed a coastline as pretty as a painting, resplendent in blue sky and glorious autumn sunshine, except for Monaco, where the weather was appalling and the tops of the vertiginous apartment blocks were blocked from view by low lying cloud. Imagine paying all that money for a penthouse (over €85,000/sqm) and all you can see is grey fog for four months of the year.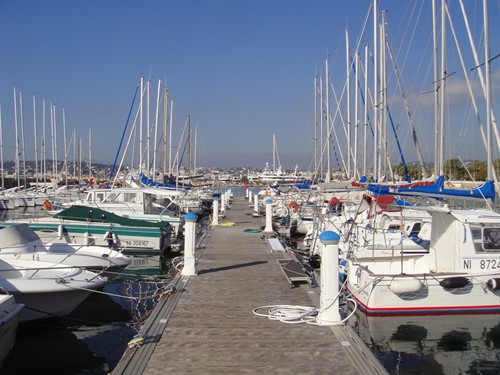 Outside Monaco, the streets were quiet and many shops shut as France respected its third day of national mourning and French laws enforced Monday closures. Even the England v France football match at Wembley failed to bring much energy to the Côte on Tuesday. That said, it was great to hear La Marseillaise  getting a good airing prior to kick-offs all around the world.
I dropped into Hotel Les Terrasses d'Eze, a former sales prospect, only to find it closed and looking very run down under its new ownership. The situation on the Côte is still tough in parts. Even Prince Albert of Monaco is having to refocus his commercial efforts - gaming is no longer as lucrative as it used to be (both Lucien Barrière and Groupe Partouche are selling off French casinos) - and moving into residential property development and lettings. I also passed by the King of Saudi Arabia's residence a few times, the cause of much hullabaloo this past summer.
During my time on the Côte, I met a variety of colourful characters (including: Monsieur Noixx, Mr Big, Neo from The Matrix and the elusive Philippe de Loupe (aka filet de loup)), however, none more so than my Panda 4x4 companions. Don't worry lads, as in Vegas, "What happens in Panda, stays in Panda!".