Phil's Travels - Milan, Italy (11.15)
29/11/2015
Phil's Travels - Milan, Italy (11.15)
Another week, another 05.30 at Gatwick, only this week the airport was much quieter and I breezed through. Malpensa, Milan's second airport, Terminal 2 was even quieter. As regular readers of Phil's Travels will know, I have a particular eye for airport terminals. Malpensa T2 is rather non-descript, but it is notable for equipping its WCs with the Italian version of Dyson's most excellent Airblade. The Italian version, however, is far less excellent. The air is blown between two opposing, protruding pipes (like the bull-bars on a US-style SUV), but the air coming from these pipes is nowhere near as impressive as the pipes themselves - all pipe and no air. That said, there was sufficient air in my machine to blow water onto the radiator below, which, under a constant shower of wet hands, has become severely discoloured and rusty. It all looked rather unsavoury and Dysons should be obligatory in all public facilities to ensure speedy turnover and a clean environment.
Opposite Malpensa T2 is a world first - the world's first Moxy. Moxy is Marriott's newest brand (its recent Starwood Hotels acquisition for USD12.2bn aside), created by a team from Sweden and based on the genius of CitizenM's lobby and HIEX-quality bedrooms. My Moxy visit was particularly poignant because we had tried to do a deal with Moxy in 2014 and visited this same property during its construction. It is always an emotional moment to revisit a hotel project once it is in operation. On this visit, the hotel was very quiet (like T2) and the staff were excellent and very cheerful, belying the very grey theming (in and out).
Taxis into Milan are not cheap (although not as bad as in Rome, where taxis are surely rigged to extract as much money from innocent tourists as possible), over €120 from airport to centre. Within the city, the Italians have come up with a better innovation than their poor imitation Airblade. It is a small device on hotel reception desks which allows the hotel to order a taxi for guests. By pressing a button, the request is transmitted to the taxi cloud and the cloud responds in seconds back to the hotel with a taxi number and ETA. The information is printed on a ticket to be given to the guest. The taxi duly arrives on time and such ticket permitted a shy gentleman to put a very pretty, but urgent, Italian lady in her proper place in the queue.
Milan is Italy's second largest city and a major industrial centre. This industrial heritage is noticeable throughout the city, except for the attractive, but compact, centre that surrounds Duomo Square. Milan is the capital of Lombardy ('Land of the Long Beards', dating from the 6th century when Germanic tribes conquered northern Italy) and its crest is the Cross of St George (just like the English flag) - perhaps these are the reasons why the north is so much more successful economically than the Italian south. Speaking of long beards, there were none to be seen in Milan and if there had been, surely none would have been more impressive than Mr Stella's, my host at the recent European Hotel Design Awards, and for sure none would have been worth over £7,000 (the value of Daniel's for a charity shave-off at the same dinner).
During my Milanese perambulations, I visited Princi for a quick snack on the hoof (as properly advised by a recent Italian acquaintance at The Sleep Event), glimpsed the Duomo and the grandly named and proportioned shopping arcade, La Galleria Vittorio Emanuele II, and inspected the five-star hotels of fashion houses Armani and Bulgari. Top awards go to the Armani hotel for having the most hospital and friendly staff in Milan (staff at the Park Hyatt could learn a lesson or two). It was a surprise to learn that such a historic, significant and wealthy city does not have a true Grand Dame Hotel (such as a George V Paris or Ritz London). The nearest contenders are the Excelsior Hotel Gallia (whose recent contemporary makeover has resulted in a total loss of sense of place) opposite the monumental main railway station and the Principe di Savoia (which needs a facelift and used to be adjacent to the original main station before WWII and its relocation). For dinner? Veal Milanese, of course.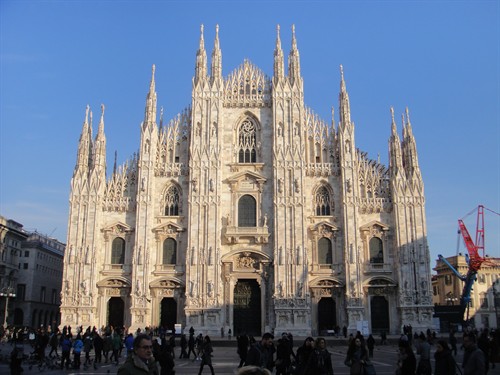 As in many post-industrial cities, Milan has its fair mix of newly developed quarters (the new blocks near MICO are of particular note) and entire blocks of derelict sheds, and the odd abandoned, but still very stylish, palacio.
Unlike Rome, the cars of Milan don't appear to be so bashed and bruised (perhaps that is why taxis are so outrageously expensive in the capital, to fund running repairs). That said, during my return trip to Malpensa a grey Mercedes and a white Fiat did collide at the toll booth just next to me. Surprisingly the Merc came off just as badly as the Fiat, so much for superior German engineering. Malpensa was quiet again and our flight was delayed 40 minutes by the striking French and Belgians (surely they have bigger things to worry about these days, and has not Belgium suffered enough after its lockdown).