Phil's Travels - Courmayeur, Italy (01.19)
26/01/2019
Phil's Travels - Courmayeur, Italy (01.19)
First trip of the new year. My early morning taxi to Gatwick was driven by the most cautious, most ponderous, most deliberate (every motion was preceded with a great deal of thought) and most respectful driver in the entire UK taxi fleet. He was taking it so carefully that I was at risk of missing my flight. Fortunately, at 04.00 the roads were quiet and the M25 deserted, and his average speed of a fully loaded snail was equal to that of a hare in a traffic jam.
The sedate tempo of my journey continued through Gatwick, where the security belts were looking lonelier than Mrs May's Brexit Deal. It has been a tumultuous week in UK politics, with May's Plan being outrightly rejected by the largest majority in history and May's Government surviving what promises to be the first of multiple votes of No Confidence. Back in Gatwick meanwhile, of the 12 stations only two were in operation and I did not even have to queue for my trays. A breeze (unlike May's life right now).
The lack of any drone activity meant that we left on time and we landed in Turin a good 20 minutes early. On approach into the former capital of Italy and home of the Duchy of Savoy, I could not help but notice that the mountains around-about were bare. Where was all the snow that the BBC had reported on: killing dozens, closing schools and running authorities ragged with snowploughs? Evidently, the snow was falling far from Val d'Aosta and further east.
Note: I had not flown BA short haul for a while and on this flight I could have been on Ryanair or easyJet, if not for the colour scheme. The seats were as tightly packed (I could barely fit my legs into the space permitted), and the crew was young and appealing. At least it was clean and looked new (unlike the BA planes we regularly use to Cyprus, antique craft staffed with equally antiquated staff). Is BA becoming a fun, low-cost carrier?
For such a key Italian city, Turin Airport is not big and was not busy. Ours was the only arrival and the walk to my pick-up was done in 10 minutes (including passport control). My host and guide, headed off immediately, hitting the highway to ski nirvana. Courmayeur is situated at the head of the Val d'Aosta (as the name suggests, a valley, but also the smallest region in Italy and autonomous), gazing up at the sunny side of Mont Blanc and just across the borders from France and Switzerland. The highway links the Po Valley to the Mont Blanc tunnel and on into France for cars and trucks, and Courmayeur is the last town before the tunnel entrance. All the way up, I kept asking, where is the snow? The sheer mountains towering above us all the way up the valley were sad in their winter greys and browns, and devoid of anything resembling the white stuff.
Courmayeur is the flagship ski resort (1,224m) of Val d'Aosta and shares administration of Mont Blanc (Western Europe's tallest mountain at 4,810m) with France and the Vallee Blanche glacial ski run with Chamonix (where my lovely wife went skiing three days after my Courmayeur trip - that's coordination for you). Had we been able to coordinate better, we could have met on the mountain, as Mont Blanc is connected to Chamonix by the Aiguille du Midi Cable Car and to Courmayeur by the Skyway Monte Bianco cable car - now that must be one hell of a view from up there. Regarded as Italy's best all-round ski resort, Courmayeur is pristine, clean, safe and quaint (is it really in Italy?). The local stone and timber construction is highly attractive and gives a genuine sense of place.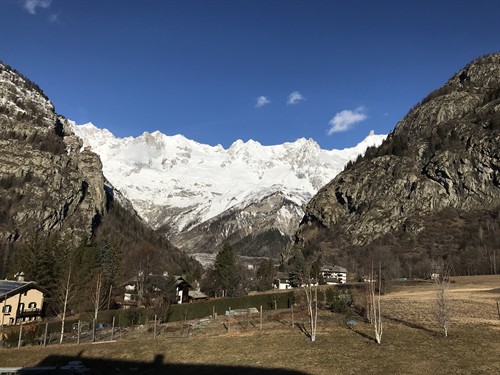 In town we visited the key hotels, walked around the centre, had a quick lunch and headed to our hotel for the night. Of all the hotels we visited, our hotel was certainly the best quality, but the most memorable was not strictly a hotel and certainly did not enjoy the same view panorama (see photo from my room above - that's Mont Blanc in white). This memorable property, Au Coeur De Neiges, is a multi-chalets concept, with a central reception building-cum-bar and spa/pool building (spa was weak, but pool was cracking). However, it was the architectural finishes that made it stick in the mind - local stone and wood construction, huddled close to the ground and nestled in mountain gardens. A Val d'Aosta village in miniature. I just wanted to pop it in my pocket and take it home.
We also visited the latest 5* hotel to open, just down the main drag from the main retail street, called Le Massif. Lovely looking restaurants (especially the drool inducing steak house), but the rooms were small and beware the bedroom doors which yield penetrative splinters if you are not careful. If you need to spend a penny do not be put off by the fire escape doors and baby changing station en route to the public conveniences - they are there and you will find you convenience eventually (5*, really?).
As it turned out we had dinner, breakfast and lunch the next day at our hotel - and yet the best meal was our lunch on the first day in a tiny café, down a side street, at a table shared with complete strangers. The carbonara was nearly as good as my own, and much better than the hotel's (both in portion and taste).
The return was so unremarkable as to be unworthy of comment, other than BA landing 20 minutes early in an effort to make things more exciting. Courmayeur? Lovely town, definitely worth visiting, don't forget your skis and do take the Skyway.