Phil's Travels - Sicily, Italy (10.18)
28/10/2018
Phil's Travels - Sicily, Italy (10-18)
Our long weekend away to celebrate a landmark anniversary began with a bag of nuts in a sun-trapped corner of the BA lounge at Gatwick Airport. What a contrast when we landed in Catania. The terminal building was: very basic; the luggage carousel the slowest in the world (slower even than the manual delivery system in Zanzibar), despite our Club tickets, our luggage was nearly last out; poor signage throughout, but especially to the Avis office (a fancy changing LED sign gave us occasional glimpses of its whereabouts, but very confusing in the dark), we had to ask three times before we discovered Avis tucked away in a huge building full of car rental agencies (more even than at Nice Airport). Avis service was swift and we were given a Fiat Punto (my least favourite car, but at least the gear stick did not come off in this one).
The Avis guy told us there were signs on leaving the airport grounds to Siracusa, but we could not see any and the signage throughout Sicily was appalling (way worse than France, which is notorious). Even the iPhone struggled to get us on the right road. Initially, it took us right and to a major road bridge that was closed off (may have never opened as it looked too derelict to have ever seen service). Then, it took us back the way we had come and off to the left. It took about an hour to get to our hotel, which was not in Siracusa proper, but across the bay to the south.
On arrival at the hotel, a ramp heading underground presented itself as the access to an underground car park. It wasn't. Despite the car sized ramp and street lighting, and the lack of signage otherwise or any barriers, the ramp led us down to the beach! This was a black-run ramp. None of your training-run ramps. It was steep! And the end of the ramp was a three-foot drop to the beach. With no space to turnaround I had to reverse back up the Alpine piste with the rev counter off the charts in our underpowered Runto. The resulting stench reminded me of the inaugural Cinquecento Hill Run (see Phil's Travels - Lisbon Region, Portugal (9.18)).
We quickly rejected our first room (no view, shared terrace and tiny room) and chose the second of three options. Our choice had a small private terrace and an alleged sea-view (too dark for us to verify). The room décor was a classic Italian design: dark furniture, lots of tiles, strange wall designs and the weirdest artwork. And what is it with brown toilet paper?
It was gone 23.00 by the time we settled on a room and so we had to order food via room service. The wine was delicious, the salad was scrawny and limp, and the Club-sandwich was a total failure (picture a toasted sandwich and that is exactly what we had, a sandwich that should have been three inches tall was less than 1cm of soggy bread, stringy cheese and a few shreds of lettuce - basically it was a Club-sandwich with erectile dysfuntion). Paola would have been appalled and her Club Index would have scored in negative numbers for the first time in history. The price for these delectable gastronomic delights? The salad and sandwich were €26, each. A bowl of veg even a rabbit would reject was more expensive than the excellent wine! - which the hotel did not make, fortunately for us. To top off our less than inspiring first few hours in Sicily, at midnight our German neighbours popped out to tell us off for talking too loudly on our supposedly private terrace.
First morning, the sun shone and our room did indeed have a sea view, albeit some 50 metres away, and a distant view of Siracusa across the bay. When we returned from breakfast (not bad), our room was being serviced and so I took my wonderful wife to partake of her first hammock experience. Wonderful. Gently swaying in the sun, whilst watching the sea.
We drove to Siracusa to kickstart our holiday and parked in the world's most intelligent car park (it clocks your registration on the way in and you pay by inputting your registration number on the way out, very clever). We walked around the island of Ortigia, the heart of Siracusa and the city of antiquity in which Archimedes ran through the streets naked shouting "Eureka!". The streets have few cars and lots of people, both local and tourists. We had lunch in a courtyard restaurant and ordered the local Siracusa salad. Wow! What a salad. I don't think it is possible to combine two stronger flavours in a single salad comprising just two ingredients, namely: anchovies and chunks of fresh lemon. A salad to put hairs on your chest. Even my lemon-loving wonderful wife was defeated by it (even with the pacifying addition of oranges to the mix).
In Siracusa, we walked, sunbathed in the castle grounds for an hour, walked, visited the Da Vinci and Archimedes Museum (more Archimedes please; did you know Da Vinci invented the life-preserver and the bicycle?), walked some more, and enjoyed tea at sunset in the Grand Hotel Ortegia (watching the colours change and the boats leave the harbour). Dinner was a massive salad and fritto misto in a restaurant close to our hotel. The salad was several factors larger, fresher and more varied than the hotel's, and cost only €6. Needless to say, we never ate at the hotel again (except for breakfast).
Day 2, we were woken by a mini Medicane (aka a Mediterranean tropical-like cyclone) of tree-bending winds and flood-volumes of rain, that later brought Rome to a standstill as it travelled east. We wisely decided to stay in bed for a while longer and an hour later the sky was crystal clear and the sun blazing. I opened the curtains and all of a sudden our room made complete sense. Facing me was the most startling view - Siracusa across the bay as ever, but behind it was a snow-capped Mount Etna in perfect relief. The view did not last long as Etna is often covered by cloud and the snow had largely melted an hour later.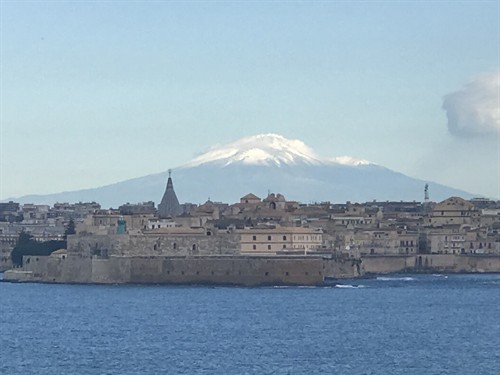 The sun was so strong that my wonderful wife chose to sunbathe by the pool for a couple of hours before heading out for the day. For lunch, we drove to Noto, a former capital of Sicily. We parked close to the centre, discovered a delightful coffeeshop, strolled along the main avenue and admired the magnificent Baroque edifices, visited the Picasso Museum and stepped into one of the many churches. Our lunch was simple, delicious and not expensive.
After more strolling and another coffee at the delightful coffeeshop, we drove to the Archaeological Park on the outskirts of Siracusa to walk around the Greek Theatre and the Roman Amphitheatre. Based on the evidence before us, the Greeks were the better builders. Their site had the best views and was by far in the best condition (you could walk in and around the stones, and sit and admire the view). The Roman piece was sunk into a valley and surrounded by woods, thus no view, and you couldn't move in amongst the stones (cordoned off and shielded from human abuse). Whilst walking around the Amphitheatre we were eaten alive by some truly vicious bugs. My sweet wife was covered in large, flat, red disks for days afterwards. I had fewer bites, but one on my neck was the size of Mount Etna and kept catching on my collar and itched worse than gladiator's armpit.
For dinner we went back to Ortigia and had a little difficulty finding our clever car park again. We ended up driving deep into the permit-only old town and pursued at high speed (all of 5kph) through the narrow alleyways by a Guardia di Finanza car, which in the end took no notice of us and drove on when we turned right into the world's most intelligent car park. Our dinner was the most amazing pizza (and I love pizza) with another delicious bottle of local Siracusa wine. One of my best meals ever, especially as our kids joined in our repartee via WhatsApp from London and Nottingham.
Final day, we checked out of our less than amazing hotel and drove north to have lunch in Taormina. The drive took us past Siracusa, north of which lies a horizon-to-horizon industrial complex the size of a small city. Huge and very ugly. We drove around Catania and past Mount Etna (covered in the usual cloud), and along the coast, and up the side of a mountain to the mountain-top village of Taormina. At one point, the road up looped out from the mountain wall and into thin air - very scary for those of us sensitive to heights. I have never followed the white line on a road so intensely. The Etna pizza was acceptable, but not as good as the one the night before. Taormina offers amazing views and close-knit houses, with terraces and every other building being a restaurant. A bit of tourist trap, but cute nevertheless.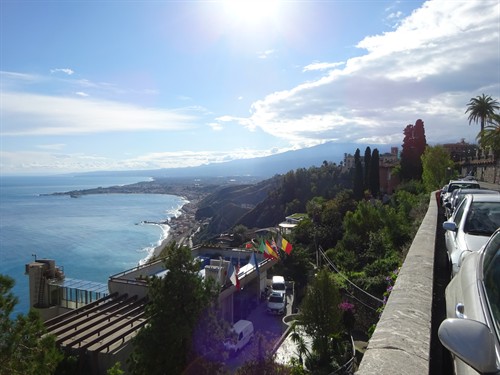 We drove back down the mountain with eyes firmly glued to the road only to find the southbound motorway blocked and we had to drive north for 20km before we could get off, turnaround, and head back to Catania. Despite the detour, we hit the airport in good time, which was just as well as the signage was as lousy as on our exit three days earlier and we lost loads of time trying to find the Avis return section.
Sicily was amazing, though not sure my wonderful wife is minded to return given the disappointing hotel and Roman Amphitheatre bug bites. I would definitely like to return and tour the island in full. Siracusa was everything I thought it would be and Noto was a very pleasant surprise. Taormina was worth a quick visit, but no more. Food was good, but not amazing (unless of course you are man enough to try a Siracusa salad), and whatever you do, don't order room service. The key is to go out and explore. Hire a car and get out there (make sure you have your iPhone with you). Sicily has lots to offer and reward the adventurous. But, if you like truffles and went to Piedmont in season and failed to eat any, don't rely on Sicily. Not a truffle in sight. Viva Sicilia!