Phil's Travels - Piedmont, Italy (10.18)
28/10/2018
Phil's Travels - Piedmont, Italy (10.18)
To kick-off, an interesting recent London observation. Last week a mains waterpipe broke beneath the road in front of our office, meaning buildings in the area were without water for much of the day. The water authority trucked in three pallets of bottled water to ensure local residents and office staff were adequately slaked. Half a pallet was consumed that day, by which evening the leak was fixed and running water in full flow again. Three days later, the two and half pallets were still there. No one had taken a single bottle in three days. Only in Mayfair would free water remain unclaimed for so long.
This week I flew to Piedmont to inspect some hotels and interview management. Update Luton Airport: still in construction and in just a few weeks since my last visit they had changed the walk from the car drop-off area to the terminal into an even more circuitous and longer trek. And the piling which blocks everything was still being piled. I reckon the long delayed new Berlin Airport (already some 10 years delayed) will open first and way before Luton Airport stops fiddling with diggers and bricks.
The sky to Italy was pristine and we overflew snow-capped Alps. Given the amazing weather we had this year, I was surprised to see so much snow still in situ. Those particular few peaks must have been really high and especially sun/heat resistant. Past the Alps and descending into northern Italy, the sky filled with clouds and we landed at Malpensa Airport where I met my local contact and we drove west in the rain to a golf resort pretty much equidistant between Milan and Turin.
Lunch at the Club House was a huge chunk of mouth-wateringly tender meat (called a Tomahawk locally, a short rib in US speak). Lunch was followed by property inspection, detailed discussions, lots of photo sharing and a buggy ride around the short 18 holes. Despite the miserable weather, we had a great day.
At dusk we drove north into the Alpine foothills, close to the Swiss border and stopped for dinner with friends at a beef farm, where we had another huge meat (this time called a costolette, which I thought might be smaller than a Tomahawk, which was also on the menu, but turned out to be even bigger). But what tender deliciousness. Almost as melting in the mouth as a well-made gelato.
My host hosted me at his home and I slept in a palace in the sky - a gorgeous mountain-side home, with panoramic valley views, surrounded by forest and bearing no sound (until the morning when the buzzing of lumberjacks' chainsaws serenaded our departure back down the mountain to the lakes). Our drives around the lakes were notable for not only the stunning views, but also because of the seriousness of the cyclists. They were everywhere and in full Vincenzo Nibali racing gear, and none was younger than 70.
First stop, a cappuccino at Hotel San Rocco on Lake Orta. Literally on Lake Orta. Right on the water and overlooking Isola San Giulio (a bijoux landmass in the centre of the lake and today home to a Benedictine monastery). Leaving Orta, we drove past an abandoned ugly modernist construction situated close by one of the Italian Lakes' most prestigious hotels, Villa Crespo. The ugly building was meant to have been a new modern hotel, but its owner crashed and burned in the GFC, leaving a painful blight on an otherwise gorgeous lakeside landscape. No time to visit Villa Crespo, but I am told the views of Lake Orta are distant and way better with a cappuccino from Hotel San Rocco.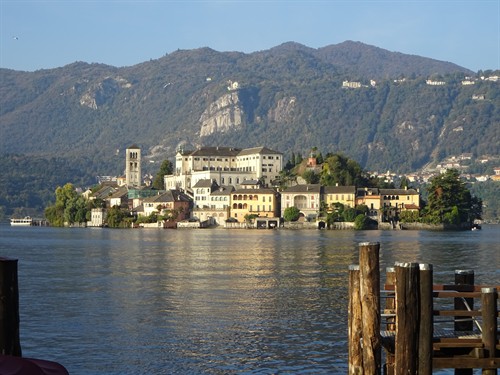 Second stop was on Lake Maggiore, a drive that should have taken 30 minutes. However, the tunnel through the heart of the mountain was closed when we got there and we had to drive all the way around the mountain instead, extending our journey by over an hour. My host advised that the tunnel was most likely shut as the local authorities are closing many pieces of road infrastructure at the moment in the wake of the Genoa bridge collapse. Better safe than sorry, and in any event another hour of gorgeous mountains and lakes was no bad thing (prettier than a concrete-walled tunnel anyway).
At Lake Maggiore, we stopped for another cappuccino (this was Italy after all) and a croissant at Villa Amanti, definitely one of the cutest and best maintained hotels I have seen in many a year. The hotel overlooks not only the lake (with its own beach and moorings), but also the islands of Isola Bella and Isola Superiore. The former, the 'beautiful island', is divided into the palace (built in 1632 by Carlo III for his wife Isabella, after whom the island is named), its Italianate garden (a tiered masterpiece of Hanging Gardens of Babylon beauty, completed in 1671) and a small fishing village that has existed for centuries. The coffee was good, the view was better and the sunshine was best. What a way to spend 40 minutes. Before leaving we had a tour of this gem of a hotel and visited its grotto-themed spa (including its own thermal spring water).
We drove south along the lake to Bogogno Golf Club and lunched in the shade on my first pasta in over a month. I was on a strict regime. "What about all that huge meat from the day before?" I hear you cry. Surely that does not count. Meat is good. And anyway, I did not eat the potatoes (only a couple perhaps slipped past my lips) and avoided all bread. The golfers playing on manicured lawns with the white-capped Alps in the distance made for a delightful backdrop. Post lunch, a quick drive back to Malpensa and check-in for home.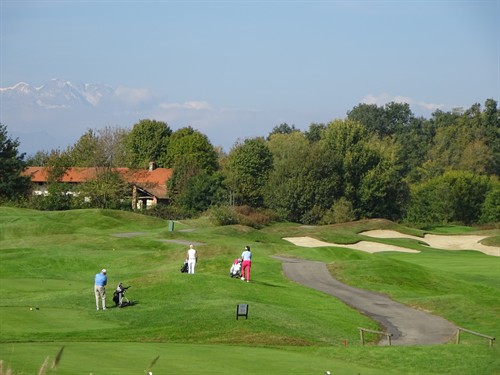 With boarding completed, our easyJet captain announced a 1.5hr delay, which was quickly reduced to 30 minutes (the benefit of completing boarding and waiting, I suppose). My last delay was on a Ryanair flight and despite cries from passengers for water whilst we were cooped up in our sardine-tin tight seats, no water was offered by the Ryanair trolley-dollies. Within minutes of the captain's delay announcement on easyJet, the easy-dollies were walking up and down the aisle proffering free water to one and all. Ryanair, schmyanair!
In the air, we flew through a stunning sunset that created distinctive and rare purple coloured clouds over northern France. At Luton, the passport queues were as long as a couple of weeks before (the ongoing construction makes for very limited space and too few passport desks for the volumes being serviced these days) and again my e-passport was rejected by the e-gates and I had to queue a second time to eyeball an officer. My e-passport works the world over, but never at Luton.  So ended a memorable trip to Italy, full of delicious huge meat, unctuous regional wines not found in the UK, glorious lakes and wonderful company. Only one regret. No truffles. This was the spiritual home of and the season for these pungent earthy balls of food heaven, but surprisingly not a single truffle on any menu. With luck I will sample some tomorrow in Sicily (ref next blog).