Phil's Travels - Lisbon Region, Portugal (9.18)
05/10/2018
Phil's Travels - Lisbon Region, Portugal (9.18)
Early taxi to the building site that is Luton Airport. Some new retail areas have opened since my last passage through easyJet HQ, but the carpark, roads and parts of the terminal buildings were still in the hands of diggers and builders. When will it ever end? It is in a perpetual state of incompletion. With the additional retail space though, the squash of humanity in the departures area was less squashy. Boarding and departure were smooth, and we even had some trashy luggage loading to entertain us prior to taxiing for take-off.
I left London at 6°C and arrived in Lisbon at 34°C., thus a quick Superman-change in the gents was in order and then off to the Setubal Peninsula in an air-conditioned Cinquecento with Helene at the wheel. I love the look of a Cinquecento, but having driven a couple before, they are underwhelming as driving experiences, so I was anticipating little from our motor. To cross the Tagus River, we used the stunning Vasco de Gamma Bridge: the 2nd longest bridge in Europe, built at a cost of USD1.1bn and having a life expectancy of 120 years, so look out in 2118 if you find yourself in Lisbon and needing to cross the Tagus.
In Setubal region, we visited a couple of golf resorts and an apartment complex on the southern shore of the river (stunning views and a sandy beach). We had a quick lunch in one of the golf hotels, with an empty airport-sized car park and only 93 rooms. During our lunch only one couple played past us on the 18th. Lunch was good, if slow, and we had a quick tour of the hotel. Despite the lack of players and a deserted carpark, the receptionist said the hotel was full with no rooms to show. We did, however, visit the gym (five pieces of equipment), the indoor pool (under a glass canopy, in which one could steam quickly to soft and tender in this suntrap's extreme humid heat) and the spa (a corridor with a Buddha and a former storeroom at the end for massages).
After lunch we backtracked over the same bridge, skirted Lisbon on its spaghetti like motorways and headed northwest to the Silver Coast and golf resorts of higher quality. There we visited:
Bom Sucesso: a perhaps unfortunate name, but in local lingo means Good Success. The approach road was very sinister, with high walls on each side and car-killing ravine-proportioned gullies lining the unmarked tarmac. And no street lighting. At night it must be like driving around Singapore on Grand Prix night during a power cut, only far more dangerous. The resort itself was designed by a Mad Hatters Tea Party of 23 architects, clearly trying to out-do each other in ever decreasing spirals of minimalism, whereby the end product is a collage of bland futuristic homes looming over an otherwise appealing 18-hole golf course. The hotel had yet to be completed, but looked the business in a lunar pod landscape.
Praia del Rey: a very mature and dense development, anchored by a rare hotel on the ocean shore. The hotel looked good and presented well. Great staff. However, the landscaping was again limited in scope and invention. The ocean views and the sandy beach that stretches for miles to north and to south were spectacular.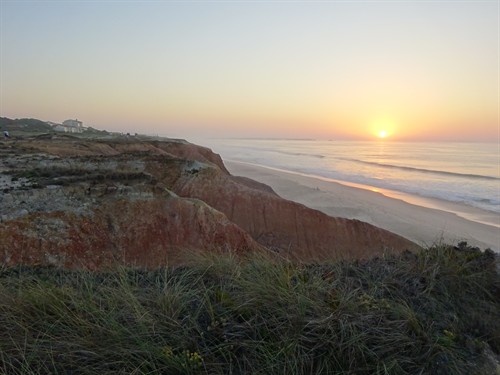 Royal Obidos: just up the road from Praia del Rey and still in development it would appear. The hotel looked finished, but was not open due to the monumental construction immediately in front of it. It is going to be one heck of pool (I assume).
West Cliffs: just up the road from Royal Obidos and just starting out on its journey of success. At maturity the estate will have some 400 homes and two hotels. For the moment though, it offers a gorgeous 18-hole course and perhaps the best Club House in Portugal. And, unlike many resorts in Portugal, the landscaping was top drawer.
We concluded our Silver Coast tour with a night at an inland golf resort hotel, famous as a MICE venue. The hotel was evidently busy and its two main restaurants were full with groups. We were therefore directed to the Club House, where I dined of garlic shrimps (a popular local dish) and the most un-Caesar-like Caesar Salad. When in Portugal, go local when it comes to food. For a conference hotel, the bedroom was odd in not having a desk. A coffee table and two chairs were stuffed under a room-long, waist-high shelf, but no desk.
In the morning we reclaimed our Cinquecento and headed for the rolling hills and vineyards of the region around Serra de Montejunto. I have to say, the Cinquecento is a cute looking car, but around small, hilly villages it lacked power and had the turning circle of Mars around the Sun. The scenery, however, was gorgeous. We stopped for fuel and a quick pit stop at an Intermarché in Eiras, and I took the opportunity to visit a local supermarket (even though it is a French chain). I love looking at the foods and products in the supermarkets of other countries. The cheese counter was about one metre in length, the deli counter similar, and the meat counter around three metres, but the fish counter was at least three times as long as all the others, combined. Every kind of fish was on display, including huge, dried, boned and flayed white fish stacked up on shelves for anyone to pick at. Outside the store, out in the open, was a bank of washing machines for hire. Could this be a genius idea? Pop your laundry into the machines, shop for fish, pick up clean smalls, and head home, jobs done.
We finally hooked up with our local contacts and headed into the site for a first tour of a gorgeous piece of real estate. Some 400ha in area and ranging from eucalyptus plantation to stands of classic local stone pines to cork oak trees to vineyards to a hill of panoramic prowess. We had a quick lunch in a nearby café (where I was persuaded to sample, to everyone's amusement, a local peasant dish of mushy bread and fishy bits, called açorda - delicious) before heading back to the site for the partaking of the hill's panoramic views. All cars had been advised to stop at the base of the hill and yet the two cars in front of us just headed on up the first slope without pause - and we, not wanting to be left behind, of course, followed in our under-powered, less than nimble, Cinquecento, thinking this part would be ok. As we climbed, the slope got slopier and the rocks under tyre got bigger and rockier. About half way up, I took over the driving and compelled our cute city car up to the other cars, only to find another stretch of track up a switchback required to take us to the summit - this second leg was definitely well beyond our wheels and I parked up as best I could without tipping the car over. To great applause and amazement, we dismounted our plucky stead and looked back down the hill in astonishment. How did such a girly car make it up such a butch track? All I do know is that the air was rich with burnt clutch and the Cinquecento Hill Climb Event had just been invented.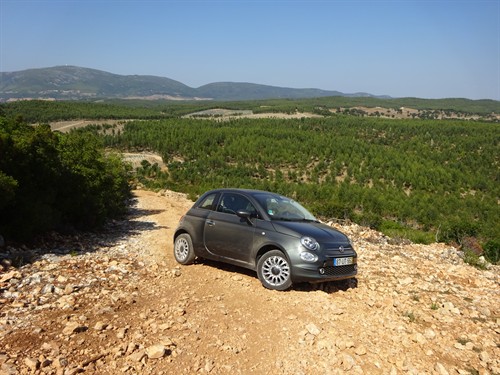 After lots of debate, around tow ropes and rolling chassis, one of the professional racing drivers in our group drove our baby carefully back down the hill, where it rested until our second tour of the site. We made it to the top of the hill in a proper off-road vehicle, admired the stunning views and returned to touring the site. We covered most of the site with our city car along dirt tracks and sandy berms, and through muddy wet patches. It coped brilliantly, much better than it did in the villages and cities, and despite the inch of dust covering every bit of paintwork, got us to our hotel for the night and on to the airport in the morrow without a single grumble.
We spent our last night in an equestrian centre with rooms. Dined on garlic shrimp again and another delicious local dish of duck risotto. The return flight was quick and efficient on easyJet, and I even got back into Central London in time for my meeting. All in all a memorable trip, especially the Top Gear adventure on the hill, and that gutsy little car has grown considerably in my estimation. Roll on the next Cinquecento Hill Climb.