Phil's Travels - Cyprus (08.17)
11/09/2017
Phil's Travels - Cyprus (08.17)
British Airways have surely lost the plot altogether now. We all know about the well-publicised crashing computers, failing luggage, striking staff and outsourced food, but all these woes are now having a noticeable impact on service. In mid-August, we flew to Cyprus on BA for our annual hols and the outbound from our beloved T5 was a litany of BA deficiencies, starting with check-in.
The check-in clerk hassled my multi-per-week-travelling, Gold-Card-holding, lovely wife and claimed that the aforementioned Gold Card membership had expired. Well, this being my wife's third flight that week (the previous two having been achieved without any challenge to same Gold Card) resulted in a heated exchange between ladies, during which my son and I stepped back out of range. The temperature eventually fell to frosty retorts and even when it was proven that my wife's Gold Card was alive, valid and kicking, the check-in clerk still did not apologise for any inconvenience caused.
In order to ensure BA's systems were fully onboard with said Gold Card, my wife spoke to the Customer Help Desk airside. Help Desk? For whom? Certainly not for Customers. The chap told her all such things should be handled via the internet, which if you've tried is only possible if you're Bill Gates' IT Director. The Customer Help Desk was an utter waste of space, better converted to more seating in one of the world's busiest terminals. I wonder what they can help with. Directions to the nearest Duty Free Store perhaps? Hopeless. Or should that be helpless!
Then there was the delay. The only useful bit of info we received during the whole check-in process was that our flight would be 50 minutes delayed. Airside we kept an eye on the screens and saw the departure time roll out far into the distance of the space-time continuum. Eventually, a gate was announced, then almost immediately changed to Gate 10a (a "bus-gate" according to my outraged frequent-T5-flyer of a lovely wife), but when the 200 passengers descended into the bowels of T5 for the bus-gate, we were told to about-face and head back upstairs to Gate A5, where our flight was ready for boarding ("110% for sure this time", said the BA boarding wallah).
Once snuggly squeezed into our seats, we were advised that our departure would be delayed a further hour whilst a pressure gauge on the front wheel was checked. In short, or long, depending on your perspective, but definitely long from the perspective of our outbound experience, our flight was delayed over three hours (50 minutes because our captain needed a legal nap, plus 50 minutes because our original aircraft was stuck in a traffic jam at the maintenance shed, plus 30 minutes because of the musical gates, plus at least an hour because of the front wheel engineer). And throughout that time, BA offered not a snack nor a refreshment, not even a single cup of tap water as we stewed on the tarmac. As it was we had to buy M&S water from the trolley when we finally took off. In summary, it is clear that BA is fast becoming more Ryanair than Ryanair.
And so to Cyprus.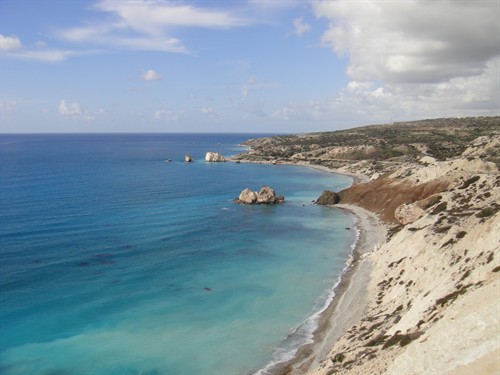 This year was a celebration of Cyprus-related anniversaries. It was 20 years since we emigrated to Cyprus (an experiment that lasted less than two years), and it was on the evening of Princess Diana's untimely death that my wife and new born son flew off in advance party (I first heard about the royal tragedy the next afternoon when my wife called me at work on the Sunday to see if I was ok). It was 20 years ago that we bought our little Rover 214, which has been Yaya's car since we repatriated back to London (somewhat battered and scraped now, but still much loved), and 20 years since McDonald's opened its first store in Cyprus (which was just as well as my teething son at the time ate little else).  Finally, it was 15 years in a row that we have stayed in the same hotel, in the same rooms, at the same time of year. You might say that the family loves this hotel and it has long been as close to perfection as is possible for a hotel to be.
However, this trip we were posed an intriguing question. Is it possible to improve on perfection? We were aware that the hotel had undergone a major refurbishment over the winter and spring, and we were excited to see our baby in a fresh set of clothes.
Wow! What a shock. The outside of the hotel was unchanged and as elegant and distinctive as ever, but the inside had lost all sense of place and had been rendered anonymous. The warm colours and tactile feel of the place had been replaced with cold colours and cheap fittings. Various shades of grey clashed with odd shades of non-Med blue. Asian-style screens cut off the lobby bar. Laminated round tables you can't get your legs in under dominated the previously snug seating clusters. And there were some very odd looking metal high tables that served no clear purpose. The lobby now had no theme, no identity and felt like it could be in any innocuous hotel anywhere in the world.
Whilst waiting to check-in at reception, I flicked through the hotel magazine and read about the owner's vision for the refurbishment and the studio responsible (a US firm with a, previously, excellent reputation). One of the key objectives highlighted in the article was to make "changes that will expand, renew and add useful storage spaces." To be fair, they succeeded in the remodelled F&B areas, where the new buffets and cooking stations have rejuvenated the outlets and made them much more efficient. However, as in the lobby, the bedrooms, the core of the hotel, were a good idea poorly executed. For example, there was less shelving in the bathroom than before and no towel rails. The new mirrors were overly ornate, taking up room and compromising the view. The luggage rack was much smaller and had no protective backing (the white walls were already scuffed and marked). There was only one easy chair in the room (for the purposes of hanging pool stuff and other clothes). The electric lighting system came from the usual source, NASA, whereby the controls are only understood by a qualified rocket scientist and the instructions too small to read anyway by one who is slightly compromised of sight.
One of the worst features was the new credenza, which housed a hairdryer in a huge cavity under an enormous flip-up lid. This meant that you could not put anything on that part of the desk and the lid, when open, would cover part of the TV suspended over the desk. We occupied a variety of rooms between the family during our stay and in all three rooms the flip-up lids were already damaged (poor design, cheap materials? Who knows, but the maintenance team are going to be a lot busier than before the refurb). In the Junior Suite we had for a couple of nights (we had some visitors stay with us and needed a larger room), the same credenza was in place at the foot of the bed, under the TV. In order for my wife to use the hairdryer, she had to move the whole desk out, away from the wall, so the lid could stay open and not slam shut due to hitting the TV. This meant the desk chair had to go back, hitting the bed. This resulted in me having to vault over the bed to get from one side of the room to the other - all good fun for me, but surely not an intentional part of the design vision.
However, the most disturbing feature of the whole refurb program was the job lot the designer secured of a sketch that looked very much like an extended three-nippled breast. It was in every room we saw (ours and those of friends), but thankfully not in the Junior Suite. Where in all that is lovely and romantic on the Isle of Aphrodite does such an image provide any sense of place or relaxation.
Even the majestic Pithari jar (the distinctive wine maker's vessel of olden times Cyprus) in the water feature in the restaurant entrance had been replaced, with a garish, glaring, giant glass ball. The ball was so blinding that the fish who once lived in the feature have had to be relocated, away from its kaleidoscopic razzle-dazzle disco decor, to a more fish-conducive place of sense and tranquillity.
Thus, in response to the intriguing question, it is clearly very difficult to improve on perfection. If it ain't broke, why fix it? With luck they won't tamper with the view in Phase 2 of the refurb this winter. Then at least the priceless panorama can still claim to be one of the best we've seen.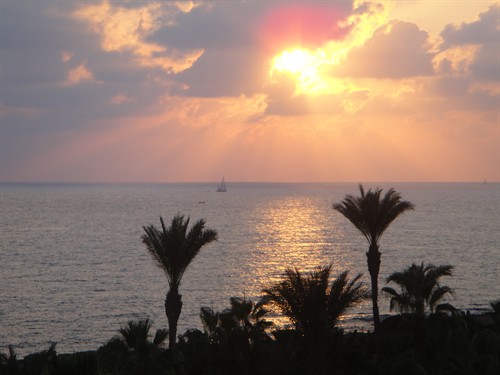 Our stay in Paphos was interrupted early on by a painful health issue - an ever so itchy rash of chest covering proportions. My lovely Cypriot wife was diagnosed as allergic to the sun. Well, you can imagine her reaction, and, being a proud local of a legal nature, she opined that it was illegal for a Cypriot to be allergic to the sun. Lots of further investigation revealed that the rash was in fact due to an allergic reaction to sun tan lotion. And when I say lots of further investigation, I mean lots of further investigation. On the first day of its appearance we visited the local clinic and the doc pumped her full of cortisone through a drip and told her to stay out of the sun. The next day she felt terrible and, despite staying out of the sun, the rash was not subsiding. So, the following day she played pinball Paphos: she went to the clinic, which referred her to the hospital; the hospital referred her to an external dermatologist, who diagnosed the allergy and prescribed a whole different set of drugs; the dermatologist referred her to the pharmacy, where we bought half the shop; and returned to the hotel some several taxis and hours later.
Not to be outdone by my lovely wife, I had a few health issues of my own, including: belly ache (from an over-ripe peach), bum ache (from same peach passing through), back ache (which seems to happen every time I go on holiday), and ball ache (after my daughter kicked me plum in the crown jewels; surprising how disconcertingly uncomfortable an enlarged right ruby can be on a man).  However, my prize health issue was a small black spot on the edge of my iris with a comet-like tail of red capillaries fanning to the back of my eyeball. It looked like Chicxulub about on the verge of crashing into Earth and decimating the dinosaurs. Fortunately, my comet disappeared after a few days without any decimatory effects.
There was no sign of Lucifer in Cyprus. We had perfect weather this year, not too hot (only high 30°s) and very little humidity. Clearly, he was far too busy causing fires further west, especially in France where the extreme heat and conflagrations had even dislodged celebs from their Côte d'Azur redoubts. Paphos was resplendent with its newly refurbished roads and restored historic buildings, but there was little other evidence of its status as European Capital of Culture 2017. In Nicosia, we swam at the Hilton again and this year's pool characters of note were a fleet of semi-submerged, Typhoon class, submarine-sized Russians. Lovely guys, but they did dominate the water and sound waves like no other characters we have enjoyed observing before.
After lots of sun, belly-fulls of food and lots of lovely socialising, we headed to Larnaca airport for the flight home. BA check-in was a breeze this time (UK staff take note), but I was stopped at security for suspected explosive grapes in a Starbucks coffee flask and for my wife's suspiciously incendiary-device resembling jewellery.
Finally, and in honour of the multiple Cyprus related anniversaries, I would like to share with you a little poem that my mother-in-law, the awesome Yaya, made up on the spur of the moment in our 20-year old Rover at the gas station one day:
Ode to Yaya's Car
Philip,
Fill it!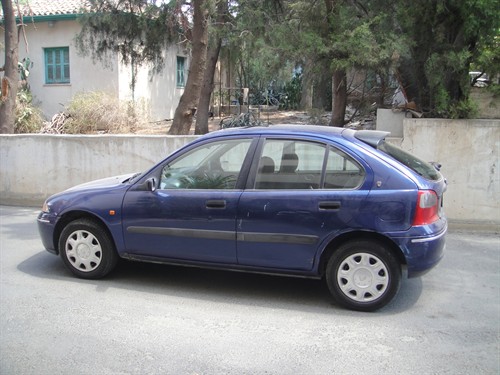 Albeit it is not my place as a humble blogger to challenge a multi-published poet, Cyprus's first female journalist and freedom fighter extraordinaire, but I do feel that I could improve on Yaya's spur of the moment ditty in order to compete with the shortest poem in the world (that being Ode to a Flea: "Adam, Had 'em"). So here goes with my version of Ode to Yaya's Car: "Phil, fill!" More on Yaya and her amazing life to follow in January 2018. Stay tuned.