Phil's Travels - Dubai, UAE (03.17)
05/04/2017
Phil's Travels - Dubai, UAE (03.17)
My flight from Zanzibar to Dubai, via Dar Es Salaam, was delayed over an hour, which meant I had time to work on my Zanzibar blog in the small, but highly atmospheric, Abeid Amani Karume International Airport. This old terminal building was to be replaced by a new modern facility, the shell of which was visible as we were bused to our aircraft. The new terminal looks good, but a major error was made in locating it 15 metres too close to the tarmac. Consequently, it can't get international aviation approval to operate and lies half finished until the stakeholders can agree on a solution. Tourism to Zanzibar is growing at a healthy rate for the moment, but to really grow it needs a new airport terminal fit for purpose as soon as possible, and hopefully a solution will be agreed upon soon.
The flight to Dar was quick (20 minutes). We dropped off and picked up, and were underway again in under an hour. Our routing took us north, over the red fired earth of Tanzania and Kenya, the spectacular mountain ranges of Ethiopia where we turned east over the sand dunes of Djibouti and the blue waters of the Gulf of Aden - all the time avoiding the suspect airspaces of Somalia and Yemen. Over Oman there was little to see as the dust clouds obscured any views of the landscape and, as we came in to land, the UAE was shrouded in darkness.
In the week between my first landing in Dubai and this my second, the emirate had witnessed some extraordinary weather conditions (especially for this time of year). A major hail storm closed Dubai International Airport for several hours until they could clear the runways of ice. In the days that followed, rain fell regularly and there was the highly unusual sight of puddles in the streets (often small lakes, as the drainage in Dubai is not designed for such deluges). The skies were grey, damp and very English during my three days in Dubai, which made walking around a possibility and a very pleasant novelty.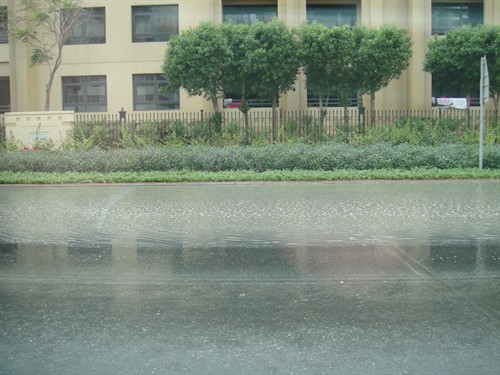 I filled my days with meetings, site visits and hotel inspections. A key site visit was to update my knowledge of projects and hotels on The Palm Jumeirah. On The Crescent, there are very few undeveloped sites remaining (one belongs to our client) and lots of construction work was underway, including an extension to Atlantis The Palm. By way of some quick stats: there are some 14 open or about to open hotels offering over 5,000 keys; 10 new hotels in development offering an additional nearly 3,500 keys; two operational residential projects with nearly 650 units; and, seven new residential projects in development with nearly 1,400 units to come to market.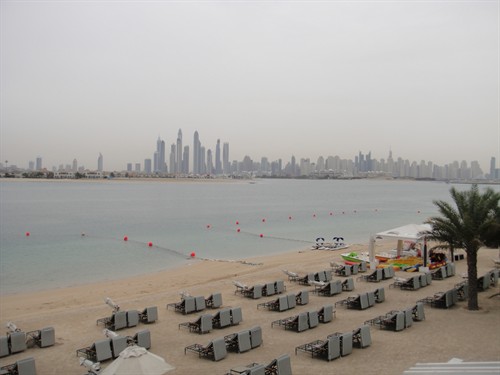 Dual-branded hotels (a hotel building designed for two related brands with different entrances and rooms, but sharing back of house and service areas) are growing in popularity. Here in Dubai, as one would expect from such a dynamic destination, they have taken the concept one stage further and created a triple-branded hotel. The Westin-W-St Regis combo is situated on Sheikh Zayed Road, next to the new Dubai Canal project, on the site of the former Metropolitan Hotel (famous, in its day, for its multiplex cinema and other attractions). I just had to visit all three in order to see how the designers have differentiated between three similarly upscale brands in such close proximity to each other. The Westin was very business-like, with several dining venues and standard rooms of 45sqm. The W Hotel was very hip and design-led (including a junior suite that was so design-led that the seats in the lounge were directly below the wall-mounted TV, whereby anyone sitting down cannot see the TV - go figure!), with a 30th-floor reception and 45sqm standard rooms. The St Regis lobby was ostentation personified (marble and gold leaf everywhere), and there was a high-class steakhouse and a second-floor courtyard area surrounded by a bar, a restaurant, meeting rooms, the gym and the spa (this level must get pretty congested at times - luxury?), and the standard rooms were (you guessed it) 55sqm. The centrepiece of this hotel trilogy was still in development and will comprise a state-of-the-art aqua-theatre, called Le Perle.
Even though I tend to feel a little cut off during such extensive travels, the world continues to turn and news is made, and during these travels the UK headed the global news on several notable occasions: (i) Khalid Masood used a Hyundai to kill three people on Westminster Bridge and a kitchen knife to fatally stab a police officer in the grounds of the Palace of Westminster; (ii) the Bank of England issued the world's most sophisticated coin, to replace our beloved, cute and cuddly, and ever so slightly chubby, £1 coin; (iii) Prime Minister May pulled the trigger and dispatched her Article 50 letter to the EU to kickstart the two-year process of Brexit; and (iv) our Kerrie gave birth to baby James. Many congratulations to Kerrie and Brad!
My return to London was faultless on Emirates and even the Gatwick Express was in a cooperative mood. The next day, back at work, the capital felt like business as usual and there was no sign of the tragedy in Westminster holding back this ever resilient city. I have yet to see the new £1 and with luck Kerrie will bring James in for us to all to meet the little man soon. As for Brexit, the uncertainty goes on and who knows what 11.20am on 29 March 2019 will look like.