Phil's Travels - Zanzibar, Tanzania (03.17)
05/04/2017
Phil's Travels - Zanzibar, Tanzania (03.17)
Karibu sana! Every journey begins with a single step, and my initial steps were not auspicious. I left home at 06.00 on Sunday morning and realised within 10 steps of the front door that I did not have my glasses with me. They had fallen off whilst kissing my sleeping wife good bye (or did she take them deliberately to stop me from travelling for 10 days?). My local Tube station was closed so I panicked for a moment until a black cab happened by. The Gatwick Express was late leaving and the airport was once again packed at security. I did not help the flow by having my ruck sack pulled aside for an un-bagged nasal spray. After several hours of tense ground travel I boarded an A380 and relaxed into the hospitable arms of Emirates.
At Dubai, I had to transfer from the palatial T3 to the shack-like T2 for my flydubai flight to Zanzibar. The flight connections process at Dubai is complex enough between terminals without poor signage, barely visible handmade signs on the buses and very poor toilets (the spatial planning in Dubai T3 is seriously flawed for such a major transit hub, whereby the toilets are too few and those that are on offer are tiny and the resultant over use means they are constantly distasteful). Thank goodness for the friendly and super helpful staff (they were clearly used to lost passengers' enquiries).
We landed in Zanzibar on time and I was collected from the airport and driven to my hotel for a short nap after nearly 24 hours of travel. I met with the delightful and very helpful GM of the hotel for a mid-morning coffee, then drove to Jambiani. Passing by Jazoni National Park, I was incredibly fortunate to see a pair of the very rare Red Colobus monkeys (unique to Zanzibar) slinking away from a roadside kiosk with a hand full of fruit.
In Jambiani, I met Mama Pat and her famous husband (Ali-Baba, aka Alistair), and my neighbour from London (small world). After a coffee and a chat, we headed out to see the site that was the purpose of my trip. And what a gorgeous site. The shoreline is one long white sand beach (like walking on snow) with blue azure waters and some 200 metres in depth. Surely that biggest white sand beach (and proper white sand, not a light shade of cream, but proper white sand) I have ever seen. Just stunning.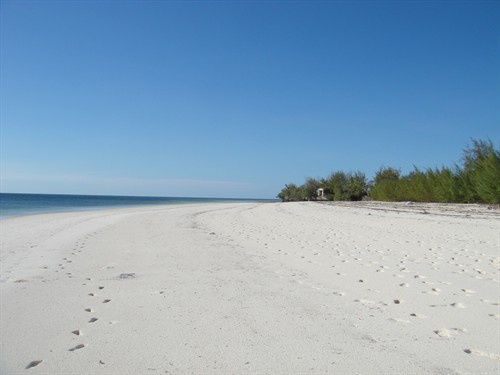 The rest of the week I whirled around the island with my driver, the Amazing Ali (not only a driver, but also a trader, farmer, builder, money-exchanger and all round nice guy with a great 'akili'), and from dawn till dusk I met and visited a maelstrom of lovely people and fascinating hotels. My hotel in Stone Town (the UNESCO World Heritage listed old town of Zanzibar City), had few amenities, but did the basics brilliantly. The wifi was fast and reliable (better than many European hotels of late), the room always spick and span, and the rooftop restaurant a delicious and friendly place to refuel and work each evening.
We saw basic properties catering to all-inclusive tour groups overlooking the ocean where the tide recedes some several kilometres from the shore, to boutique properties that are achingly beautiful labours of love by their dedicated owners (there are very few branded hotels on the island). Look out for Tulia and Xanadu in particular. Both are small, but their owners spent upwards of four years creating these boutique master pieces. Beautiful stone work, thoughtfully decorated rooms, lovely food, lovely staff and beautiful landscaped gardens. These are not for the faint hearted though when it comes to the wallet department, as prices are high, but you will remember the experience fondly for ever.
On Tuesday morning, the Amazing Ali told me it was 21 March and the official start of the long rainy season ('long' meaning it rains for a few hours each day on some part of the island). We left Stone Town around 08.00 in glorious sunshine and drove north to Nungwi. In Nungwi, Mother Nature must have been paying attention for at around 11.00, whilst I was in a meeting with a GM in his hotel lobby, the heavens opened and a storm of biblical proportions dropped its load. The volume of water was so sudden that we could not see the garden just a few feet away, the lobby flooded and we had to retreat to his office. After an hour, the rain stopped and we hopped through the lakes to see the rest of the hotel.
Most of the beach hotels in Zanzibar have a two-tiered beach arrangement. The lower beach is natural and varies from hotel to hotel depending on its location. In the extreme north-northwest, the tidal range is not so great and guests can often swim in the ocean throughout the day. Along the northeast and east coast, the tidal range is bigger, whereby at high tide the beaches are often covered in water and the water recedes a kilometre or so out to the reef that guards the east coast. In the southeast, only the neap high tides cover the entire beach, and in parts it can recede to over 4km from the high watermark (making a swimming pool an essential amenity for any hotel). The lower beach is also the habitat of the local beach boys, who are constantly trying to sell something, such as: scooter rides on the beach, food, nic nacs and substances that should not be mentioned. Thus, the second beach, which is to overcome the foregoing. It is a raised area above the natural beach, filled with sand and protected by sea walls of various designs and construction. Here the beach boys are not permitted and guests can still get sand in their feet at high tide.
Driving in Zanzibar is not for the faint hearted and requires a great deal of skill to avoid and manage other road users, such as: men chatting, colourfully dressed ladies carrying things on their heads, kids playing, buses, cars, bikes, scooters, dala-dalas, trucks, police officers, markets, fallen trees, goats, cows, cow-drawn trailers and the odd Red Colobus monkey if you are lucky. Imagine all this road activity during the day and then imagine the same at night with no lights, no street lamps and no electricity in the houses in the more rural parts of the island!
Known as the Spice Island, Zanzibar's spice industry is a shadow of its former self, but tours of the plantations are available and spices can be bought in most shops in Stone Town. One day, in a fit of hunger, I gambled and bought a bag of roasted cashew nuts from a street vendor and crossed my fingers that they would not give me the trots. They were delicious and no trots ensued.
It would seem that I am destined to visit this beautiful island at 10-year intervals. It is 20 years since I first visited Zanzibar (spending just a few hours touring Stone Town, when there were few shops, few tourists and way fewer people around). My second visit was 10 years ago, when I spent a night at the Serena Inn in Stone Town (as one of the only quality hotels on island at the time) and quickly toured some of the country, visiting a couple of the pioneering resort hotels. Today, there are dozens of hotels and overnight accommodation establishments (most of which are small, family-run affairs), and Stone Town is full of shops and service providers doing business with the ever increasing numbers of tourists.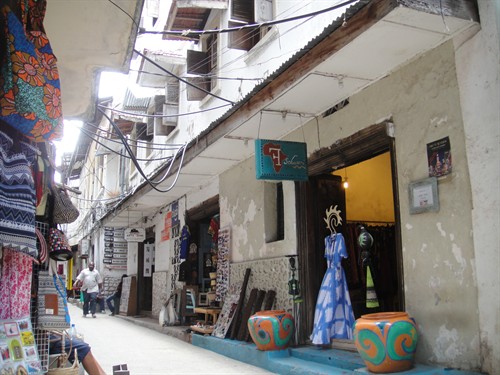 I wonder what the next 10 years will bring to Zanzibar. Hopefully all the coastal works around Stone Town's historic harbour will be completed by then, together with the new airport terminal and that new restoration funds will be forthcoming to further protect and conserve Stone Town's amazing, but crumbling, built environment. Asante and kwaheri Zanzibar, and see you again in 10 years' time.