Phil's Travels - Kurdistan, The Journey
16/09/2014
Phil's Travels - Kurdistan, The Journey (Sep 2014)
When I told people where I was going, they told me I was mad, especially as Islamic State (IS, Daesh in Arabic) had just invaded and occupied large chunks of northern Iraq, and were on the outskirts of Erbil (the capital of Kurdistan). Over the years I have been to many countries where conflict has been just around the corner (Libya, Egypt, Lebanon, Georgia, Pakistan), but my trip to Kurdistan this last week was by far the most fascinating, and therefore deserves more than one blog to cover the trip (please see blogs for Sulaymaniyah and Erbil).
There are a variety of options available to fly to Sulaymaniah, the second city of Kurdistan, and I selected the Turkish Airlines route. On 28 August 2014, Turkish Airlines moved to Heathrow's new T2 building giving me the chance to test this new facility. First impressions are: it involves a lot of walking (from the Heathrow Express station and from terminal to gate); it was very quiet (Heathrow are ramping up services at a slow and measured pace, so as not to repeat the T5 experience); lots of very expensive boutiques and high end restaurants (including Heston Blumenthal's fast food joint - The Perfectionist Café); not as inspirational in its design as T5 (still the best terminal building in the world - efficient and stunning to look at). All in all T2 lacks soul and is uninspiring.
The best part of T2 is the massive aluminium sculpture that broods between the multi-storey car park and the terminal. It must be some 50m long and depicts the swirling wake of a plane taking off. This massive installation is just begging for James Bond to chase a villain across its shiny, sleek length (look for it in the next 007 movie). I had a quick eggs Benedict at Heston's place, but he only scored 5/10 on the Benedict scale (far from perfection, unfortunately).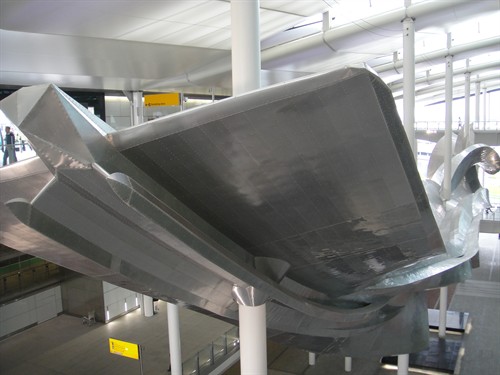 The Turkish flights, via Istanbul, out and back were faultless (even my luggage made it, a trick both Schipol and KLM should learn). The only fault was the short connection times (especially out, due to delays at Heathrow), meaning I could not enjoy my usual lakmajoun at the Turkish fast food place in Ataturk (not to Heston, please visit).
Before my journey, I had read some background and knew the region was a fascinating place and home to: the longest continually inhabited settlement in the world (over 6,000 years), 3,000 tells (covered heritage sites, not poker players' twitches), and the world's oldest churches and monasteries. But I was not ready for the immense pleasure of meeting such lovely people and such a well-grounded culture.
During my visit, a new unity government was announced by the new Prime Minister of Iraq (Mr Haider Al Abadi), which included the Kurdistan Regional Government (KRG). In fact, we drove past the very building on the very evening that this momentous decision was made by the KRG. Mr Kerry (the US Secretary of State) also decided to visit Iraq during my time there (to show support for the new government and to discuss further support for Iraq and Kurdistan) and Mr Holland (the hapless President of France) was due to visit Suli the day I left. I am sure these high profile diplomatic visits were not because of my presence, but my week in Kurdistan could not have been timed more perfectly and the future of the region now looks assured.