Phil's Travels - Paphos, Cyprus
04/09/2014
Phil's Travels - Paphos, Cyprus (Aug 2014)
During our two-week vacation in Cyprus this summer, we returned to the seaside town of Paphos and booked into my family's favourite hotel for the 12th year in a row - The Elysium Hotel. Despite all the economic difficulties, the service at the Elysium is still excellent. Although, even here there are signs of cost cutting in the guest amenities and some of the FF&E is showing signs of wear and tear.
Unlike Nicosia, there are tangible signs that Paphos is doing quite well, with two major projects opening this year (in Nicosia the cityscape is littered with unfinished and abandoned construction projects). The first project we noticed, because it is on the main avenue into Kato Paphos, is the new Mall of the Kings (built on a vacant plot that used to house a mobile fun park and where we used to have lots of fun go-karting). The mall is large by local standards and stuffed full of Western brands, including three coffee shops (because the Cypriots love coffee!).
The other new project to open was the King Evelthon Hotel, marketed as a five-star property and occupying a huge waterfront site. My brother-in-law and family stayed there and we paid a quick visit. It is indeed huge, but the design is very local and will no doubt age rapidly (see photo below). Being all white (inside and out), I would hate to be the hotel's head of maintenance. Indeed the questionable carpet in the hallways is already showing signs of distress and the hotel has only been open three months.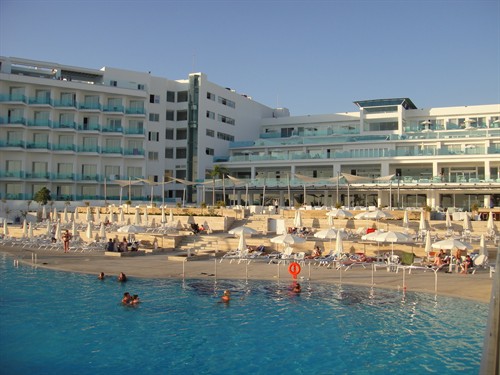 If you should find yourself going to Paphos, make sure you visit the Seven St Georges Tavern (you may be thinking that I have food on the brain, well you would be right, especially in Cyprus). The owner produces most of the raw produce himself and cooks very original Cypriot dishes - all delicious. I hope it will ride out the current crisis.
Speaking of crises, trying to ensure my lovely wife and kids get the right balance of sun and shade at any given point in the day is a major exercise for the alpha male of the family. Yours truly seemed to spend most of his time by the pool heaving heavy sunbeds and umbrellas around (and these are not the flighty pool furniture of the Hilton Nicosia) to the sound of continual complaints that I was asking the beneficiaries to make way. No one seemed to appreciate the fact that the sun has an inconvenient habit of moving across the sky and the angles constantly change. It is truly an "Umbrella Science". If you need any lessons, please do visit us at the Elysium Paphos next summer, August 2015.