Phil's Travels - Lisbon, Portugal (05.16)
20/05/2016
Phil's Travels - Lisbon, Portugal (05.16)
My 04.00 taxi flew up Kilburn High Road and the M1 to Luton Airport in 30 minutes. We spent more time negotiating the chaotic works around the airport forecourt than on the road itself. Good job it wasn't raining (as it did the previous day), because the walk from taxi drop-off to the terminal building is not short and is totally exposed to the elements. It has been a few years since I last used Luton and I hope the works are concluded soon to improve this increasingly popular air terminus.
Inside the chaotic theme continued, with so few seats and waiting areas that the milling masses congealed into one big melee. I have never seen so much beer be consumed before 05.00. I dodged the heaving mass of swilling humanity and dived into Frankie & Benny's to test their Eggs Benedict. F&B (which is kind of fun for those of us in the hotel trade) did not fare well. 1/10 is the lowest score I have ever awarded (now replacing the infamous Ritz London breakfast that scored a very un-Ritz-like 2/10). The presentation was ok warranting a point. However, the English muffin was tough and tasteless, the bacon chewy and tasteless, the eggs overcooked and tasteless, and the hollandaise bright yellow and tasteless. What should be an unctuous dish was rendered dry and devoid of taste-'budinous'.
It was whilst chewing my way through F&B's eggs that I caught the BBC news announcing an Egyptair flight from Paris to Cairo had gone missing - just what you need to see before a flight. At the appointed time I carved a route through the stag and hen parties filling the departure hall and felt a little conspicuous as the only person there wearing a suit jacket.
After a depressing evening the day before, when Klopp of the Kop flopped in Basel, the two-hour delay due to a French controllers strike was not welcome news either. Squ-easyJet had kept the news a secret until all 200 passengers were fully boarded, which meant we had to wait our allotted two hours on a distant patch of apron, miles from the terminal. The resulting five-hour squish to Lisbon was less than comfortable.
There was a time when I was a regular flier to Lisbon Airport, either for business in Portugal or as a transfer to Cape Verde, but the last visit was probably some seven years ago. The airport felt bigger this time around, but no more efficient. Having been separated from my luggage a couple of times on TAP via Lisbon to Cape Verde years ago, it was disturbing to see numerous unclaimed cases on the luggage carousel on arrival. Seems this is still a problem unresolved by the Portuguese.
Lisbon is a lovely city, rich in history and offering a medley of architectural variety. My meeting was hosted in an old manor house on the west side of the city, converted into a palace hotel in the Noughties. This hotel 'monumental' provided great views over the city to the Tagus River and April 25th Bridge. Walking around the city is a cautious pleasure - the cobbled mosaic pavements (whilst the roads are tarmacked) are very pretty, but also extremely slippery in leather soled shoes.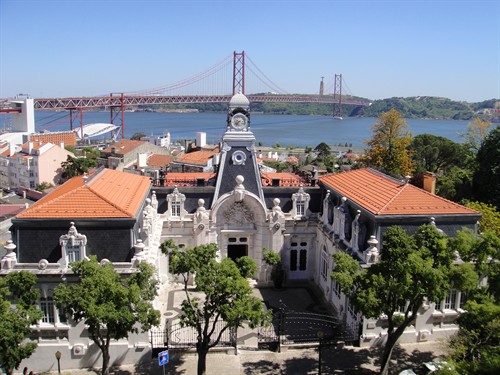 My visit coincided with Lisbon's Rock in Rio music festival, which had filled the city's hotels. Consequently, the only room I could find the day before arrival on Hotels.com at a reasonable price was in a "guesthouse" close to Parque. Check-in required a phone call and a 15-minute wait for someone to appear off the street and let me into the "guesthouse" on the first floor of an apartment block. Seems as if one of the apartments has been converted into an 11-room, shared-bathroom, provision of overnight accommodation. My room was comfortable enough, but lacking in any facilities other than a white wardrobe in the corner, a chair and two single beds. The bathroom sinks were unisex and the rear of the space was divided into two, left for ladies and right for men. The separated areas were screened off by cowboy saloon-style swing doors and within the men part was a single WC and two frosted-glass shower cubicles. The sinks were unsavoury, the WC unpalatable and the showers distinctly unsanitary. If this is what Airbnb is all about, I thought as I fell asleep, you can keep it. That said, the morning of check-out, as I cleaned my teeth, two young ladies walked out of the ladies' part clad in only towels, which made me wonder if this venue wasn't so bad after all.
Finding a taxi on a Friday morning after a sell-out the night before meant I had to walk for some time in order to secure a free conveyance, which proceeded to drop me off at Terminal 1 instead of Terminal 2, a mistake I did not appreciate until I tried unsuccessfully to pass the T1 security barriers with my T2 boarding pass. I had to run to find the T1-T2 transfer bus, only to find the bus full and stationary. It was stationary for a good 10 minutes before my aggressive French genetics overcame my passive English half and forced me to push on board (how very un-British). T2 is not a pretty place and was nearly as packed as Luton on the outbound (much less beer consumption though).
The French controllers strike must have expired, or perhaps the Egyptair event shamed them back to work, as our flight left on time, packed with an eclectic mix of men in pink-green striped blazers, a superfluity of white-robed nuns, some suits and lots of leisure travellers of all shapes and sizes. The nun placed in the window seat beside me decided to sit elsewhere with one of her sisters and I was able to slide over to my preferred window placing (I like to see where I am going). However, such divine space-created intervention was short-lived as someone decided to fill the empty middle seat and chat to my neighbour in the aisle seat shortly after take-off.
EasyJet's excellent work on the return flight was unfortunately undone by Luton Airport (quotes include: "tip", "shameful" and "shambles"). The passport queue extended outdoors, the bus stops were uncovered (thankfully no rain), the Greenline Bus was delayed due to a faulty ticket machine, and the chaotic road network out of the airport complex was jammed with traffic. I guess one can't blame everything on the French.