Phil's Travels - Madeira, Portugal (04.16)
03/05/2016
Phil's Travels - Madeira, Portugal (04.16)
Union strike action in the UK is a relatively rare occurrence, especially compared to our EU cousins across La Manche. However, my trip to Madeira managed to coincide with the same two strike days called by the RMT Union. This union represents the interests of rail workers in the Southeast of England and the reason for the strike was to do with longer Gatwick Express trains (up to 12 cars) than normal and staff considering such longer trains to be a safety hazard without more staff on duty. As it was, my 05.00 train from London Victoria to Gatwick was only five cars long, jam-packed with passengers and luggage, and took over 40 minutes instead of the normal 30. 
Having left in good time for the airport in anticipation of greater disruption, the swift passage through security meant I could try a new breakfast venue. Grain Store in Gatwick's South Terminal is a huge space and was virtually empty at 06.00. Although half the menu was unavailable at silly time in the morning, it scored a very respectable 7/10 on the Benedict Scale, with especially near perfect eggs. So much so that when I cut into the second egg, the golden yolk shot out of its white, across the table and into my cappuccino. Delicious!
The flight boarding process at Gatwick was such a shambles we were 30 minutes late taking off. The ground staff permitted a full flight to board without any coordination, forget Speedy Boarding, resulting in a jostling pink line of seething human beings logjamming the aisle from both ends and filling the cabin with levitating luggage as the line fought for inadequate locker space. The ground crew's mismanagement was overcome by the air crew's efficiency and we landed on time, after a belly dropping dip on approach into Madeira Airport.
Madeira Airport has always drawn my curiosity and it was great to finally see it in the flesh. It was once famous for having a very short runway (1,600m) squished on a narrow strip of land between high mountains and the vastness of the Atlantic Ocean, and was therefore one of the toughest landing gigs in aviation. The runway's shortcomings were fixed in 2002 when an overwater extension to 2,781m was opened. The extension rests on a platform supported by 180x 70m high columns. However, this incredible feat of engineering (a worthy winner of the 2004 Outstanding Structure Award) has not totally resolved the issues. The narrow strip with unforgiving hazards on either side (a little like the ultimate fairway at Augusta) is still a challenging landing and flights are often diverted to the nearby island of Porto Santo or never take off in the first place when the Atlantic Ocean winds are gusting with gusto (a hurdle of 30 knots).  
I had barely 24 hours on Madeira and consequently saw very little of its rich heritage and attractions. Things I did experience briefly included: an amazing fresh fish meal in the old town of Funchal; a walk along one of Madeira's few beaches (strewn with black/grey rocks and man-size pebbles); a quick visit to Reid's Palace, the island's most luxurious hotel and an icon of international hotelkeeping folklore; and a taxi ride down the Monte Toboggan route (on which two agile men in white normally push a white-knuckled couple down the mountain road on a small wooden sled, dodging houses and cars along the way).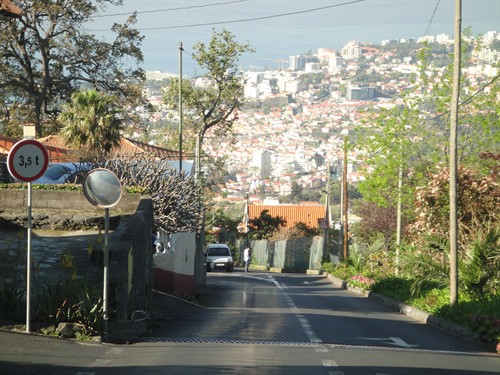 I stayed the night in a hotel on the rocky beach and slept like a baby lulled by the crashing ocean waves. Driving around Funchal, it is clear that Madeira did not fail to suffer from The Crunch. The streets were lined with abandoned buildings and development sites. However, as tourism picks up on island, it is hoped that the contractors will return and start building again.
Judging by events back home, my trip could not have been more perfectly timed. Whilst in sunny Madeira, it snowed in London (you wait all winter for a dusting of white and finally it falls in late-Spring, go figure) and on the second day our office was closed for a carbon monoxide leak that rendered staff on the ground unconscious and led to Clifford Street being closed off as eight ambulances cleared the afflicted and the remainder were evacuated. Oh, and the Czech Republic changed its name to Czechia.
My return was swift and efficient on boarding and in the air, and we landed early. The RMT affected Gatwick Express seemed largely unaffected by the RMT, and I made it home in time for tea. Having not even scraped the surface of Madeira, I am very keen to return. So let us hope our deal closes and I will have the chance to return to explore the lush mountain vistas, ride on a Monte Toboggan, swim in the crashing surf and visit Senhor Ronaldo's new museum.