Phil's Travels - The Oval, London (08.16)
13/08/2016
Phil's Travels - The Oval, London (08.16)
My first experience with cricket was a little like waiting for a bus. You wait forever and then two come along at once. Last week I was invited to watch Surrey host Glamorgan and this week to watch England play Pakistan in the 4th test, both at The Oval in London.
The Oval is steeped in history and sits at the heart of cricket folklore. But why is it called The Oval? My research suggests that the land was once a large cabbage patch owned by the Duchy of Cornwall (hence the Prince of Wales's feather motif on Surrey County Cricket Club's badge, but surprisingly no cabbage for some reason) around which an oval-shaped road was laid. The Duchy leased the oval patch of land to a market gardener (Mr Otter) before assigning a new lease to Mr William Houghton (president of the Montpellier Cricket Club). The patch was turfed for cricket, Surrey County Cricket Club (SCCC) was founded and the first match was played in 1845.
As the most modern sports venue in London, The Oval established itself as a centre for major sporting events, including:
1872 - first ever FA Cup Final, won by Wanderers FC (a London club), 1-0, against Royal Engineers (based in Chatham).
1873 - first England (football) international, against Scotland (the second time this event was held and the second oldest international sporting event still held today, after The Americas Cup, 1851, which even The Oval could not have hosted).
1876 - first England v Wales and England v Scotland rugby internationals.
1880 - first ever Test (cricket) on English soil, when England beat Australia and WG Grace scored a century on his debut.
1882 - birth of The Ashes. England chasing 85 against Australia, collapsed from 51 for 2 to only 78 all out, and the following day a mock obituary in The Sporting Times  hailed the death of English cricket, "the body will be cremated and the ashes taken to Australia". The famous urn made its first appearance a year later in 1983 when presented to the then captain, Ivo Bligh, in Melbourne by a group of local ladies.
Today - still the largest cricket pitch in Great Britain and consistently the venue for the final match in all Test Cricket competitions.
My first visit to this fabled temple of sporting heritage was nothing less than a wash-out. I arrived under storm clouds, watched the groundsmen potter around under storm clouds and left a few hours later under storm clouds. The only relief was my excellent host and his brother and a good amount of bantering. At one point we were slightly distracted by the groundsmen in their agonisingly apathetic efforts to remove the covers during a dry spell. However, it took them so long to uncover and make the pitch ready that the rain returned after an hour and they covered the pitch again in seconds flat. Why could not they have performed this swiftly on removal? Clearly they did not want any cricket played on their precious pitch that day.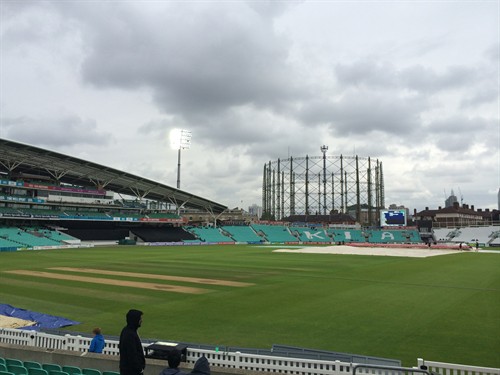 My second visit resulted in my first ever professional cricket experience. My host and his guests were great. A really enjoyable time was had by your blogger cricket novice. The cricket, apparently, was sensational and I was privileged to have witnessed such a day's sport. When I arrived around 13.00 England had reached 78 for 4 and the future was looking bleaker than the grey skies around the looming gasholders (all very Dickensian). At 110 for 5, Moeen Ali walked up to the crease and was promptly hit on the head with Wahab Riaz's first ball. Perhaps England players should have their heads bashed more often, because thereafter Moeen proceeded to smack Pakistan all over the park and scored a 108 to save England's pride. When England were all out for 328 there was still time before the 18.30 cut off for a few overs with Pakistan in and England out, whereby Pakistan players are actually out and England's players in (all very confusing, but then that's cricket). I am so glad I stayed on to the end, as Pakistan's promising opener, Sami Alsam, was bowled for 3 and the day closed with Pakistan on 3 for 1 and a "night-watchman" to see them through to the next day.
There is clearly a lot more to cricket than the team in being out and the out team being in. For a start, everyone seems to have a role to play, unlike the life guards in the aquatic centre at Rio 2016, in which the world's best swimmers are highly unlikely to need saving (except for Robel the Whale perhaps), but there did not appear to be a "condom guy". Eric is solely employed in the Village to dish out a mighty impressive 42 condoms per athlete over two weeks in Rio, that's three per person per day! Where do they get all that energy from? The questions is, will cricket follow in Rugby Sevens thunderous footsteps and become an Olympic sport too so the boys can grab their condom quota (after all, a box is the ideal place for safe keeping your English cap)? It is possible. If Rome is awarded the 2024 Games, they have promised to include cricket (I did not know the Azzurri played cricket). So watch out, unless you're in of course.