Phil's Travels - Torquay, England (07.18)
28/07/2018
Phil's Travels - Torquay, England (07.18)
July 2018 is likely to be the hottest July on record in the UK, with temperatures already averaging 26°C in London and a couple of super-hot days still to come before month end. The hottest day so far this year was Thursday 26 July (33°C in London and 27°C in Torquay), our last day in Torquay and day of our return to London.
But first, let's start at the beginning. Helene and I met up at Paddington Station on Wednesday morning for our nearly four-hour train trip to the English Riviera. The trains were pretty well behaved by British standards and we hit Torquay around 13.00. We were collected by a wonderful local lady and I delayed our site visit for a call from a chap in Dubai regarding a private island in Madagascar we are selling (from a station car park in Torquay, all very surreal).
We visited the site, a large hotel that has been closed for some time and is ripe for redevelopment into a stunning modern resort. The grounds were extensive and once hosted Italian-style manicured gardens and a short golf course. Poking around the interior of the building in order to get a feel for the potential views, we saw some rooms with light switches, radios and alarms from the 1960s. It was like visiting a hotel museum.
Aside from Torquay itself, nearby the site are some of the town's most interesting features:
Site of the former Gleneagles Hotel, not of Scottish golf fame, but of Fawlty Towers fame. It was in a hotel on this site in May 1970 that John Cleese met Donald Sinclair, the owner, and the rest is history. John was so impressed by "the rudest man I've ever come across in my life" that he created 12 half-hour episodes of solid gold television and surely the funniest and most parodied entertainment you will ever have the side-splitting pleasure of watching. Sadly, today, this hotel industry legend is no more. Gleneagles was sold in December 2015 for the princely sum of £1.5m (not be confused with the kilted version which also sold earlier that same year for closer to £200m) and has been converted into 32 retirement flats (still for sale according to the signs), including a Sachs Lodge building (of Manuel fame).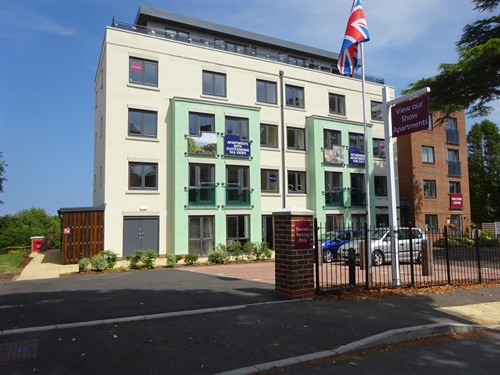 The Kents Cavern cave system is a geological site of Special Scientific Interest and the keystone attraction of the 52nd UNESCO Global Geopark. But perhaps more importantly, it was the site in which the oldest human remains in Europe were found in 1927 (a prehistoric, 40,000-year old maxilla bone). It would seem that mankind has been coming to Torquay for a very long time.
Cary Arms & Spa, which is arguably the best hotel in town and certainly the most expensive, is situated on Babbacombe Bay and is a delight. It was upgraded from a spit and sawdust pub and expanded into the most wonderful boutique hotel by Mr De Savary in 2009. Today, its eclectic mix of buildings and rooms cling to the cliff edge overlooking the Bay, offering covetable accommodation, a mini-spa and delicious local fare. Definitely worth a visit for a meal or just a drink, and perhaps for an overnight for that special occasion.
Anstey's Cove lies along the South West Coastal Path and is a hidden gem definitely worth experiencing. To the side of the small shingle beach, set between steep cliffs, a genius has invested in a sizeable sea wall on the top of which is a sizeable sun-terrace and a small coffeeshop. But the view across the bay to Redgate Beach is pure Aegean (especially when the sun is shining, see photo below) - rocks, clear waters and posh yachts.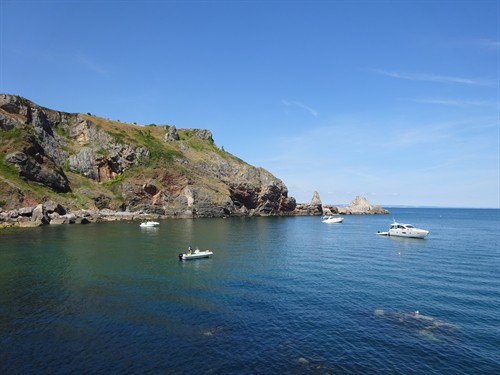 Whilst in Torquay we also visited the Imperial (great location on the side of a cliff and overlooking Torbay to the sunset) and the Grand (next to the station and not so grand). We visited the TLH hotel complex (four traditional hotels on the outside and above ground, linked underground by an amazing system of Kents Cavernesque swimming pool halls and an underground bowling green (not of alley fame, but of green grass and grey hair fame). We popped into the curious place of many names: originally the Grosvenor Hotel of 'The Hotel' TV series and Mark Jenkins' Fawlty-like fame, then snappily named the John Burton-Race Restaurant With Rooms, and now known as the rather novelly named John Burton-Race Hotel & Restaurant.
We had a couple of great fishy meals during our visit (including a very tasty crab sandwich and chocolate tiffin for lunch overlooking the marina), this is the Seafood Riviera after all. And so our Riviera experience came to an end and it was time to head back to the big smoke on British railways. The first train back to Newton Abbott was pretty full and warm, but the journey was only 10 minutes. The final leg of our journey was on the Trans-South Coast Express (I made that up by the way), direct to London Paddington with only a few stops in between. We found seats easily and within five minutes realised we were melting in sticky-backed seats and sweat infused clothing. The entire cavalcade was subject to a chronic A/C failure. Even an extra 10 minutes immobile in Exeter for an engineer to tweak the electrics did not fix it. So we ended up melting for four hours on a delayed train on the hottest day of the year, heading from the cool West Country to the rising eastward temperatures of London, "The Furnace on Thames". The Train Manager had left the windows and the sliding doors at the ends of each carriage open, but the incoming air was even hotter than the air gently poaching us in the middle of the car.
Suffice to say we arrived in Paddington and could not wait to feel the relatively cool breeze of the Underground. After our short time in Torquay (not exactly a flying visit owing to the trains), I can confirm that there was no sign of Sydney Opera House, there were no Hanging Gardens of Babylon and we definitely did not see any herds of wildebeest sweeping majestically across the promenade (although it was certainly hot enough for an African safari).